Stool Examination:- Part 2 – Stool Smear Preparation, Stains, Handling, and Preservatives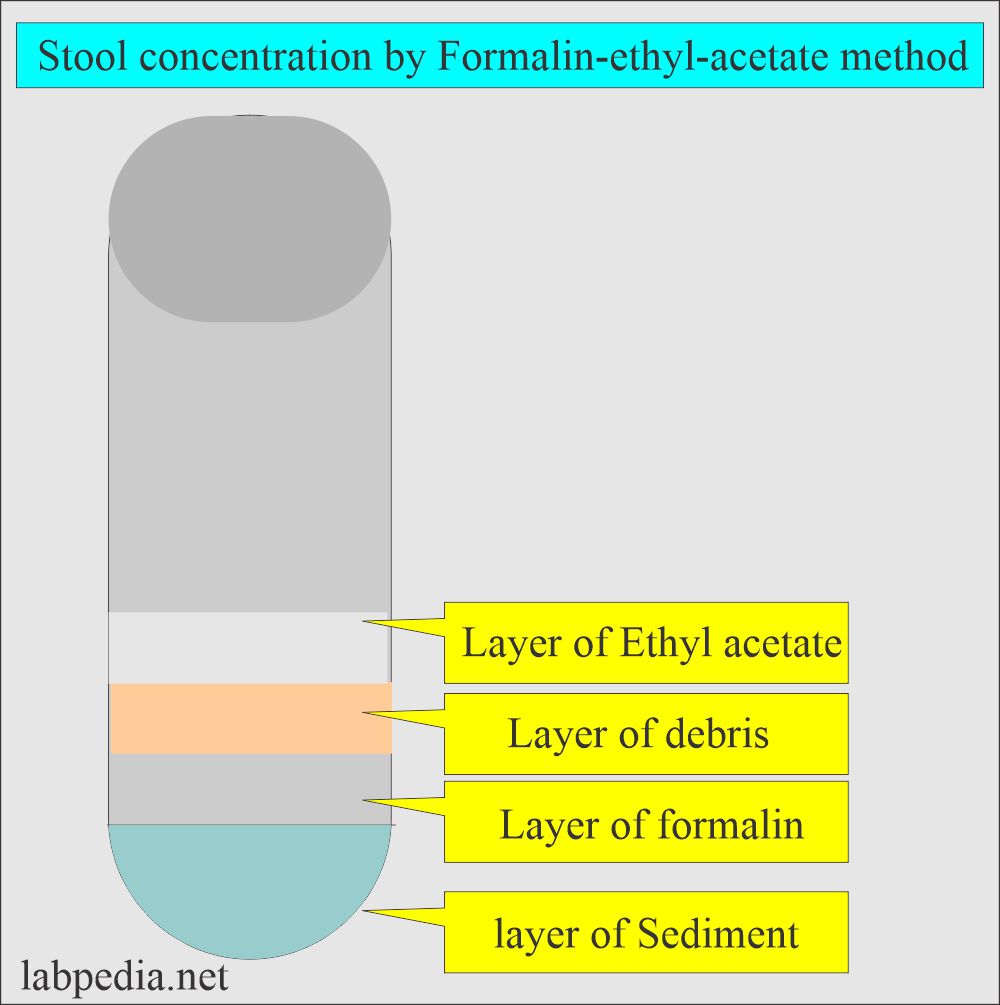 div class="body-contents tests">
Stool Examination
Sample
Can take a random stool sample.

More than 2 grams of the stool is needed, ideally 2 to 5 grams, sometimes referred to as a pigeon's egg.

To rule out worm infestation, three consecutive stools are tested.

Collect three stools in the span of 10 days.
Two samples on alternate days.

The hospitalized patient can take a stool sample every day.
Multiple samples are needed to rule out the parasitic infestation.

One sample after purgation.

Collect the sample in a clean, water-tight, dry, urine-free container with a tight lid.
In the case of Infants, collect from the diaper.
Concentration methods: It is used for:

Protozoan cysts and helminth eggs.
It consists of:

Sedimentation method.
Floatation technique.

Qualitative method for fats:

Fat in the feces is stained with Sudan III.
Neutral fat is seen as bright orange droplets.
Fatty acids usually do not stain.

Quantitative method for fats:

It will quantitate fat contents in the stool in patients with steatorrhea.
Method:
Collect stool for 3 consecutive days.
The patient needs to be on a diet containing roughly 50 to 150 grams/day of fat 2 days before stool collection.
It is important to be sure that all stool samples are collected and that the patient is not incontinent of feces.
Patient noncompliance with complete stool collection is mostly the common cause of the false negative results.
In constipated patients, give bedtime laxatives.

Normal fat contents:

In a normal person = <7 grams of fats in the stool/24 hours.
Pancreatic insufficiency = >9.5 gram/100 grams of stool. (it is also seen in bacterial overgrowth or biliary tract disease).
Nontropiocal sprue and celiac disease (24 hours fats) = <9.5 grams/100 grams of the stool favors.
Cellophane tape method for kids:
This is also known as Scotch tape preparation.
This is the best method for infants and children to diagnose pinworms (Enterobius vermicularis).
The female (pinworm) at night, when the child is resting, a female (pinworm) comes out of the rectum and lays eggs in the perianal area at night.
Put the tape at night and collect the cellophane tape in the morning.
Procedure:

Take 10 cm of the transparent adhesive tape.
Fold it on the tongue depressor with the adhesive side out.
Now press the adhesive side of the tape over the perianal area and cover the maximum area. Should apply this tape at night.
In the morning, remove the tape and put the adhesive side on the slide.
See under the microscope.