Prothombin Time (PT )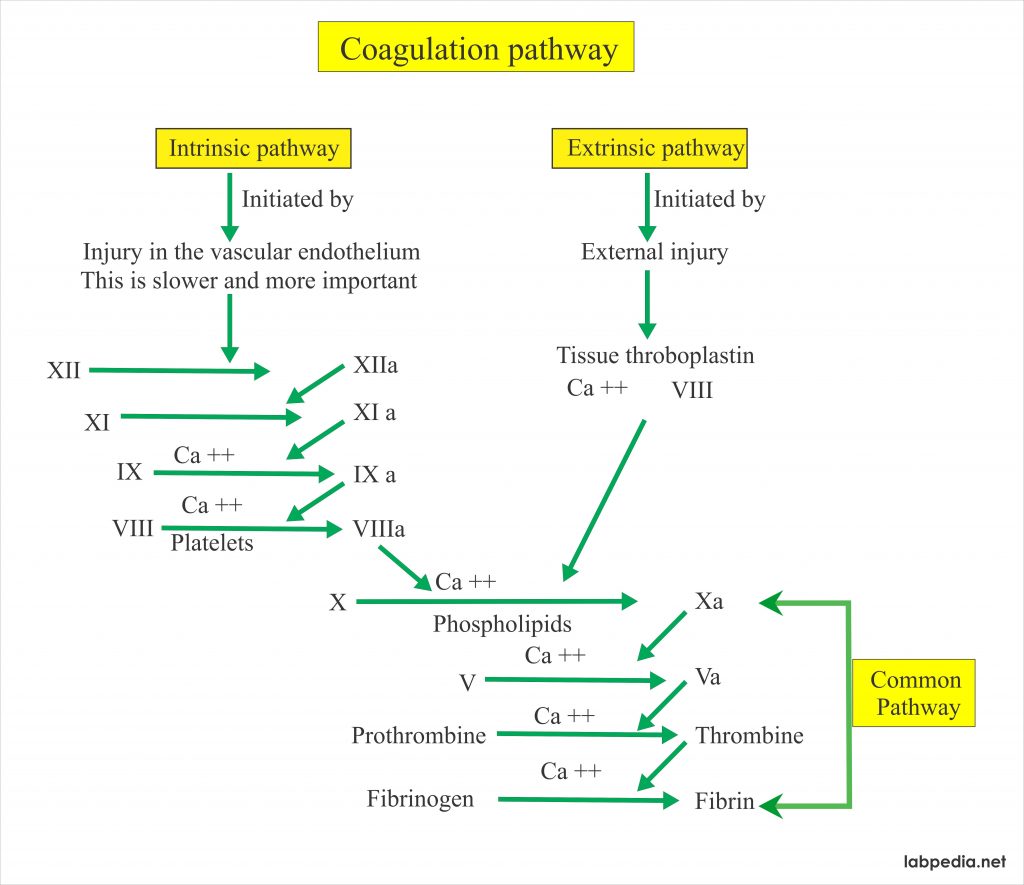 div class="body-contents tests">
Sample
The blood sample is taken with

ESR

(sodium citrate) solution.

The blood sample is 1.8 ml, and the

ESR

solution is 0.2 ml.
Precautions
Alcohol intake can increase the PT time.
A high-fat diet may decrease the PT time.
Some drugs decrease the PT like anabolic steroids, digitalis, Benadryl, griseofulvin, oral contraceptives, vitamin K, and chloral hydrate.
Some drugs can increase PT, like aminosalicylic acid, barbiturates, beta-lactam antibiotics, chloramphenicol, clofibrate, heparin, methyldopa, neomycin, quinidine, quinine, sulphonamides, and salicylates.
Indications
This is one of the screening tests for coagulation.
This test evaluates the extrinsic pathway defect.
This test also finds a common pathway defect.
This test is done For the screening of prothrombin deficiency.
PT is also used to evaluate dysfibrinogenemia.
PT is done to monitor the heparin and coumarin effect.
In the case of bruises and abnormal bleeding.
In the case of Vit. K deficiency.
This is advised as a liver function test.

This is used to assess liver synthetic function.

To monitor the Warfarin therapy.
Pathophysiology
Prothrombin is a protein produced by the liver. Its molecular weight is 71,600 Daltons.

Prothrombin helps in the clotting mechanism.
Prothrombin production depends upon the adequate intake amount of Vit.K and its absorption.
It is the most abundant and has a long half-life of the bit. K dependant clotting proteins and circulate as a zymogen to serine protease.

On clotting, prothrombin is converted into thrombin.

Prothrombin   Thrombin.
Factor II, VII, IX, and X depend upon the Vit.K for biosynthesis.
The abnormality in: prolongs PT

Factors I, II, VII, X deficiency.
Warfarin, liver diseases, and vit.K deficiency.

PT measures :

Extrinsic pathway (Activated VIIa)
Tissue factor.
Common pathway ( factor X, V, II, and fibrinogen ).
Clotting Mechanism
The first stage is an aggregation of platelets to plug the damaged blood vessels.
The second stage is by activation of clotting factors.

The first phase of the activation of the intrinsic pathway.
At the same time, the extrinsic pathway is activated.
Now by common pathway factor X is activated by the proteases formed by the intrinsic and extrinsic pathway.
The fourth phase is the conversion of prothrombin to thrombin in the presence of Factor X, Factor V, phospholipids, and calcium.
Thrombin converts fibrinogen to fibrin.
Fibrin is converted into a stable gel.
XIII cross-links the fibrin and forms the clot.
NORMAL
PT = 11 to 13 seconds, (normally PT is 85% to 100%)

(This may vary from lab to lab).
This should be compared with the control which will be around 11 to 14 seconds.
Anticoagulant therapy response =  1.5 to 2 times the control value.
Critical value = >20 seconds

INR

is an international normalized ratio. = 0.8 to 1.1
Increased Prothrombin Time is seen in:
Deficiency of factor II (prothrombin), V,

VII

, and X.
Liver diseases, like cirrhosis, and hepatic failure.

The factor I, II, V, VII, IX, and X are produced in the liver.
This is abnormal when there is a severe disease of the liver.

Biliary obstruction. There is a lake of the bile which is needed for the fat-soluble vitamins like Vit.A, D, E, and K for their absorption.

Synthesis of factor II, VII, and X depends upon the vitamin K.
Suppose the patients respond to Vit. K therapy in 1 to 3 days means no liver cell damage; rather, there is a biliary obstruction.
If there is no response to Vit.k therapy then the patient has severe liver cell injury.

Sprue, celiac disease, and chronic diarrhea.
Vit.K deficiency, even in the newborn of the mother with Vit.K deficiency.
Hemorrhagic disease of the newborn.
Anticoagulant therapy (Warfarin and Coumadin).
D I C.
Factor 1 deficiency (Hypofibrinogenemia).
Dysfibrinogenemia.
Circulating anticoagulants is seen in lupus disease.
Premature newborn.
Salicylates intoxication.
Massive blood transfusion.
Summary of PT, PTT
Abnormal

PTT

alone

Bleeding due to deficiency of factor V11, IX, and XI.

Abnormal PT only

Factor VII deficiency.

Abnormal PT and

PTT

both

Anticoagulant therapy.
D I C.
Vit.K deficiency.
Liver diseases.
Massive blood transfusion.
Rarely due to Dysfibrinogenemia, and deficiency of factor X, V, and II.
| | | | | |
| --- | --- | --- | --- | --- |
|  Clinical condition | Prothrombin time | Thrombin time | APTT | Platelets count |
| Heparin therapy | prolonged mild | prolonged | prolonged | normal (the count is low) |
| Oral anticoagulants | Prolonged | normal | prolonged | normal |
| Circulating anticoagulant | normal/prolonged | normal | prolonged | normal |
| DIC | prolonged | prolonged | prolonged | low |
| Liver disease | prolonged | normal (rarely prolonged) | prolonged | low |
| Blood transfusion, massive | prolonged | normal | prolonged | low |
| Vit. K deficiency | prolonged | normal | prolonged | normal |
| | | | | |
Please, for more information, see

PTT

and APTT.
---