Fluid Analysis:- part 6 – Pleural Fluid Analysis, Aspiration procedure, Thoracentesis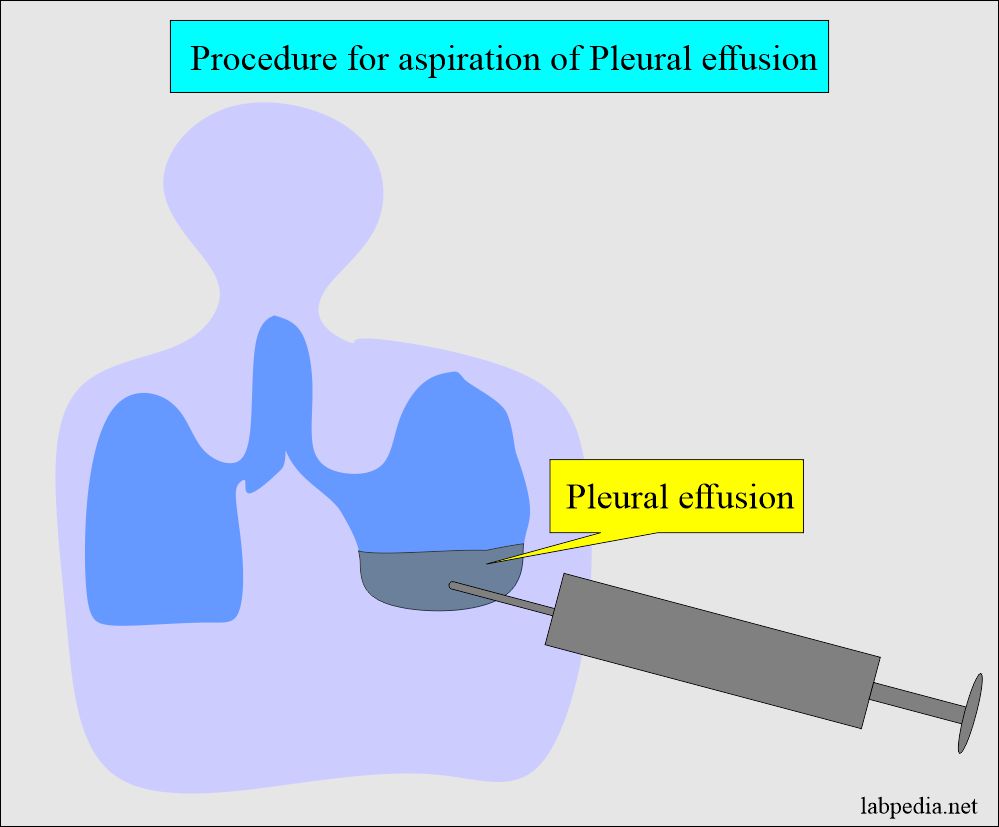 Pleural Fluid Analysis
Sample
The sample is aspirated from the pleural cavity.
Procedure:

This is better to do ultrasonography-guided aspiration.

The patient will be in a sitting position.
Give local analgesia.
Do the percussion and mark the upper level of fluid.
Ideally, it is done on the posterior side roughly 10 cms away from the spine.
Enter the syringe below 1 to 2 intercostal spaces from the upper border.
Indications for Pleural fluid aspiration
This may be diagnostic.
Or maybe therapeutic to relieve the pain and dyspnoea.
Gram and AFB stain may be done.
It is used for culture.
It can be used for the PCR for the diagnosis of tuberculosis.
Contraindications for Pleural fluid aspiration
Avoid in case of thrombocytopenia.
In case the volume is too small.
If the patient has a bleeding tendency.
If there is a skin disease in the area of the puncture.
If the patient is on anticoagulant therapy.
Pathophysiology of Pleural fluid aspiration
Definition:
The pleural fluid is obtained from the pleural cavity which is between the parietal pleural membrane lining the chest wall and the visceral pleural membrane covering the lungs.
Pleural fluid may be:

Exudate is mostly due to infections or neoplastic processes.

other conditions like collagen diseases, trauma, pulmonary infarction, and drug hypersensitivity may cause exudate.

Transudate is due to congestive heart failure, nephrotic syndrome, hypoproteinemia, and cirrhosis.
Gross appearance:
In the case of empyema, it has a foul odor, a thick and pus-like appearance.

Chylothorax fluid is opalescent and pearly fluid.

The chylous fluid contains a high concentration of triglycerides and a positive Sudan III stain.
Pseudochylous fluid contains a high concentration of cholesterol and cholesterol crystals.
Difference between chylous and pseudochylous pleural fluids:
| | | |
| --- | --- | --- |
| Characters featured | Pseudochylous fluid | Chylous fluid |
| Appearance | Milky and green tinge | Milky and white |
| White blood cells | Mixed cell types | Predominantly lymphocytes |
| Triglycerides | <50 mg/dL | >110 mg/dL |
| Cholesterol | Present | absent |
| Sudan III stain | Negativ/weekly positive | Strongly positive |
| Etiology | Chronic inflammation | Thoracic duct leakage |
How to differentiate hemothorax and hemorrhagic exudate:

Advise hematocrit (Hct) on the pleural fluid:

In the case of hemothorax = Hct is similar to the blood.
In chronic membranous disease fluid = Hct will be much lower.
| | |
| --- | --- |
| Appearance | Clinical significance |
| Clear, pale yellow | Normal |
| Bloody | Hemothorax (traumatic injury) and hemorrhagic effusion (malignancy) |
| Turbid, white | Microbial infection (due to the presence of WBCs) e.g tuberculosis, bacteria, immunologic diseases |
| Milky | Leakage from the thoracic duct, pseudochylous material from the chronic inflammation |
Total cells count:  The cell count >1000 /mL suggests exudate.

The presence of polys indicates an acute inflammatory condition like pneumonia, early tuberculous effusion, and pulmonary infarction.
If >50% of white cells are lymphocytes, then it indicates tuberculosis or neoplasm.
The presence of RBCs indicates neoplasm, intrathoracic bleeding, or malignancy.
Significance of the various cell types in the pleural fluids:
| | |
| --- | --- |
| Type of the cells | Significance of the various type of cells |
| Neutral (polys) | seen in pneumonia, pancreatitis, and pulmonary infarction |
| Lymphocytes | Tuberculosis, viral infection, malignancy, and immunologic diseases (SLE) |
| Eosinophils | >10% of cells seen in the allergic reaction, parasitic infestation, and trauma due to the presence of air or blood in the pleural cavity |
| Plasma cells | Seen in tuberculosis |
| Mesothelial cells | There are normal and reactive forms without any significance |
| Malignant cells | Seen in primary lung adenocarcinoma, small cell carcinoma, and metastatic carcinoma |
Protein: 

 >3 g/dL indicates exudates.
<3 g/dL indicates transudates.
Albumin gradient is a better factor than total protein.

Albumin gradient = Pleural albumin – serum albumin
A value 1.1 g/dL or more indicates transudate.
Value <1.1 g/dL indicates exudate.

Total protein ratio = Fluid total protein – serum total protein

If the ratio is >0.5  indicates exudate.

pH:

Normal pH =  7.4
<6.0 indicates an esophageal rupture and allows the influx of acid or gastric fluid from the stomach.
>7.4 indicates malignancies.
Pleural fluid pH <7.3 may indicate the need for chest tube drainage, in addition, antibiotics in case of pneumonia.

Glucose:

The glucose level is like a serum glucose level.
Glucose <60 mg/dL may be seen in:

Tuberculosis.
Malignancy.
Rheumatoid arthritis.
Empyema.

Amylase:

This may be elevated in malignant tumors.
It will be raised in case of pancreatitis and this amylase may be the first to be raised in the pleural fluid.
Rupture of the esophagus with leakage of salivary amylase.

Lactate dehydrogenase (LDH):

Pleural fluid LDH / serum LDH if >0.6 is seen in the exudate.

Triglycerides:

This is done to diagnose chylous pleural effusion.
In the chylous fluid, triglycerides are >110 mg/dL.
Significance of the chemicals in the pleural fluids:
| | |
| --- | --- |
| Chemical parameter | Significance in various diseases |
| Glucose | Decreased in rheumatoid arthritis, in purulent infection |
| Triglycerides | Increased in chylous effusion |
| Amylase | Increased in pancreatitis, esophageal rupture, and malignancy |
| Lactate | Increased in bacterial infection |
| LDH | Increased in exudate |
| pH | Decreased in pneumonia |
Gram stain and culture:

Advise gram stain before starting the antibiotics.
Advise culture for tuberculosis and this may take 4 to 6 weeks.
Advice for fungal culture because this may be the cause of the pleural effusion.

Cytology:

This will be positive in 50 to 60% of the malignant pleural effusion.
The most common site is the lungs and breast.
The third common cause is lymphoma.

Carcinoembryonic antigen (CEA):

CEA is raised in case of pleural effusion due to GIT malignancy.
This may be raised in the case of breast carcinoma.

Exudate:

Pleural fluid cholesterol >60 mg/dL.
Pleural fluid cholesterol: serum cholesterol = >0.3
Pleural fluid bilirubin: serum bilirubin = 0.6 or more.

Microscopic examination: In the case of pleural fluid may see the staphylococcus aureus, Enterobacteriaceae, anaerobes, and mycobacterium tuberculosis.

Advice:

Gram stain.
Culture.
AFB stain.

Immunologic tests: It differentiates pleural effusion from the immunologic and non-inflammatory processes.

The most common tests are advised are an anti-nuclear antibody (ANA), and Rheumatoid factor.
 Normal Pleural fluid:
Source 2
Characteristics

Values

Gross appearance
Clear, light yellow
Volume
10 mL
pH
7.4 (or greater)
RBCs
Nil
WBCs
<300 /mL
Protein
<3.0  g/dL
Glucose
70 to 100 mg/dL
Alkaline phosphatase

Adult male = 90 to 240 units/L

Adult female <45 years = 76 to 196 units/L

Adult female >45 years = 87 to 250 units/L

Amylase
138 to 404 units/L
 Lactate dehydrogenase (LDH)
 It is like the serum level
Bacteria
Negative
Fungus
Negative
Cytology
Negative for malignant cells
carcinoembryonic antigen (CEA)
<5 ng/mL
---