Mycetoma Diagnosis and Causative Agents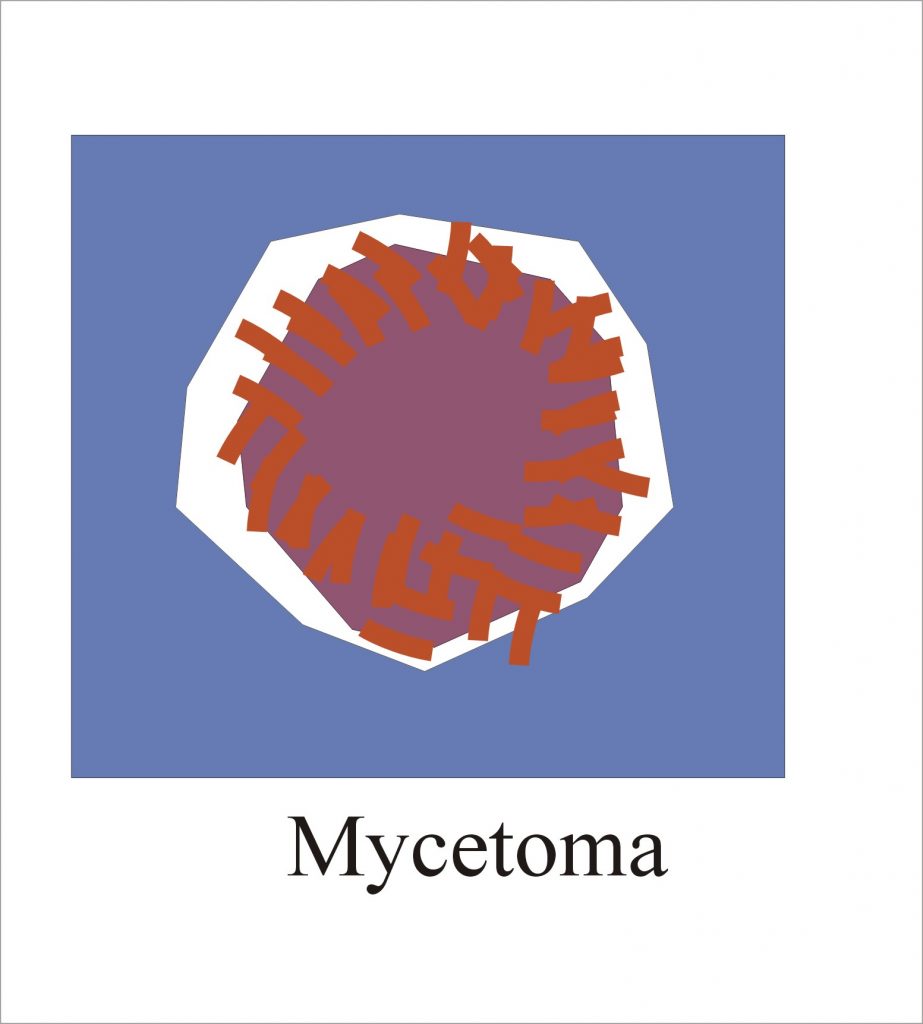 div class="body-contents tests">
Definition
Mycetoma is a chronic, locally progressive, destructive, suppurative, and granulomatous disease.

It begins in the subcutaneous tissue usually of the foot.
This involves subcutaneous tissue, fascia, and bone.
It is characterized by the tumefaction, draining sinuses, and the presence of granules.
Pathology
Mycetoma is caused by two types of microorganisms:
Bacteria are aerobic actinomycetes which are the cause of Mycetoma called Actinomycetoma, in more than 50% of the cases.

The organism in this group are:

Nocardia brasiliensis.
Actinomadura pelletieri.
Actinomadura madurae.
Streptomyces somaliensis.
Actinomyces are:

Actinomyces israelli.
Actinomyces bovis.

Fungal infection causes in the other 50% of the cases.

This is called Eumycetoma, and also known as maduromycosis, and caused by true fungus.

There are at least 23 types of filamentous fungi that cause Mycetoma. An important one is:

Pseudallescheria boydii (There are yellow granules).
Madurella mycetomatis (There are big black granules).
Medurella grisea.
Presentation
Mostly there is the involvement of the feet and less common hands and other sites.

This is chronic, suppurative, granulomatous inflammation which can involve subcutaneous tissue, fascia, and bone.

The 

etiological

agents gain entry into the body through the foot from the soil which may be due to trauma.

When there is the involvement of the foot, where it is swollen and discolored and numerous draining sinuses.

This disease is characterized by tumor formation and draining the abscess.

There is the presence of granules or grains. in the pus.

These granules have different colors, white, black, yellow, and brown depending upon the causative agents.
Mycotic mycetoma is common in men than in women.

Mycotic mycetoma is usually due to an injury to the foot.
Pathogenesis
When fungi are implanted in the subcutaneous tissue following the trauma.

There is a destructive granulomatous lesion that drains through multiple sites.

There is local spread but no dissemination.
Laboratory Diagnosis
Collect the granules from the lesion.

Then wash the granules by the saline, then crush and spread on the slide.

Also, take the culture of the material. Culture is done on the Sabouraud's medium for fungus.

Prepared slides are stained with Gram's stain :

The filaments are less than or equal to 1.0 micrometer in diameter, these are diagnostic of aerobic actinomycetes and called actinomycetoma.

If the filaments are 2 to 5 micrometers and hyphal in shape is diagnostic of fungal infection is called eumycetoma.

These granules can also be seen by KOH 10% solution.
Treatment
The prognosis of Eumycetoma is poor.

These patients undergo surgical debridement, oral Itraconazole 200 mg twice a day for a prolonged period of time and response is only 70%.

These patients may be given combination therapy.

Mostly these are treated by surgery.

Chemotherapy is not effective and given for a prolonged period of time.
---