Liver Function Tests:- Part 2 – Bilirubin Metabolism, and Jaundice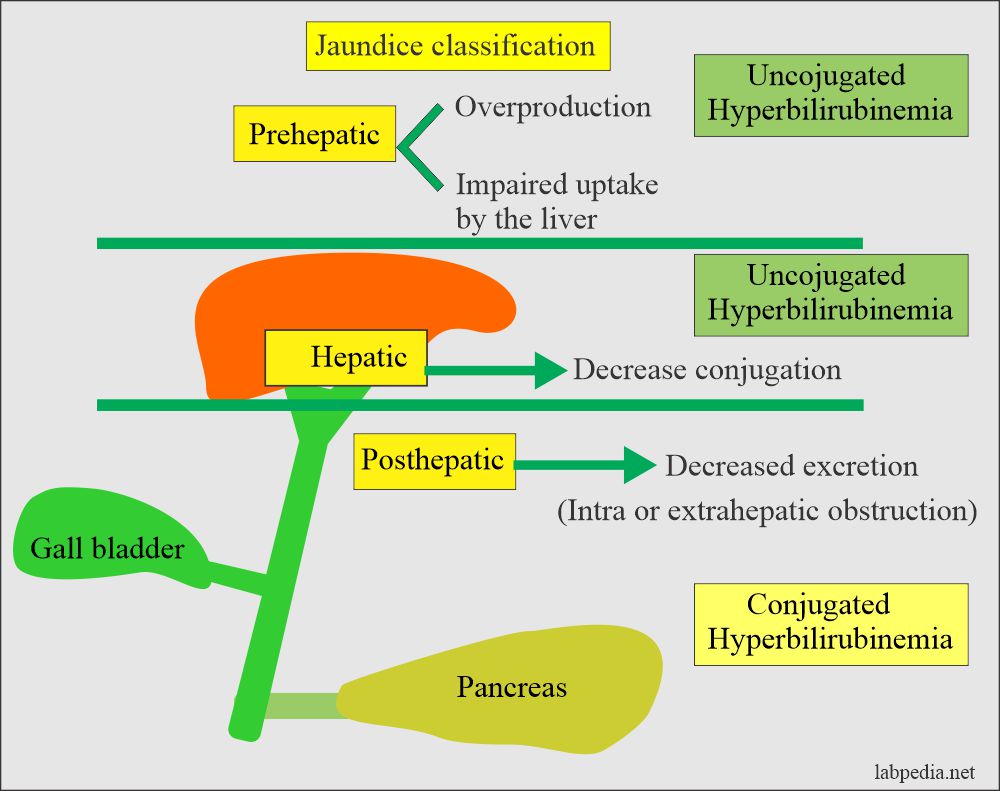 Bilirubin Metabolism
Sample
It is done on the serum of the patient.
Heparinized plasma can be used.
A random sample can be taken.
The serum is stable for 3 days at 1 to 6 °C.
Precautions
Avoid hemolysis.

For bilirubin, a fasting sample is preferred.

Protect serum or plasma from the light.

Lipemia also falsely increased the value.
Purpose of the test (Indications)
LFT

diagnoses any kind of liver disease.

LFT

has been done for follow-up of the patient on treatment.

LFT

is done in routine in patients on chemotherapy.

LFT

may be advised in a patient with treatment on antituberculous treatment.
What tests are included in routine LFT
Bilirubin.

Bilirubin total
Bilirubin is direct and indirect.

SGPT.

SGOT

.
Alkaline phosphatase
Total protein.
Albumin.
Additional test.
γ – GT (gamma – GT)
Viral hepatitis profiles like

HBV

,

HCV

,

HAV

,

HDV

,

HEV,

etc,
Steps in the diagnosis of Jaundice
Clinical history of the patient and examination.
Stool examination for ova and parasite.
Occult blood in the stool is positive in cancers.
Urine examination:

The persistent absence of the urobilinogen indicates obstructive jaundice.
Bilirubinuria is an early sign of viral hepatitis.
Negative urobilinogen and bilirubin indicate hemolytic anemia.
Dark urine and clay-colored stool indicate hepatocellular or cholestatic jaundice.

Advise biochemical tests like LFT, serum albumin, alkaline phosphatase, γ-GT, PT, total proteins, and immunoglobulin quantitation.
Hematological work-up like CBC, reticulocytes, and Coomb's test.
Serological tests include ANA, Mitochondrial antibody, IgG, IgA, IgM, hepatitis viral profile and AFP.
Radiology include X-Rays, plain X-Ray abdomen, USG, and CT scan.
Special tests like α1-antitrypsin, amylase, ceruloplasmin, iron, and IBC.
Needle biopsy or FNA.
Pathophysiology of Bilirubin metabolism
Functions of the liver:
The liver is a multifunctional organ involved in various functions like excretory, synthesis, detoxification, storage, and metabolism.
It can store (storage function):

Amino Acids.
Carbohydrates.
Lipids.
Vitamins.
Minerals.

It can synthesize  (metabolic function):

Protein, like albumin, alpha, and beta globulins.
Coagulation factors.
Transport proteins.
Bile acids from cholesterol.

The liver is the site for detoxification of:

drugs.
Toxins.

Its major function is Conjugation:

bilirubin combines with glucuronic acid as:

Bilirubin Monoglucuronide.
Bilirubin diglucuronide.

The liver has an excretory function:

Excrete bilirubin into bile.
Bile acid is excreted into the bile.

The liver is also the site of catabolism of:

Thyroid hormone.
Steroids hormones.
Few other hormones as well.
Bilirubin metabolism (How bilirubin forms):
Changes in the mononuclear phagocytic system:

The breakdown of the RBCs is a major source for the formation of Globin and heme.
Heme changes into Biliverdin and releases iron which is recycled for the formation of RBCs in the bone marrow.
Biliverdin forms the unconjugated bilirubin which is fat-soluble.

Bilirubin metabolism and excretion in the urine
Changes in the liver cells:

Unconjugated bilirubin is in the presence of glucoronyl transferase enzyme is conjugated with glucuronic acid.
There is the formation of monoglucuronide and diglucuronide (conjugated bilirubin).
Conjugated bilirubin enters the enterohepatic circulation.
Bilirubin 95% is excreted into bile in the form of:

Glucuronide.

∼90% is diglucuronide.
∼10% is monoglucuronide.

Glucosides.
Xylosides.

Changes in the intestine:

Bilirubin is hydrolyzed by the catalytic action of β-glucuronidase from the liver, intestinal epithelial cells, and bacteria.
The unconjugated bilirubin is reduced by the anaerobic intestinal bacterial flora to form a group of three colorless tetrapyrroles called urobilinogen:

Stercobilinogen.
Mesobilinogen.
Urobilinogen, 20% reabsorbed from the intestine and enters the enterohepatic circulation.

The extrahepatic fate of bilirubin:

Water-soluble bilirubin is stored in the gallbladder and it is released into the intestine.
Through enterohepatic circulation excreted in the feces and in the urine.

In the urine is excreted as urobilinogen.
In the stool as stercobilinogen.
The three urobilinogen in the lower intestinal tracts produce bile pigments:

Stercobilin.
Mesobilin
Urobilin.

These are orange-brown and are major pigments of the stool.
Definition of Jaundice
This is defined as the yellow discoloration of the skin and sclera because of the deposition of bile pigments.
 It appears when the serum bilirubin level is above 2 mg/dl.
Bilirubin is yellow pigments and it is biotransformed in the liver and then excreted in the bile, urine, and stool.
Jaundice may be classified as:
Physiological classification:

Unconjugated hyperbilirubinemia (indirect bilirubin).
Conjugated hyperbilirubinemia (indirect bilirubin).
Unconjugated hyperbilirubinemia:
This may be due to:
Increased production:

Hemolysis (hemolytic disease of the newborn).
Hereditary.
acquired.
Ineffective erythropoiesis.
Increased turnover like in neonates.
Physiologic jaundice of the newborn.

Decreased delivery:

Congestive heart failure.
Portacaval shunt.

Decreased uptake by the hepatocytes:

Drugs.
Gilbert's syndrome.
Sepsis.
Fasting.

decreased storage of unconjugated bilirubin:

Fever.
Competitive inhibition.

Decreased conjugation:

Physiologic jaundice e.g. Neonatal jaundice.
Drugs.
Hereditary like Crigler-Najjar syndrome.

Complete enzyme deficiency, Type 1
Partial enzyme deficiency, Type 2

Hepatocellular dysfunction.
Gilbert's syndrome.
Conjugated Hyperbilirubinemia:
Decreased secretion into bile canaliculi:

Hepatitis.
Cholestasis (Intrahepatic).
Dubin – Johnson syndrome.
Rotor syndrome.

Decreased drainage or excretion.

Extrahepatic obstruction:

Stones.
Carcinoma.
Stricture.
Atresia.

Sclerosing cholangitis.
Intrahepatic obstruction:

Drugs.
primary biliary cirrhosis.
Tumors.
Granulomas.
Idiopathic neonatal hepatitis (cholestatic jaundice).
Features and characteristics of the various type of jaundice:
| Tests | Pre Hepatic | Hepatic | Post-hepatic |
| --- | --- | --- | --- |
| Bilirubin Total | Raised | Raised | Raised |
| Bilirubin Conj. | Raised | Raised | raised |
| SGPT | Normal | Raised markedly ++++ | Normal or slightly raised |
| SGOT | Normal | Raised markedly ++++ | Normal or slightly raised |
| Alk.Phosphatase | Normal | Slightly raised + | Markedly raised ++++ |
The following table differentiates between Pre Hepatic, Hepatic, and Post Hepatic Jaundice.
Causes of Jaundice:
| Type of Jaundice | Causes |
| --- | --- |
| Pre hepatic | Hemolysis |
| | Hemolytic disease of the newborn |
| Hepatocellular | viral hepatitis |
| | Alcohol |
| | Advanced chronic liver disease |
| | Gilbert's syndrome |
| Post-hepatic (Obstructive) | common bile duct gallstones |
| | pancreatic tumor |
| | Ca of the extrahepatic duct |
Hepatorenal failure:
There is a progressive renal failure in patients with severe end-stage liver disease (acute liver failure).
There is no obvious cause of renal disease.
The renal biopsy is essentially normal.
---