Lipoprotein:- part 4 – Chylomicron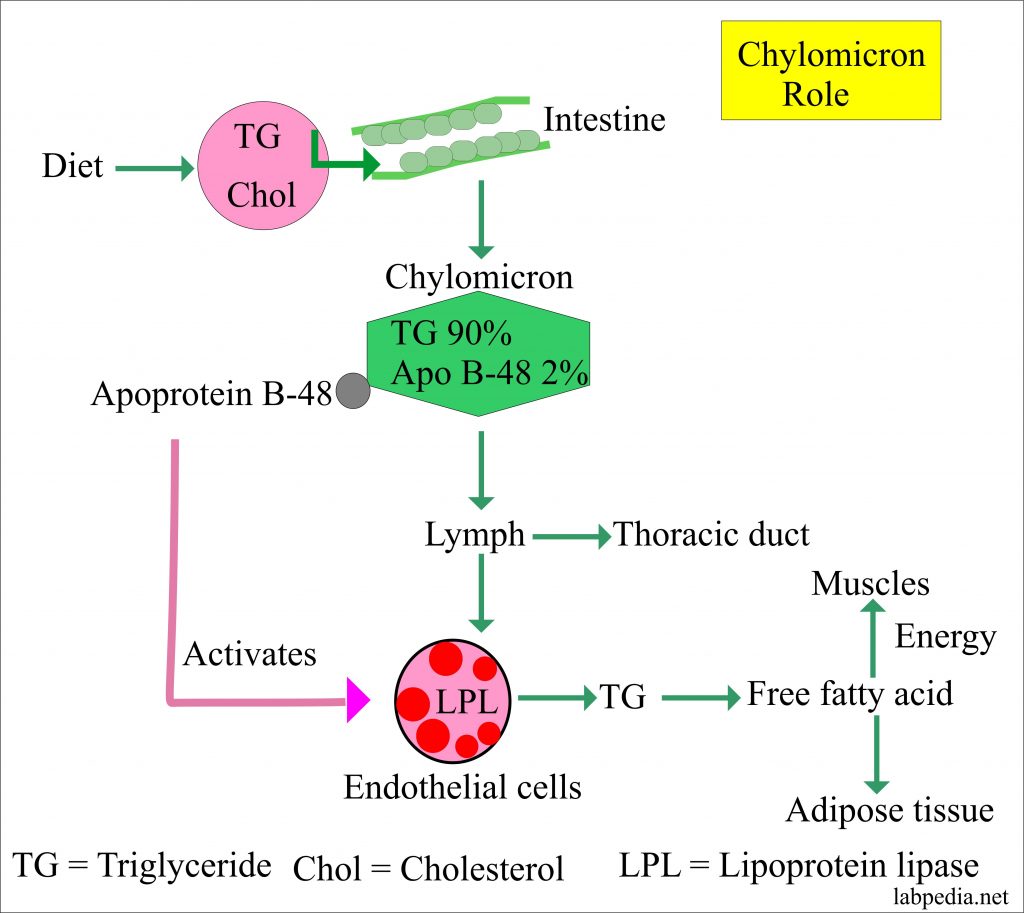 Sample
The best sample is serum after 10 to 12 hours of fast.
Plasma can also be used.
The preservative is stable for one week at 4 °C.
Chylomicron
This is the

 primary lipoprotein which is responsible for the transportation of fat from the diet which is the exogenous source.

Chylomicron is the class of lipoproteins, this is responsible for the transport of exogenous cholesterol and triglyceride from the small intestine to the tissues after the meal.

Chylomicron forms in the endoplasmic reticulum of intestinal epithelial cells.

This consists of a core of triglyceride surrounded by a monolayer of a phospholipid, cholesterol, and apoproteins.
Chylomicron is synthesized from the intestine and released from there.

Triglycerides are the major component.

Apolipoproteins are only 1 to 2%. The most common is B-48, AI, AII, AIV, and C.

The other components like cholesterol, cholesterol esters, phospholipids, and protein in a very small amount.

Chylomicrons do not enter the portal system but go to the lymphatic system, thoracic duct.

Then it enters the jugular vein and the main systemic circulation.

Now lipoprotein lipases hydrolyze the triglyceride into monoglycerol, glycerol, and free fatty acids.

These are taken up at the cellular level for energy metabolism or for the synthesis of triglycerides for storage.
Chylomicron also contains cholesterol, cholesterol ester, phospholipids, proteins, and apoproteins.

Chylomicron consists of :

Triglycerides 84%

Cholesterol 2%

Cholesterol esters 5%

Protein 2%

Phospholipids 7%.
Functions:

Chylomicron is responsible for the transport of the dietary fats from the small intestine to the tissue-like adipose, cardiac and skeletal muscles.
Importance of lipoproteins
Associated with a high risk of cardiovascular disease.
LDL, VLDL, and triglycerides lead to atherosclerosis.
High HDL level reduces cholesterol and risk of heart disease.
Table showing the summary of characteristics of the lipoproteins
Characteristics

Chylomicron

HDL

LDL

VLDL

PLasma appearance
Creamy layer, slightly turbid
Clear
Clear, or yellow-orange tint
Turbid to opaque
Size (diameter nm)
>70.0
4 to 10
19.6 to 22.7
25 to 70
Electrophoretic mobility
Origin
α – region
β – region
Pre – β region
Molecular weight
0.4 to 30 x 10

9

3.6 x 10

9

2.75 x 10

9

5 to 10 x 10

9

Synthesized in (Tissue of origin)
Intestine
Intestine and liver
Intravascular
Liver and intestine
Composition by weight in %
                     Cholesterol esterified
5
38
49
11 to 14
                    Cholesterol unesterified
2
10
13
5 to 8
                    Triglycerides
84
9
11
44 to 60
                    Phospholipids
7
22
27
20 to 23
                    Proteins
2
21
23
4 to 11
Triglycerides
Markedly raised
Normal
Normal/ Raised
Moderately to Markedly raised
Clinical significance of
Pancreatitis and acute abdomen
Decreased risk of CAD
Increased risk of CAD
Increased risk of CAD
Functions
Transport dietary lipids to tissue
Carry cholesterol from tissue to liver
Carries cholesterol to tissue
Transport endogenous TG from liver to adipose tissue
---