Lipoprotein:- Part 3 – Very Low-Density Lipoprotein (VLDL)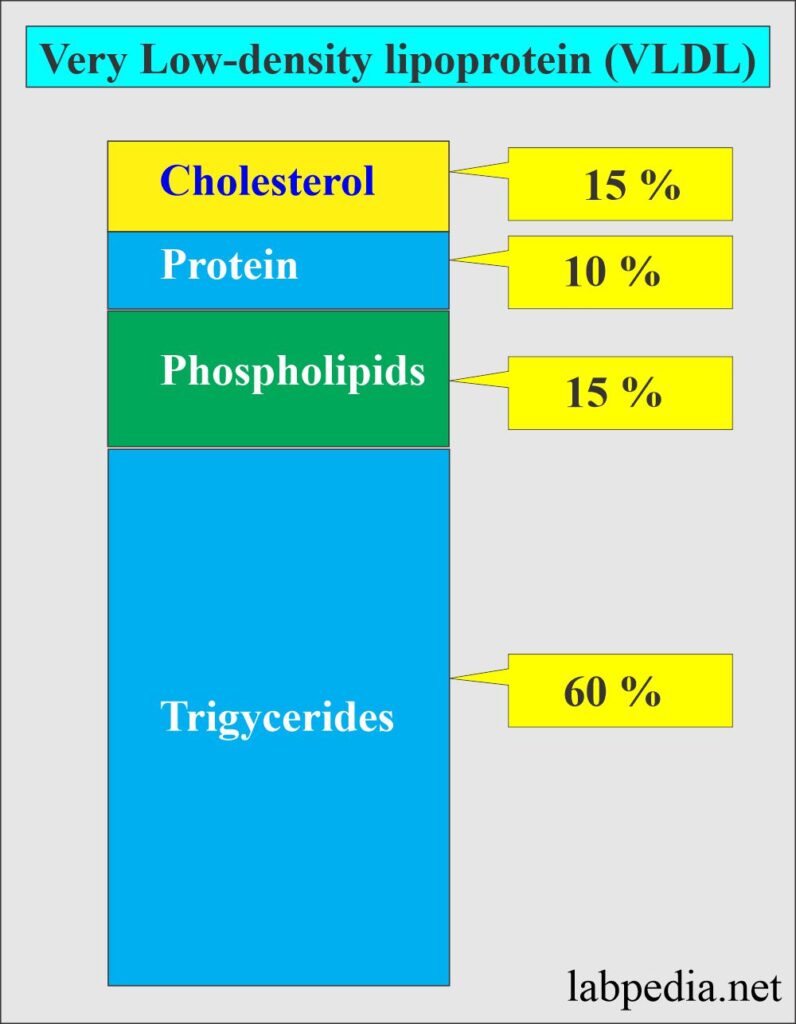 Very Low-Density Lipoprotein (VLDL)
Sample
The best sample is serum after 10 to 12 hours of fast.
Plasma can also be used.
The preservative is stable for one week at 4 °C.
Purpose of the test (Indications) for Very Low-Density Lipoprotein
These are estimated to predict heart disease.
Lipoprotein may be part of the lipid profile.
These are done regularly to monitor the disease.
Precautions for Very Low-Density Lipoprotein (VLDL)
Keep in mind that smoking and alcohol decrease HDL values.
After myocardial infarction, the cholesterol level may be decreased.
HDL values are age and sex depending.
Drugs that may affect (increase) the lipoproteins are Aspirin, Phenothiazines, Sulfonamides, oral contraceptives, and steroids.
HDL is raised in Hypothyroidism and decreased in Hypothyroidism.
Pathophysiology of Lipoprotein 
What are the lipoproteins:
Lipoproteins consist of :

High-density lipoprotein (

HDL

).
Low-density lipoprotein (

LDL

).
Very low-density lipoprotein (

VLDL

).
Chylomicrons
The outer covering lipoproteins are called Apoproteins and these are classified into:

Apo-1.
Apo-II.
Apo- B.
Apo-D.
Apo-E.

Apolipoproteins are a hydrophilic component of lipoproteins.

While lipids like cholesterol and triglycerides are hydrophobic and need to be placed in water-soluble micellar structures (Apolipoproteins)  in order to be transported in the plasma.
Apo-C, B-100, and E become the main components.
Very low-density lipoprotein (VLDL)
It originates from the liver and carries triglycerides from the liver to other tissues.

VLDL carries a very small amount of cholesterol.

It is the product of endogenous lipoprotein synthesis in the liver and is delivered to the tissue.

VLDL proteins are the main carrier of triglycerides which are synthesized in the liver.

Triglycerides are derived from dietary precursors, such as free fatty acids, glycerol, and carbohydrates. 

Triglycerides are a predominant component.

VLDL contains about 10% cholesterol and functionally important apolipoproteins.

VLDL

may be expressed as the percentage of cholesterol.

The Apo – C  activates the release of lipoprotein lipase enzyme, which hydrolyzes triglyceride into glycerol, monoglycerol, and free fatty acids.

This reaction may give rise to intermediate lipoproteins (IDL).
VLDL consists of :

Triglycerides 40 to 60%

Cholesterol 5 to 8%

Cholesterol ester 11 to 14%

Phospholipids 20 to 23%

Protein 4 to 11%

Another source:

Triglycerides = 60%
Cholesterol = 15%
Phospholipids = 15%
Protein  10%
Composition of the VLDL:
It is a pre-β-lipoprotein derived from the liver.
Type of lipid
Source
Diameter (nm)
Svedberg unit
 % Protein
% Total lipids
Free cholesterol
Very low-density lipoprotein (VLDL)

Liver
Intestine
Difference between VLDL and LDL:
LDL has lower contents of triglycerides and higher cholesterol contents.

LDL carries 70% of the total cholesterol and very little amount of triglycerides.

LDL has no apoproteins C or E.
Inside the cells, the LDL molecule is metabolized into its component parts.
It shows that LDL has a major role in providing cholesterol to the body cells and leads to atherosclerosis.
VLDL has the majority of triglycerides and less cholesterol content.
Functions of Very Low-Density Lipoprotein (VLDL):
VLDL

is associated with an increased risk of coronary heart disease.

VLDL

can convert to

LDL

.

VLDL

more than 25 to 50 % are associated with increased coronary heart disease.
Normal  Very Low-Density Lipoprotein (VLDL)
Source 2
Another source
Source 4
Age
mg/dL
Adult
Desirable
<130
Borderline to high risk
140 to 159
High risk
>160
Children and adolescents
Desirable
<110
Borderline – high risk
110 to 129
High risk
>130
Increased VLDL is seen in:
Nephrotic syndrome.
Glycogen storage diseases.
Familial LDL lipoproteinemia.
Hypothyroidism.
Chronic liver disease.
Liver cell carcinoma.
Gammopathies.
Cushing syndrome.
Familial hypercholesterolemia.
Decreased VLDL is seen in:
Hypoproteinemia.
Hyperthyroidism.
Familial hypolipoproteinemia.
Table showing the summary of characteristics of the lipoproteins
Characteristics

Chylomicron

HDL

LDL

VLDL

PLasma appearance
Creamy layer, slightly turbid
Clear
Clear, or yellow-orange tint
Turbid to opaque
Size (diameter nm)
>70.0
4 to 10
19.6 to 22.7
25 to 70
Electrophoretic mobility
Origin
α – region
β – region
Pre – β region
Molecular weight
0.4 to 30 x 10

9

3.6 x 10

9

2.75 x 10

9

5 to 10 x 10

9

Synthesized in (Tissue of origin)
Intestine
Intestine and liver
Intravascular
Liver and intestine
Composition by weight in %
                     Cholesterol esterified
5
38
49
11 to 14
                    Cholesterol unesterified
2
10
13
5 to 8
                    Triglycerides
84
9
11
44 to 60
                    Phospholipids
7
22
27
20 to 23
                    Proteins
2
21
23
4 to 11
Triglycerides
Markedly raised
Normal
Normal/ Raised
Moderately to Markedly raised
Clinical significance of
Pancreatitis and acute abdomen
Decreased risk of CAD
Increased risk of CAD
Increased risk of CAD
Functions
Transport dietary lipids to tissue
Carry cholesterol from tissue to liver
Carries cholesterol to tissue
Transport endogenous TG from liver to adipose tissue
Note: Lipoproteins are described in detail in LDL and HDL.