LE cell phenomenon (Lupus erythematosus cell)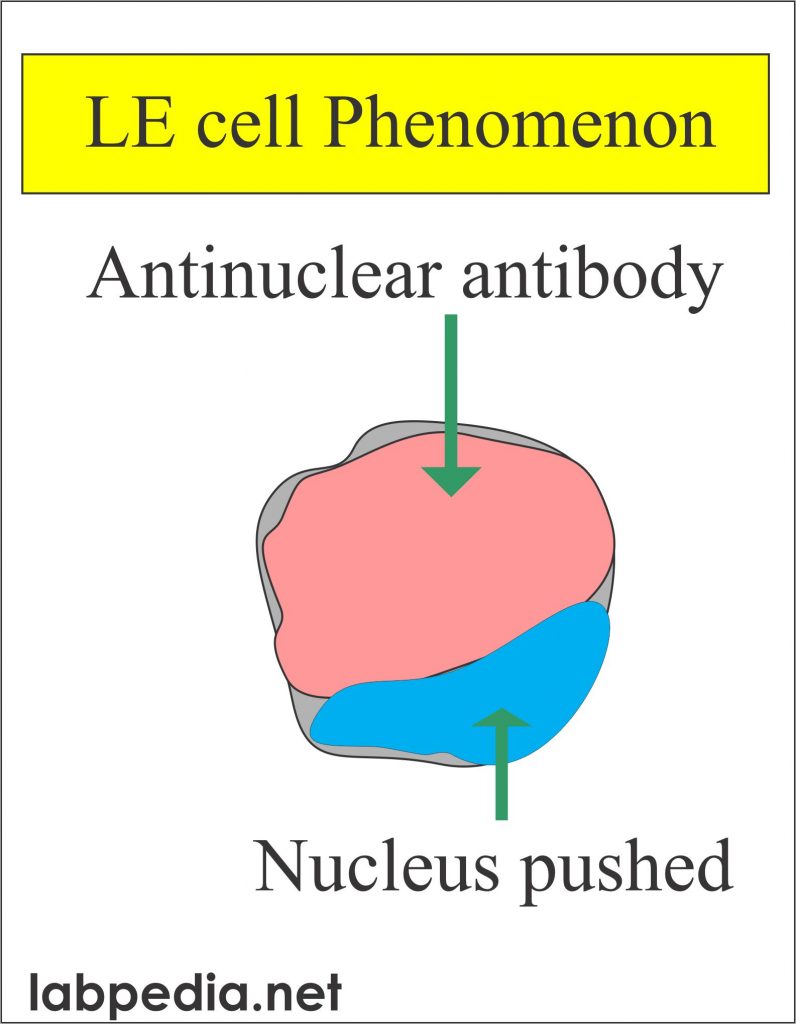 LE cell phenomenon
Sample for LE cell phenomenon
5 to 10 mL venous blood of the patient is taken and is traumatized by a glass rod or glass beads.
Indication for LE cell phenomenon
This is done to diagnose Systemic lupus erythematosus.
Pathophysiology of LE cell phenomenon
Systemic lupus erythematosus is a typical autoimmune disease.
It is a systemic rheumatic disease.
Etiology is unknown but the primary defect is in the immune system.
50 to 70 new cases are diagnosed per year per million of the people.
The range of the disease is:

Mild limited to a photosensitive facial rash and transient diffuse arthritis.
Life-threatening involvement of:
 Kidneys.
Cardiovascular system.
Respiratory system.
Central nervous system.
The LE cell definition:
A LE cell is either a normal segmented white blood cell or another phagocytic cell with the engulfed homogenous and swollen nucleus.
This is a degenerating nucleus which may be white blood cell or lymphocyte.
In

SLE

there are various self-antigens like:

Nuclear histone and proteins.
IgG
RBCs

DNA

and

RNA

Platelets.

Autoantibodies form against all the above antigens.
Autoantibodies give rise to a complex of Ag+Ab which will lead to damage by Type 3 and Type 2 hypersensitivity reactions.
Antinuclear antibody cause damage to the nucleus which degenerates and gives rise to a homogeneous body called a hematoxylin body.
Mature neutrophilic polymorphonuclear leukocyte, which has phagocytized a spherical, homogeneous-appearing inclusion (hematoxylin body).

This is the neutrophil leucocyte with the presence of homogeneous red-purple inclusion that distends the cells and pushes the nucleus to one side.

This inclusion is derived from the nuclear material of degenerating leukocytes as the outcome of antibodies against the nuclear material.

These inclusions are characteristic of lupus erythematosus, but also found in other autoimmune diseases.
Procedure for LE Cell Phenomenon:
Take 5 to 10 ml of blood.

Add glass beads or traumatized the cells with a glass rod.

Incubate for 20 to 30 minutes at 37 °C.
There will be a formation of LE cells on incubation.
Bone marrow may be taken for this phenomenon.
Centrifuge the blood sample and make the slide from the buffy coat or from the area of the white cell.
Result
The neutrophils show intracytoplasmic inclusion pushing the homogenous degenerated nucleus to the periphery.
Now, a day this test is obsolete because of so many other lab.diagnosticv tets.
Positive LE cells are seen in:
Systemic lupus erythematosus. These are positive in 95% of the cases.
Drug-induced lupus erythematosus. These are seen in 80 to 95 % of the cases.
Other autoimmune diseases show LE cell in less than 20 % of the cases.
---