Lactase Enzyme Deficiency, Lactose Intolerance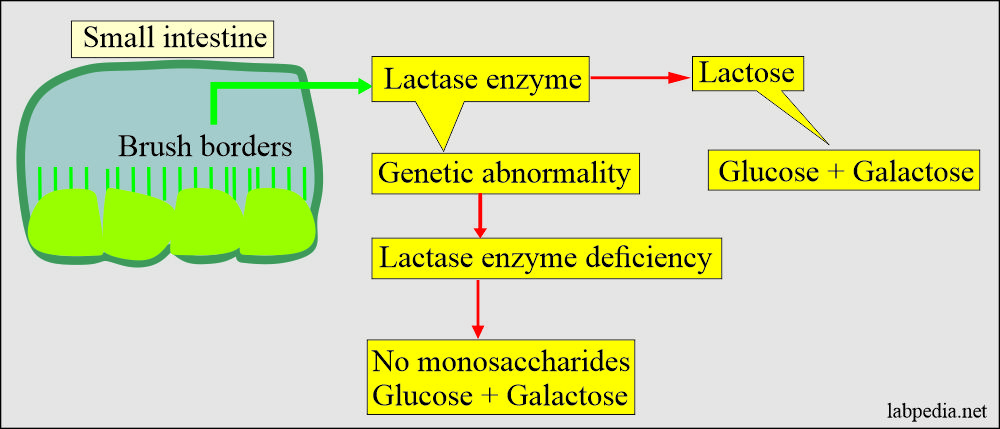 Lactose tolerance test principle
The patient is provided with lactose overload. Lactose will not break into glucose and galactose in the deficiency of lactase enzyme; plasma glucose level will not increase in the blood.
This test is done as GTT (glucose tolerance test) to find the intestinal disaccharidase (lactase) enzyme deficiency.
Glucose fasting level is compared with other glucose levels to increase or decrease.
Precautions for lactose tolerance test
Avoid strenuous exercise.
Smoking can increase blood glucose levels.

Don't allow smoking during the test and 8 hours before the test.

Enterogenous steatorrhea. Patients with diabetes mellitus may have increased 20 mg/dL despite the lactase enzyme deficiency.
The patient must fast 8 to 12 hours before the test.
The patient should not eat dark bread, beans, sugars, or high fiber food within 24 hours of the test.
Don't allow gum chewing.
Don't allow antibiotic therapy 2 weeks before the test.
Definition of lactase enzyme deficiency 
Lactose is a disaccharide and is mainly found in dairy products. Lactose needs a lactase enzyme for its digestion. Lactose intolerance develops when the lactase enzyme is deficient; then, lactose will not break into glucose and galactose.
Lactose intolerance starts in infancy, with S/S of diarrhea, vomiting, and failure to thrive. The patient becomes asymptomatic when lactose is removed from the diet.
Pathophysiology
The brush borders of the small intestine have the enzyme lactase. When there is a genetic abnormality of lactase enzyme deficiency, milk sugar can not break into monosaccharides.
In case of deficiency of the lactase enzyme, lactose can not break into glucose and galactose.
Lactase enzyme deficiency may be:
Congenital is the genetic deficiency of the lactase enzyme.

This appears in the newborn.
These babies will present with vomiting, diarrhea, malabsorption, and failure to thrive.

Secondary (acquired)  lactase enzyme deficiency is due to:

Gluten sensitivity enteropathy.
Enteritis.
Bacterial growth in the intestine.
Inflammatory bowel disease like Crohn's disease.
Giardia lambelia infestation.
Cystic fibrosis of the pancreas.

There is some degree of lactase enzyme deficiency in adults, but severe deficiency occurs due to:

Inflammatory bowel disease.
Short-gut syndrome.
Malabsorption syndrome.

When there is lactose in the intestine, then the small bowel is loaded with lactose.
Intestinal bacteria leads to its fermentation and give rise to:

Gas formation.
Osmotic gradient leads to osmotic diarrhea.
Clinical features:
There is abdominal floating.
Abdominal cramping.
There is flatus.
Diarrhea.
Normal values
Normal = Glocuse change from the normal value = >30 mg/dL (>1.7 mmol/L).

Inconclusive = 20 to 30 mg/dL
Abnormal = <20 mg/dL  (<1.1 mmpl/L) (positive for lactase enzyme deficiency).

Breath test (H+) = <10 ppm increase from the baseline is abnormal.
Lab diagnosis:
Glucose tolerance test.
Procedure:

Give 50 grams of lactose mixed with 200 mL of water. (2 grams lactose/kg of body weight).
Draw the blood sample at 0, 30, 60, and 90 minutes intervals.
Interpretations:

There is flat lactose tolerance, which means no rise in the glucose level.

Lactose in the urine produces a positive test for reducing sugars but is negative by the glucose oxidase method.
Stools are acidic.
Breath test for the detection of hydrogen (H+).

There is the fermentation of the lactose in the colon, which produces H+ gas.
Take the breath sample at the same time when starting the GTT and at the same interval as blood samples.