Klebs loeffler bacilli (KLB), Corynebacterium Diphtheriae, Diagnosis and Stain,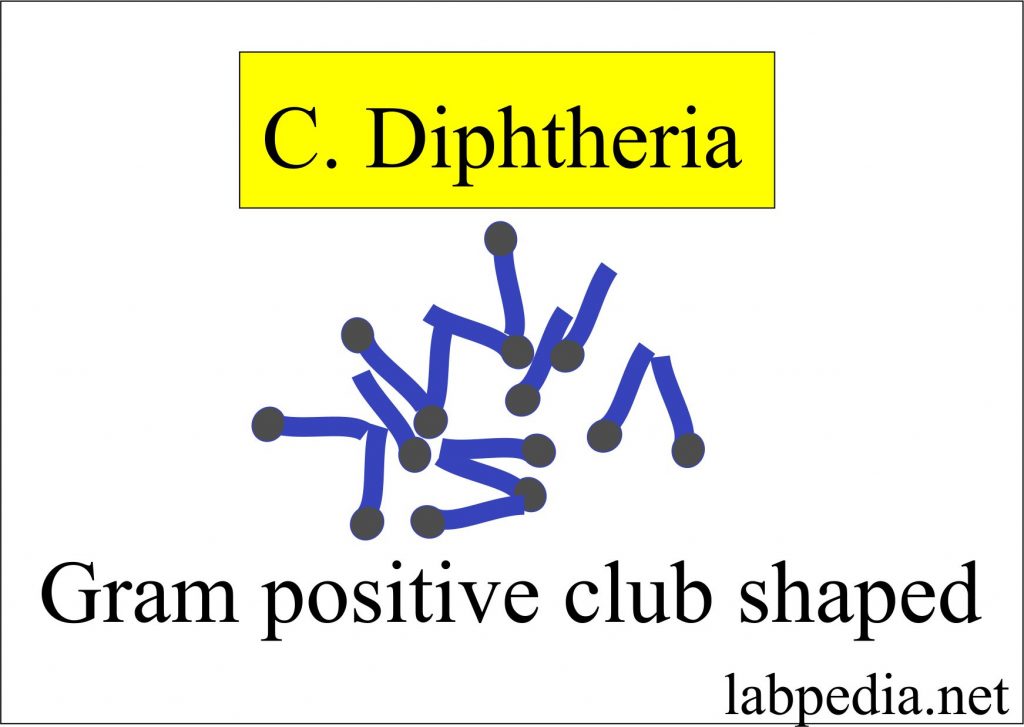 Sample
The swab is made from the throat or from the suspected lesion.
Indication
For the diagnosis of C.Diphtheriae.
Microbiology
C.diphtheriae is a nonmotile, non-capsulated, club-shaped, Gram-positive bacillus.

These are non-sporing.
Highly pleomorphic like Chinese letter appearance.

Habitat is the throat and nose of human beings.
These are pleomorphic gram-positive rods or clubs which divide in unique patterns like V, L, or W shapes, so-called Chinese character shape.

These rods measures 3 X 0.3 µm.

Culture: These are aerobes and facultative anaerobes.

The optimum temperature for the growth is 37 °C.
Media containing blood or serum is needed.
Selective media is needed for isolation.
Most strains require nicotinic and pantothenic acids for growth, some also require thiamine, biotin, or pimelic acid.
The selective medium is used:

Loeffler's medium.
Potassium tellurite medium.

The colonies are black-gray.

For the optimal production of diphtheria toxin, the medium should be supplemented with amino acids.
Biochemical reactions:

There is acid production from carbohydrates.
Gravis strain can ferment starch and sugar.
Intermedius and mitis can not ferment.
Toxigenic strains are lysogenic.

These toxigenic strains cause the death of the experimental animal in 2 to 3 days,
While antitoxin protected animals can survive.

Corynebacterium diphtheriae subtypes are on the basis of colony morphology:

Mitis.
intermedius.
Gravis.

For epidemiological studies, the C. diphtheriae typing is done by:

Serotyping.
Phage typing.
Bacteriocin typing.
| | | |
| --- | --- | --- |
| C. diphtheriae | Growth on Loeffler'medium | Growth (colony) on Tellurite medium |
| C. Mitis | There are numerous granules and typical arrangement | Colonies are of medium size, circular and convex. These are glistening and black |
| C. Intermedium | There are short irregularly staining rods without metachromatic granules. The arrangement is like Chinese letters. | There are small and smooth colonies, with irregular edges. These are grey-black with the pale periphery. |
|  C.Gravis |  These are club-shaped, and few metachromatic granules. |  Colonies are flat gray with a raised center. Edges are irregular and there is a daisy-head appearance. |
Pathogenesis
The asymptomatic nasopharyngeal carriage is common in regions where diphtheria is endemic.
In susceptible individuals, toxigenic strains cause disease by multiplying and secreting diphtheria toxin in either nasopharyngeal area or skin lesions.
There is often the formation of pseudomembrane composed of fibrin, bacteria, and inflammatory cells.

Toxin after absorption into the blood acts systemically on the myocardium, nervous tissue, and the adrenal gland.
Only the motor nerves are affected.

Diphtheria toxin can be proteolytically cleaved into two fragments:

Fragment A catalyzes the NAD+-dependent ADP-ribosylation.
Fragment B binds to the cell surface receptor and facilitates the delivery of fragment A to the cytosol.
The toxin can be inactivated by treating with the formaldehyde and there is the formation of toxoids.

Toxoid is used for immunization.
Clinical presentation
C.diphtheriae infects the nasopharynx or skin.
Toxigenic strains secrete a potent exotoxin which may cause diphtheria.
The symptoms of diphtheria include:

Pharyngitis.
Fever.
Swelling of the neck or area surrounding the skin lesion.

Diphtheritic lesions are covered by a pseudomembrane.
The toxic outcome is that toxin is distributed to distant organs by the circulatory system and may cause:

Paralysis.
Congestive heart failure.
These are the clinical signs of nasopharyngeal diphtheria infection:

A sore throat.
Dysphagia.
Bloody nasal discharge.
Pseudomembrane formation.
Diagnosis
Clinical diagnosis depends upon culture-proven toxigenic C.diphtheriae infection of :

The skin.
Nose, or throat.

Toxigenicity is identified by a variety of in vitro (e.g. gel immunodiffusion, tissue culture) or in vivo (e.g., rabbit skin test, guinea pig challenge).
This bacteria is Urease negative.
Schick test: This is a skin test to find immunity for circulating diphtheria antitoxin.

This test indicates either previous immunization or infection.
Inject intradermally on an anterior aspect of forearm toxin.
Also, inject heat-inactivated toxin on another arm.

Result: The positive test is erythema at the site of injection.
Negative erythema on the heat-inactivated arm.

The arm should be examined after 1 to 2 days.
Again examine after 5 to 7 days.
Procedure for special stain
Special stain Albert's stain is used.
Another stain used is Ponder's stain.
Staining procedure

Cover the fixed and dried slide with Loeffler's methylene blue. Leave for 5 minutes.
Wash with water.
Decolorize with sulphuric acid with a dilution of 1/1000 immediately.
Acid should not stay for more than a few seconds.
Again wash with water.
Treat with Gram's iodine.
Again wash with water.
Counterstain with 1% eosin for 30 seconds.
Wash with water and dry it.
Result
Metachromatic granules are seen on the smear.
The body of the bacteria is pinkish and granules are blue-black.

Gram stain also shows gram-positive bacteria.
---