Intrinsic factor Antibody (IF Ab)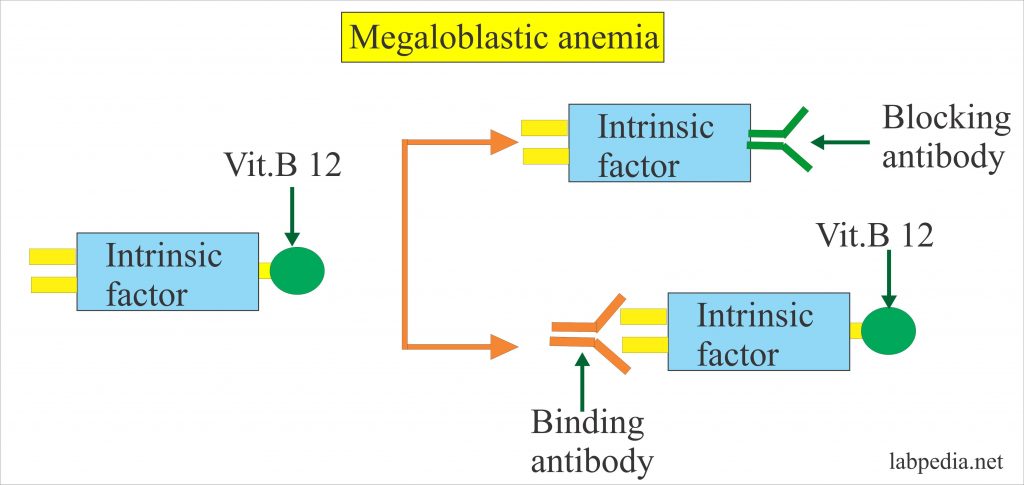 Sample
The serum the patient is needed.
This test can also be done on the plasma.
The sample is stable for 4 hours at room temp.
By refrigerating the sample is stable for 3 days.
Purpose of the test (Indication)
To diagnose the pernicious anemia.
Precautions
Avoid injection of vit.B12 within 48 hours of testing.
Pathophysiology
Megaloblastic anemia is due to a deficiency of vit.B12 which is the major cause.
Intrinsic factor is secreted in the stomach and this is needed for the absorption of the vit.B12.

The intrinsic factor is the protein produced by the parietal cells.
Antibodies against the intrinsic factor are produced by the activation of the immune system.
In Megaloblastic anemia IF is decreased or absent.

This is one of the autoimmune diseases.

IF Ab is found in the high percentage of the children with juvenile pernicious anemia.

IF Ab is 50 to 75% positive in these patients.

IF Ab is of two types :

Blocking Ab which is more common, blocks the binding of vit.B12 to IF.
The binding antibody which binds with the site on the intrinsic factor.

The second antibody is less common which affects the binding of IF in the ileum.

Positive IF Ab is confirmatory and is the cause of the disease.
Negative IF Ab does not rule out megaloblastic anemia because 50% of the patient does not show this antibody.

For the diagnosis of Pernicious anemia, can supplement IF Ab with an anti-parietal antibody test.
Pernicious anemia rarely needs the vit.B12 absorption test called the Schilling test.
The testing of the intrinsic factor antibody and the anti-parietal antibodies is easier, quick, and more accurate.
Normal
Intrinsic factor  antibody = Negative.
Positive test
Increased IF Ab is seen in a patient with pernicious anemia.
The IF antibodies are present in 3 to 6% of hyperthyroidism and insulin-dependent diabetes.
---