Insulin level (Insulin Assay)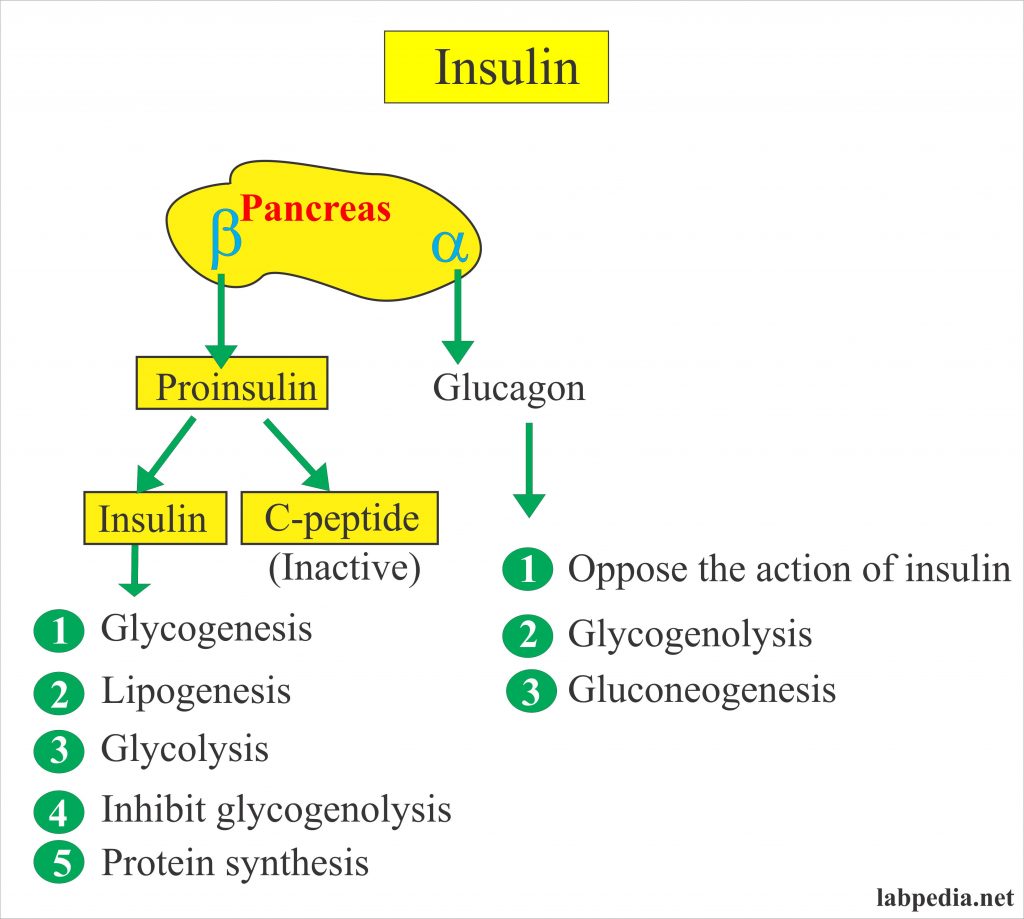 Sample
This test is done on the serum of the patient.
A fasting sample is preferred.

Freeze the sample.

With

OGTT

draw a fasting sample and then at 30, 60. and 120 minutes.
Avoid hemolysis.
Purpose of the test (Indications)
It helps in the management of glucose metabolism.
Insulin level helps in the diagnosis of insulinoma.
Insulin level is advised in case of fasting hypoglycemia.

It helps the patients with diabetes requiring insulin as treatment and the patients who can control with diet only.

Advised in the case of abnormal carbohydrate and lipid metabolism.
Precautions
Keep in mind that insulin antibodies can interfere with radioimmunoassay.
The patients treated with insulin develops antibodies.
Obesity and food may increase the insulin level.
Radioisotopes if given in before the test will affect the result.
Drugs like corticosteroids, oral contraceptives, and levodopa increase the insulin level.
Pathophysiology
Insulin is a protein hormone produced by the beta cells of islets of Langerhans in the pancreas.

Its molecular weight is 6000 D and consists of 51 amino acids.
It has two amino acids chains A and B joined by the disulfide bridge.
Insulin in humans is similar to the insulin from the animals.
Now mostly the patients treated by the human recombinant insulin.

Insulin formation: Insulin forms from the preproinsulin which consists of 100 amino acids and is inactive. It is not found in the blood.

Preproinsulin converts into proinsulin which cleaves by the proteolytic enzymes.
There is the formation of insulin and C-peptide.
Insulin regulates carbohydrate metabolism.

Insulin maintains blood glucose at a constant level within the defined normal range.
Insulin facilitates the movement of glucose from the bloodstream into the cell.
Insulin is the anabolic hormone that stimulates the uptake of glucose into the fat and muscles.
Insulin promotes the conversion of glucose into glycogen or fat storage.
Insulin inhibits glucose production from the liver.
Insulin stimulates protein synthesis and inhibits protein breakdown.
The insulin level secretion is dependant upon the level of glucose.
Insulin secretion is reduced during fasting and starvation.

Glucose decreases in the first three days of the fast around 18 mg/dL.
Glucagon secretion is doubled to maintain the glucose level.
Lipolysis and liver ketogenesis is stimulated.
Ketone bodies, fatty acids, and glycerol levels in the blood are increased.
Initially triglyceride increases and later decreases.
Cholesterol also decreases.
Due to catabolism in the starvation, the concentration of the protein in the blood increases.
There are chances to develop metabolic acidosis.

Reduced blood pH.
Reduced pCO2.

Insulin level can be evaluated with

OGTT

or fasting glucose:

There are suggestions that insulin level on the same sample with

OGTT

level is more reliable than a single insulin level.
Patient with Juvenile diabetes has a typical picture in

OGTT

.

Low fasting insulin level and display flat GT insulin curve.
This shows that there is no increase in the insulin level.
Patient with mild diabetes mellitus shows:

Normal fasting insulin level.
GT curve with a delayed rise in insulin.

In patients with diabetes mellitus type 2 shows:

Fasting insulin level is normal and there is a delayed response of the insulin to glucose.
Insulinoma has a characteristic picture of the fasting glucose level and insulin level.

There is increased insulin with low fasting glucose.
Persistent hypoglycemia with an increased insulin level.
The insulin/glucose ratio should be less than 0.3.
The insulin/fasting glucose ratio is more than 0.3 in Insulinoma.
Turner amended ratio calculated by this formula:
When the glucose level increases, the insulin level also increases when the glucose level decreases then the insulin secretion stops.
Insulin level will be low in the Insulin-dependent diabetes mellitus.
While insulin level is high in the non-insulin-dependent diabetes mellitus but due to resistance to insulin patient needs more insulin.
Insulinoma:

This is the tumor of beta cells in the islets cells of  Langerhans of the pancreas.
There is persistent hypoglycemia and may be below 30 mg/dL.
There is raised the level of insulin.
There is a persistently high level of C-peptide.
The Turner (modified)  insulin/glucose ratio is above 50.
Normal
Source 1
Insulin free
Infants and  prepubertal child = <13 µU/mL
Prepubertal child and adult = <17 µU/mL

To convert into SI units x 6.945 = pmol/L

Insulin immunoreative 

2 to 12 year = <10 µU/mL
Adult = <35 µU/mL

Insulin with oral glucose tolerance test

0 minute = 3 to 28 µU/mL
30 minutes = 20 to 112 µU/mL
60 minutes = 29 to 88 µU/mL
120 minutes = 22 to 79 µU/mL
180 minutes = 4 to 62 µU/mL
Source 2
Adult = 6 to 26  µU/mL (43 to 186 pmol/L)
Newborn = 3 to 20 µU /mL

Possible critical value = >30 µU/mL
Increased Insulin level is seen in:
Insulinoma.
Acromegaly.

There are raised glucose levels.
overproduction of growth hormone in these patients gives rise to constant stimuli for the production of insulin.

Cushing's syndrome.

There is a raised level of glucose by the overproduction of cortisol.
There is constant stimulation for the production of insulin.

Pancreatic islet cell hyperplasia.
Obesity. There is a constant raised level of insulin.
Fructose or galactose intolerance.
Decreased Insulin level is seen in:
Diabetes mellitus type 1 (maybe total lake or very low)
Diabetes mellitus type 2, there is a low level of resistance to insulin.
Hypopituitarism.
Critical Value of Insulin = >30 mU/mL
---