Immunoglobulin E (IgE)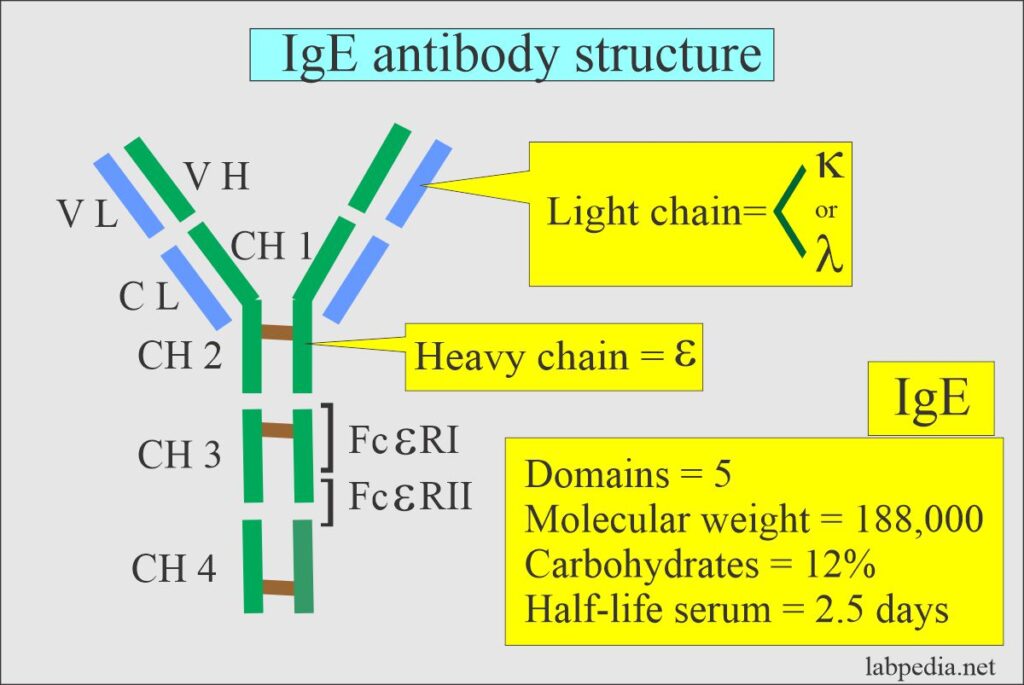 Immunoglobulin E (IgE)
Table of contents
Sample
Indications
Interpretations
Normal values
Raised and decreased level of Immunoglobulin E (IgE)
Sample
The best sample is fresh serum.
Indications for Immunoglobulin E (IgE)
Used to detect allergic diseases.
Advised when the patient has:

Itching of the skin and itching of the eyes.
Urticaria and hives.
Asthma and difficulty in breathing.
Skin diseases like eczema.
A cough, congestion.
Sneezing.
Persistent diarrhea, nausea, and vomiting.

Diagnosis of IgE-myeloma.
For the possibility of parasitic diseases.
 Immunoglobulin E (IgE) structure
IgE exists as a monomer form with a molecular weight of 190,000 and is 7S.
It has an extra domain in the constant portion.
It has:

Two epsilon (ε) heavy chains.
One pair of kappa (κ) or lambda (λ) chains.

Its Fc region binds strongly to the receptors on the mast cells and basophil along with antigens.
Immunoglobulin E (IgE) facts:
It is 0.004 % of the total immunoglobulins.
Its half-life is 2 days.
It is mainly involved in type 1 hypersensitivity reaction.
It cannot activate the complement system via the classical pathway.
It is present in a healthy person's serum at extremely low concentrations.
It attaches to the receptors on basophils and mast cells.
There are low-affinity receptors present on the surface of B-lymphocytes and eosinophils.
It can not cross the placental barrier.
Normal Value
Source 1
| | |
| --- | --- |
| Age | IU/mL |
| Cord blood | At term ∼1% of the maternal value |
| 0 to 4 days | <1.5 |
| 5 days to 12 month | <15 |
| 1 to 5 year | <60 |
| 6 to 9 year | <90 |
| 10 to 16 year | <200 |
| >16 year | <100 |
| Adult | 3 to 423 |
To convert into SI unit x 1.0 = kIU/L
Another source
150 ng/ml on the topic (non-allergic) person.
or  .002 to 0.2 mg/dl

Values vary because of the methodology used.
The raised Immunoglobulin E (IgE)  the level is seen in:
Allergic diseases like asthma and skin diseases.
Asthma (It is positive in 60% of the patients).
Parasitic infestation (Ascariasis, visceral larva migrans, hookworm, Echinococcus, and schistosomiasis).
Multiple myeloma producing monoclonal IgE.
Hyper IgE syndrome.
Hay fever (30% of the patients).
Atopic eczema.
Normal or low IgE levels are seen in:
The decreased Immunoglobulin E (IgE) level is seen in:
Agammaglobulinemia.
Hereditary deficiencies.
Non-IgE myeloma.
Ataxia-telangiectasia.
Question 1: What type of cells are activated by the IgE antibody.

Question 2: What is the half-life of IgE.

---