Immunoglobulin D (IgD)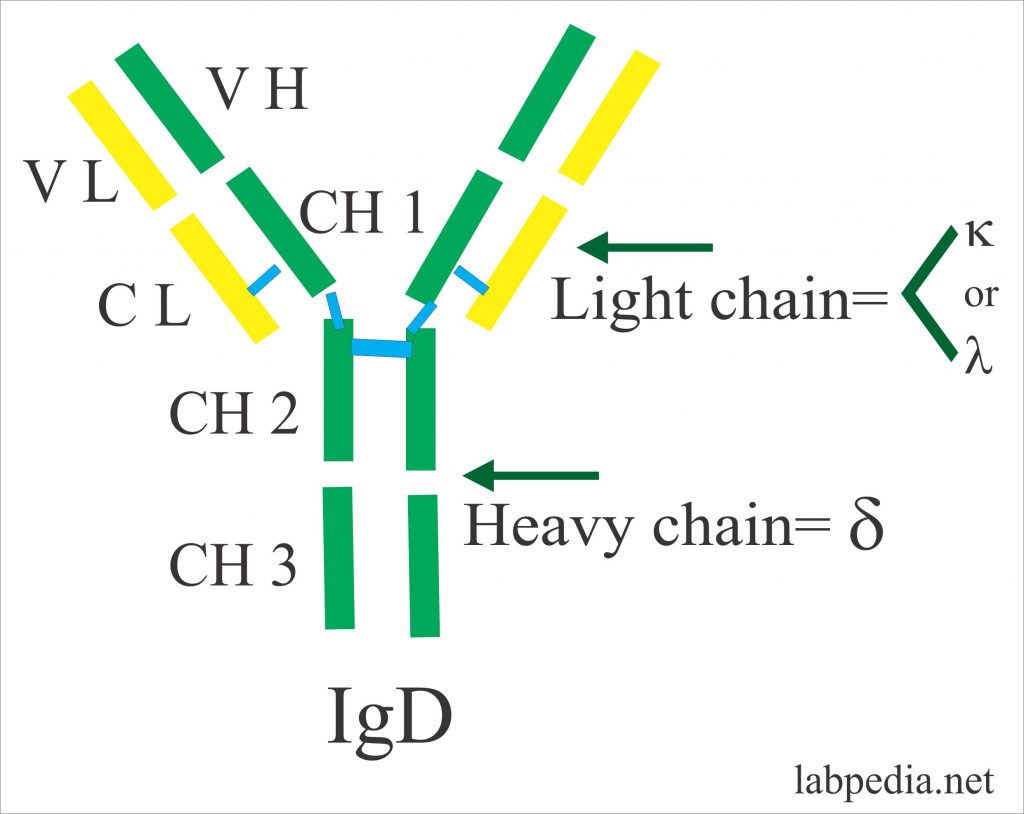 Sample
The best sample is fresh serum.

The sample can be stored at 4 °C for less than 72 hours.

Avoid lipemic or hemolyzed samples.

Stable for 6 months at -20 °C.
Pathophysiology
IgD exists as a monomer form with a molecular weight of 180,000 and is 7 S.
It is 0.2% of the total immunoglobulins and approximately  3 to 5 mg/dl.

It exists in very low concentration in the plasma.
It has two kappas (κ) or lambda (λ) chains.
Two deltas (δ) heavy chains.

It is 1% of the plasma membrane of the mature B-lymphocytes.

IgD is a cell membrane-associated with IgM on the surface of B-lymphocytes.
There are isolated reports that it has activity against insulin, penicillin, milk, diphtheria toxoid, nuclear antigen, and thyroid antigen.
Its half-life is 2 to 3 days.
It can not cross the placental barrier.
IgD can bind to rubella, diphtheria, measles, and Streptococcus.
This is very sensitive to proteolysis.
 IgD's main function is not known but may be involved in the differentiation of B-lymphocytes.
Normal
Source 1
Cord blood = >2 mg/dL
>16 years = <15 mg/dL
Newborn = <1.0 mg/dL
Adult = <8 mg/dL

To convert to SI unit x 10 = mg/L
Another source
 0.3 to 3.0 mg/dl
Newborn  =  <1.0 mg/dL
Adult        =  <8 mg/dL
Raised level seen in:
In patients with multiple Myeloma cases (IgD myeloma)
May be seen in  hyperimmunoglobulinemia IgD syndrome.
---