Growth Hormone (GH) , Somatotropin Hormone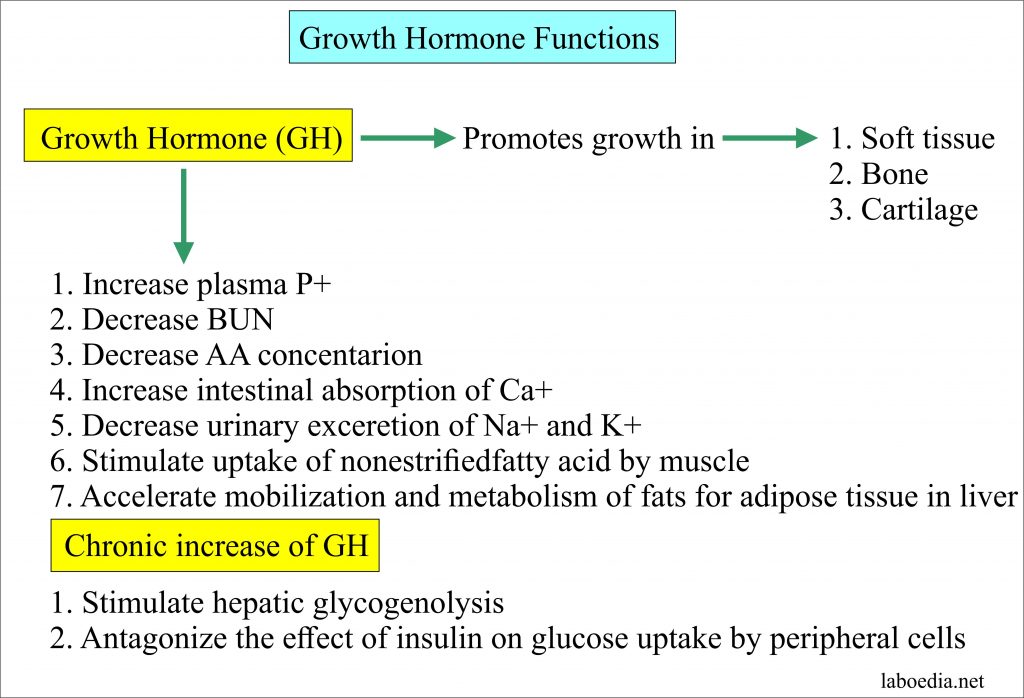 Sample
This test is done on serum (clotted blood 3-5ml).

A serum sample is preferred.

Plasma (EDTA) has lower values with some methods.
The patient should be fasting and complete rest for at least 30 minutes before taking the blood.
It is stable for 8 hours at 2 to 8 °C.
It can be kept for a longer period at -20 °C.
Precautions
Perform the test immediately because the half-life of GH is 20 to 25 minutes.
Immediately refrigerate the serum.
The patient should be fasting after midnight.
The patient must be fasting and at complete rest, 30 min before the sample is taken because this may increase the level.
Avoid stress, low blood glucose, and exercise during the sample collection.

EDTA

plasma gives lower values.
Random measurement is not useful because of episodic variation in the GH level.
Drugs that may increase the level are Amphetamine, Estrogen, Dopamine, Insulin, Methyldopa, Levodopa, Histamine, and Nicotinic acid.
There are certain drugs that decrease the GH level are Phenothiazine and Corticosteroids.
Purpose of the test (Indications)
Growth hormone is done to identify its deficiency in:

Adults with short stature.
Delayed sexual maturity.
or other growth abnormalities.

To diagnose gigantism or acromegaly,
This can be used to identify the pituitary hypofunction or hyperfunction.
Various type of tests:
A growth stimulation test can be done to evaluate the deficiency.
Growth suppression test is done in the gigantism and acromegaly in adults.
Oral glucose tolerance test is very helpful where there is a rise in glucose level. Normally GH is suppressed. But in acromegalic patients, there is slight or no decrease in GH.

Give glucose 75 to 100 grams in 5 minutes, then get the sample for GH at 30, 60, 90, and 120 minutes.
Pathophysiology
The growth hormone is a single-chain polypeptide with a molecular weight of 21,500Da and contains 191 amino acids.
This is one of the hormones involved in growth produced by the pituitary gland.
This is also called as Somatotropin, is secreted by acidophilic cells of anterior pituitary glands.

It is stored in the cells as granules.
Growth hormone production is pulsatile.
GH plays a role in the growth from birth until the end of puberty.

GH promotes protein synthesis and stimulates skeletal growth.

GH releasing hormone (GH-RH)  is under the control by the hypothalamus which acts on anterior pituitary glands, and it releases GH.

Another inhibitory hormone, Smatotropin-release-inhibitory factor (SRIF) is produced from the hypothalamus and it has the inhibitory action on the pituitary gland.
GH secretion is increased by various factors.
GH action: Hypoglycemia stimulates the pituitary gland to secrete GH. It is an antagonist to insulin. This was used as a stimulation test but not safe.

Arginine is used which activates the secretion of GH.
GH increases glucose by:

inhibiting the entry of glucose into the muscle cells.
By inhibiting glycolysis.
By inhibiting the formation of triglycerides from the glucose.
GH affects many tissues through a group of peptides (Somatomedins).
Increased level of Somatomedins leads to an increase in the production of  Somatostatin which is released from the hypothalamus.
GH is released (level increases):

During sleep a slight rise in early sleep.

 Peak level in the deep sleep.
Around 11 pm or midnight.

exercise.
Ingestion of protein.
In hypoglycemia.
Spike occurs after 3 hours of the meals or exercise.
Spike occurs after 90 minutes of sleep. The peak is during deep sleep.
The level is low during the day and is around 5 ng/mL.
GH has diurnal variation in level.
GH insufficient amount leads to:

limited growth.
Dwarfism.
Delay in maturity.

GH overproduction leads to :

.Gigantism.
Acromegaly. (Increase in bone thickness and width).

GH has diurnal variation in the concentration.
The secretion of GH is episodic and variable, sometimes the level may reach 40 ng/ml in a healthy subject.
The highest values are noted during the deepest sleep level. So it's level is increased during sleep.

So the best time is 60 to 90 minutes after the deep sleep.
Or do the exercise for 30 min and get the sample for GH, which will be at the highest level.
The GH may increase ten times than the normal level during sleep.

This test may be used to monitor the acromegaly treatment.
Obesity reduces the release of GH and response to insulin.

Hypoglycemia stimulates the pituitary to secretes GH.

The ability to secrete GH to conventional challenges decreases with age.
Growth hormone functions:

It promotes protein synthesis.
It stimulates skeletal growth.
 Its deficiency leads to dwarfism.
Its excess leads to gigantism.
Clinical presentation of growth hormone (GH) excess:
Excess GH is seen in the eosinophilic or chromophobe adenomas of the pituitary gland.

75% of these tumors can be diagnosed on CT scan.

The excess of GH is called Acromegaly.

When seen before the long bone growth is complete then it is called Pituitary gigantism.
This can be diagnosed with the physical appearance of the patient.

There is an overgrowth of the soft tissue and bone.

There is coarse oily skin.
There is a large tongue.
There are prominent supraorbital ridges.
The teeth spacing is increased.
Hands are thick spade-like.
The patient will have arthralgia and kyphosis.
Voice is coarse.
The patient may develop proximal muscle weakness.
Sweating and headache are common.
The patient will have progressive heart failure.

The reversibility of the physical changes depends upon the duration of the disease.
Acromegaly may lead to severe disability or death due to cardiac or neurological complications.
There is an abnormal response of GH to oral glucose administration.

The normal person shows <1 ng/ mL of GH after an oral dose of glucose.

Complications are:

The patient may develop diabetes mellitus.
The patient will have hypertension and cardiomegaly.
There is obstructive sleep apnea.

Diagnosis:

Advise the glucose tolerance test and collect a blood sample at 0, 30 min, 60 min, 90 min.

Estimate both glucose and GH.
The values will be suppressed around <1.0 ng/mL.

Another test is IGF-1 (insulin-like growth factor 1)  where its concentration increases in acromegaly.
Clinical presentation of deficiency of growth hormone:
This is usually seen in the hypothalamic and pituitary tumors.
Growth is a dwarf and short stature children.
Diagnosis:

Advice Two stimulating tests like insulin hypoglycemia or arginine.
Measure GH at 30, 60, 90 minutes.

Normal patients show an increase of  >8.0 ng/mL.
Normal
Source 1
| | |
| --- | --- |
| Age  | ng/mL |
| Cord blood | 8 to 41 |
| Newborn | |
| One day | 5 to 53 |
| One week | 5 to 27 |
| Child  1 to 12 months | 2 to 10 |
| Adult | |
| Male | 0 to 4 |
| Female | 0 to 18 |
| > 60 years | |
| Male | 1 to 9 |
| Female | 1 to 16 |
To convert into SI units x 1.0 =  µg/L
Source 2
| | |
| --- | --- |
| Men | <5 ng/mL or <5 µg/L) |
| Women | <10 ng/mL or <10µg/L) |
| Newborn | 10 to 40 ng /ml |
| Child | 0  to 10 ng/ml |
The random level of GH provides little diagnostic information.
The single estimation may not be helpful because of the variation in the level of GH during the day.
The increased GH level is seen in:
Pituitary gigantism (Acromegaly = up to 400 ng/ml).
Ectopic GH secretion e.g. Stomach neoplasm, lung.
Renal failure.
Cirrhosis.
Stress, exercise, prolonged fasting.
Uncontrolled diabetes mellitus.
Anorexia nervosa.
Starvation and malnutrition.
Hypoglycemia.
Major surgery.
Exercise.
The decreased GH level is seen in:
Pituitary dwarfism, hypopituitarism.
Adrenocortical hyperfunction.
Hyperglycemia.
Delayed sexual maturity.
Growth hormone deficiency.
Treatment
For the acromegaly due to adenoma is transsphenoidal resection of the tumor.

Another method is gamma knife multiport irradiation.
Somatostatin (SST) long-acting needs only one dose per month.
---