Gilbert's Syndrome, Signs/Symptoms and Diagnosis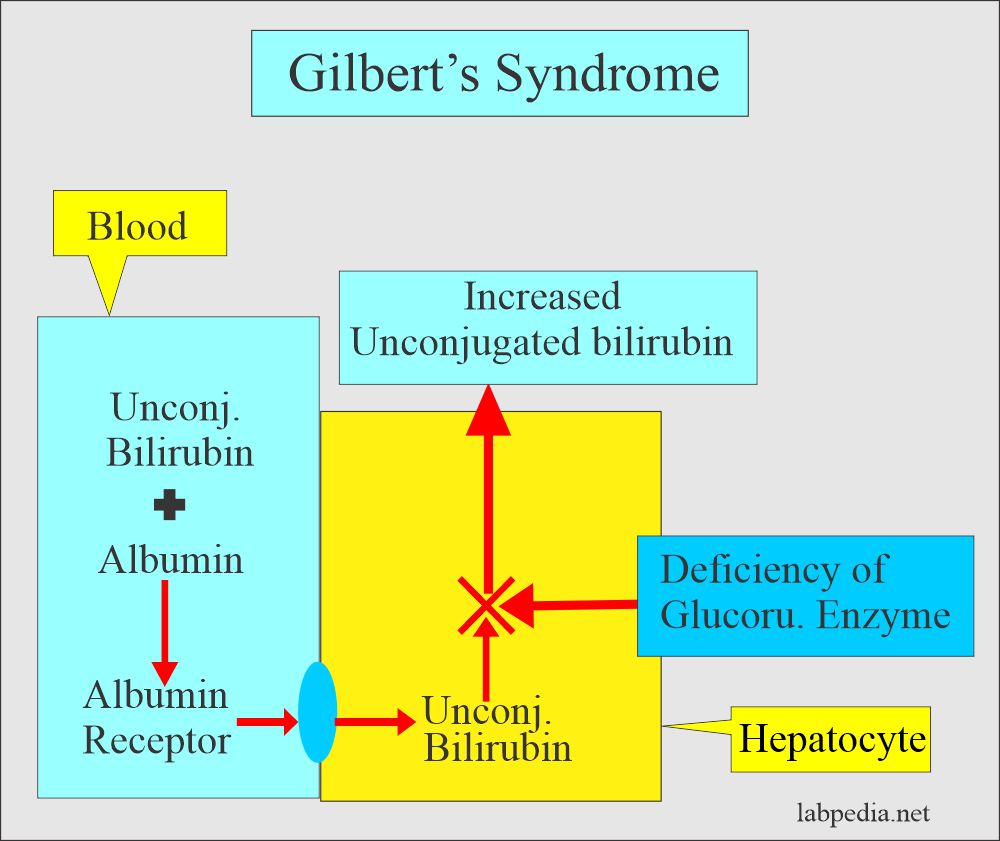 Gilbert's Syndrome
Sample
The patient serum is needed.
A random sample can be taken.
Precaution
Avoid sample from the light.
Definition of Gilbert's Syndrome
This syndrome is characterized by mild unconjugated hyperbilirubinemia.

Nearly all unconjugated bilirubin is detected.
This is a benign, harmless condition because there is a mild increase in the unconjugated bilirubin.

Gilbert's disease is also called Constitutional Hepatic dysfunction or familial nonhemolytic jaundice.
Gilbert's syndrome is benign, intermittent, familial, autosomal dominant, with non-hemolytic jaundice (unconjugated hyperbilirubinemia), usually discovered on routine laboratory tests.
This may affect 3% to 5% of the population.
Pathophysiology of Gilbert's Syndrome
To understand Gilbert's syndrome, the following diagram of bilirubin metabolism gives about the situation in Gilbert's syndrome.

Hemolysis of the RBCs gives rise to unconjugated bilirubin.
Unconjugated bilirubin is carried by the carrier protein (albumin) to the liver.
In the liver, conjugation takes place with the help of a glucoronyl tranferase enzyme.
In Gilbert's syndrome, the glucoronyl transferase enzyme is deficient.
Mechanism of Gilbert's syndrome:
Gilbert's syndrome is a common, mild liver condition in which the liver doesn't properly process bilirubin.
Gilbert's syndrome is a nonhemolytic condition and is an autosomal dominant character.

Liver glucuronyltransferase activity is low due to a mutation in the bilirubin-UDP-glucuronosyl-transferase gene.
It is a heterozygous group with raised bilirubin.
It is inherited in an autosomal recessive pattern.
There is an increase in unconjugated bilirubin usually <3 mg/dL.

Bilirubin fluctuates between 1.5 to 3 mg/dL.
Bilirubin will increase with fasting.

It is a benign condition and occurs in 2% of the population.

 The breakdown of red blood cells produces bilirubin.
The hyperbilirubinemia is due to the reduced activity of the Glucuronyltransferase enzyme.

There is no role in hemolysis, and hyperbilirubinemia is due to the deficiency of the enzyme.
Glucuronyl transferase enzymes typically have 10% to 35% reduced activity.
Glucuronyl Transferase enzyme is needed for the conjugation of the bilirubin.

There is an increase in the bilirubin monoglucuronide (unconjugated bilirubin).
Conjugation renders the bilirubin water-soluble excreted into the bile and duodenum.
These patients are given phenobarbital, which normalizes bilirubin and hepatic bilirubin clearance.
Signs and symptoms of Gilbert's syndrome:
Male is affected 1.5 to 7.3 times more than females.
It is also seen in the siblings of Gilbert's syndrome patients.
Most patients are asymptomatic.
The onset is shortly after birth but may be unnoticed for many years.
There may be yellowness of the eyes and the skin in some cases.
The most common finding is the presence of jaundice due to raised total bilirubin. This bilirubin is usually <3 mg/dL.
The bilirubin level fluctuates, and even some time may be normal. When these patients are followed, then 25% may show normal values.
There may be fatigue.
Jaundice may be seen due to:

Stress.
Fatigue.
Intercurrent illness.
Reduced caloric intake.
Alcohol use.
Rigorous exercise.
Lake of sleep.
Pregnancy.
Fever.
various drugs.
Alcohol intake.
Birth control pills.

These cases are usually diagnosed near puberty or adult life during a routine examination.
 Diagnosis of Gilbert's syndrome:
There is no satisfactory specific test for the diagnosis of Gilbert's syndrome.

It may be followed for 12 to 18 months with follow-up of liver function tests.
Gilbert's syndrome is confirmed if there are no constitutional symptoms, no abnormal liver function tests except raised total bilirubin, and mainly unconjugated.
Exclusion of other diseases.

Caloric deprivation test: If the patient diet is restricted to 400 calories/day will lead to raising the level of total bilirubin >0.8 mg/dl, suggesting Gilbert's syndrome. Non-Gilbert's syndrome patients will have less than this (<0.5 mg/dL).

Bilirubin level comes to normal after 12 to 14 hours after taking a normal diet.

Indirect serum bilirubin is increased (Indirect bilirubin seen in around 85% of the cases). It is usually less than 4 mg/100 ml.

Rarely It may increase to 18 mg/100 ml, then needs treatment.

Fecal urobilinogen is decreased but maybe even normal.
Urine shows no bilirubin.
The liver function test is usually normal.
Albumin is normal.
Prothrombin time is normal.
Liver biopsy is normal. It does not show any significant changes.
Importance of diagnosis of Gilbert's syndrome:
Some people misdiagnose this condition as chronic hepatitis.
This is differentiated by the absence of anemia and bilirubin in the urine.
Liver function tests are normal.
Treatment:
These patients do not need treatment until bilirubin is high. Because mostly, the bilirubin is very low.
Give reassurance to the patient that he does not suffer from liver disease.
Avoid acetaminophen because it is metabolized by glucuronidation. This gives rise to a toxic reaction.
List of Defective hepatic unconjugated bilirubin clearance due to defective uptake or conjugation:
Gilbert's syndrome.
Crigler-Najjar type 1 and type II.
Liver diseases (severe).
Congestive heart failure.
Drug-induced inhibition.
Sometimes hyperthyroidism.
Portacaval shunt.
---