Factor XIII (fibrin stabilizing factor)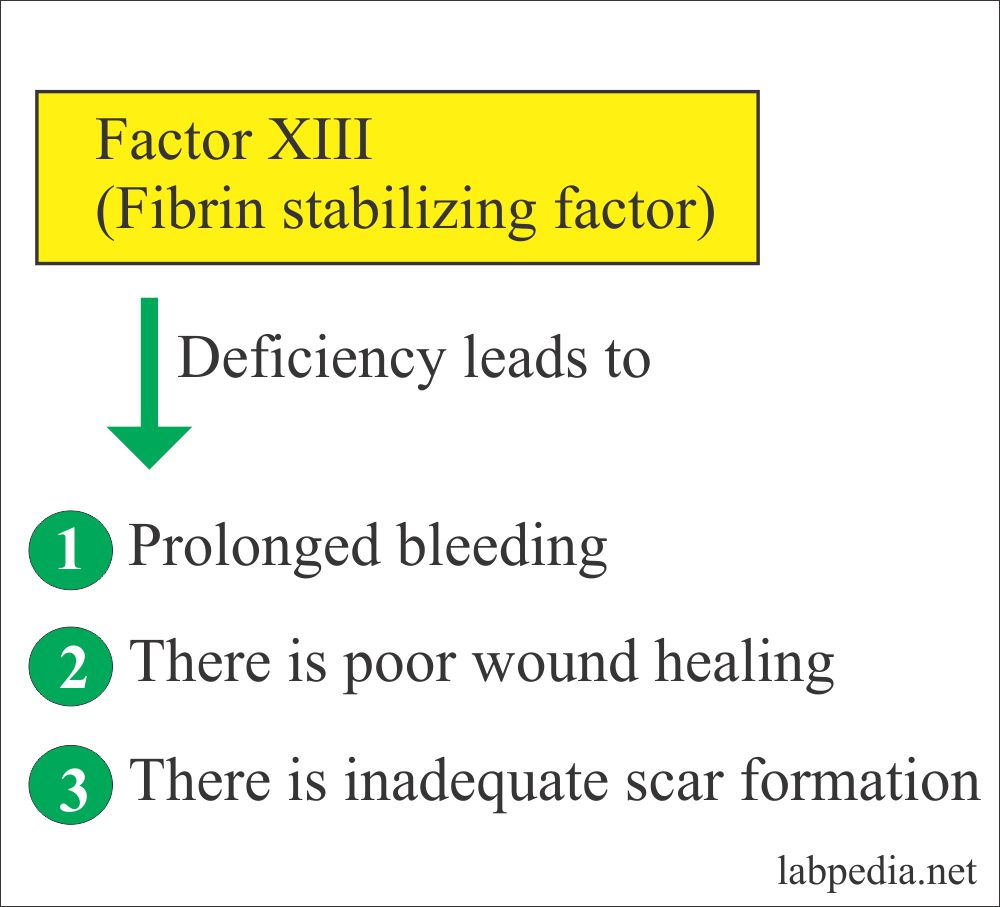 Sample
Plasma (Citrate) is needed and it is stable for 2 hours at 4 °C only.
Indication
To find the deficiency of factor XIII.
Pathophysiology
Factor XIII deficiency is congenital and inherited as an autosomal recessive trait.

Clinically the homozygous deficiency has moderate to severe hemorrhagic episodes.

Factor XIII is present in the plasma, platelets, monocytes, and macrophagic cells.

 Factor XIII has molecular weight 320.000 daltons circulates with fibrinogen.
It consists of two subunits α2 – unit and β2 – unit chains.
Factor XIII is also present in the above cell precursors in the bone marrow.
Factor XIII has a long half of 5 to 9 days.

Factor XIII cross-link fibrin and other proteins, and it stabilizes the clot.
This factor helps in wound repair and healing.
Congenital deficiency of factor XIII is rare, it causes:

Delayed bleeding after trauma.
Poor wound healing.
Inadequate scar formation.
Bleeding is common after the separation of the umbilical cord in case of factor XIII deficiency.
In factor XIII deficiency, coagulation tests are usually normal.
Signs and symptoms of XIII deficiency:
There is easy bruising and soft tissue bleeding which may be due to trauma.

There may be a severe bleeding tendency.
The bleeding tendency may be like hemophilic patients, these patients may have hemarthrosis and deep tissue bleeding.
This bleeding is characterized by the initial stoppage of bleeding followed by the recurrence of the bleeding after the 36 hours or more after the initial trauma.

This result from the dissolution of the fibrin clot that formed in the beginning and was not stabilized by the factor XIII.
Acquired partial deficiency has been reported with few diseases like leukemia, DIC, and severe liver disease.

There is a possibility of spontaneous miscarriage in early pregnancy.

There may be bleeding from the umbilical cord which may be from 1 to 9 days of birth.

There may be CNS hemorrhage which is quite common. This may be the first symptom.

The patient with CNS hemorrhage may have a headache, vomiting, seizures, and focal neurologic defects.

These patients may have intra-abdominal bleeding during menses.
There will be bleeding into the joints (hemarthrosis).
There is poor wound healing.
Lab diagnosis:
PT, APTT, fibrinogen, bleeding time, and platelet count are normal.
The clot is soluble in 5 Molar urea solution.
Normal
Plasma concentration = 2.5 mg/dl.
Source 1
The test is negative with factor XIII above the minimal hemostatic level of 0.02 to 0.05 U/mL (x1000 = 20-50 U/L).

OR 2  to 5% (x0.01 = 0.02 to 0.05, fraction) of normal concentration.
With factor XIII above the hemostatic level, the clot will be stable for 24 hours.
In the absence of factor XIII, the clot will dissolve, often within 2-3 hours or less.
Factor XIII screening test:
The deficiency of factor XIII is not detected by the other coagulation tests.
The minimum level required for factor XIII is about 5%.
Principle of the test:

Stabilization of the clot is dependant on factor XIII.

The clot is soluble in 5 M urea.

In the test after 24 hours, the presence of a formed clot is indicating plasma factor XIII concentration greater than 1 to 2%.
In the homozygous deficiency of factor XIII fibrin clot dissolve within one hour and indicates a deficiency of less than 1%.
Treatment
The following blood substitutes can be tried.

Fresh frozen plasma.
Cryoprecipitate.
Factor XIII concentrate.
Factor XIII recombinants.
---