Estrogens = Estrone E1, Estradiol E2, Estriol E3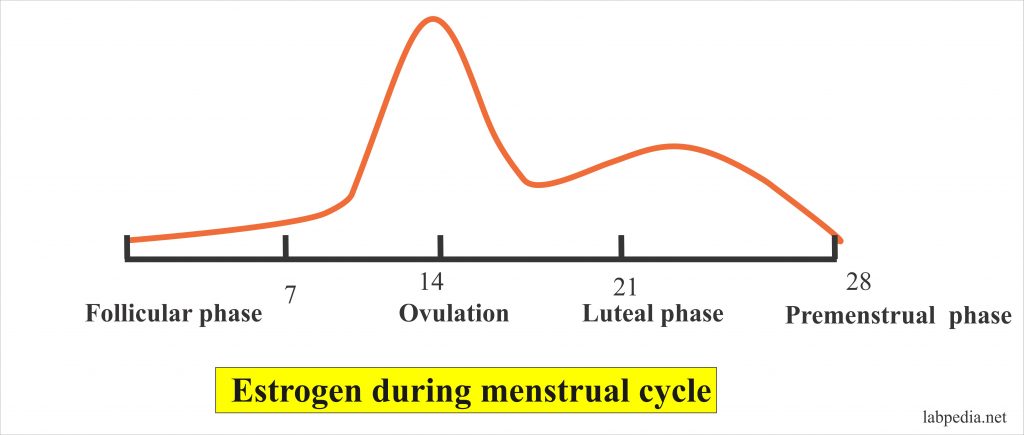 Sample
It is done on the serum of the patient which is separated immediately.
Can store at 2 to 8 °C for 2 days in a glass test tube.
Get the time of the sample with reference to the menstrual cycle.
Indication
Estrogen level is estimated to assess sexual maturity.
To assess menstrual problems.
To assess fertility problems.
In males to assess the gynecomastia and feminization syndrome.
In pregnant women to assess fetal health.
This can be done as a tumor marker in the hormone, estrogen-producing tumors.
Pathophysiology
Estrogens are the sex hormone responsible for:

The development and maintenance of female sex organs.
Female secondary sex characters.

The most potent estrogen is estradiol E2 secreted by the ovaries. Its measurement is sufficient to evaluate ovarian function.

Ovaries lake the 21-hydroxylase and 11β-hydroxylase, so it can not produce glucocorticoids and, mineralocorticoids like the adrenal cortex.
Human ovaries produce sex steroids, estrogen, progesterone, and androgens.

Estrogen's main site for the inactivation is the liver.

The main biochemical reactions are hydroxylation, oxidation, and methylation.

Estrogen source:

The main source of estrogen in pregnant women is the placenta and it is in mg. This is mainly the estriol.
The main source in non-pregnant women is the ovary and it is in µg quantity. This is mainly estradiol.

Functions of the estrogen hormone:

It develops and maintains the female sex organs.
It develops secondary sex characters.
It regulates the menstrual cycle (with the help of progesterone).
Maintain breast and uterus growth.
It maintains pregnancy.
It also helps calcium homeostasis and a beneficial effect on bone.
It also accelerates linear bone growth and results in epiphyseal closure.

Depletion of estrogen for a long time leads to:

Loss of bone mineral contents.
There are increased stress fractures.
There is postmenopausal osteoporosis.
Estrogens are secreted by:

Ovarian Follicles.
Corpus luteum from the ovary.
Placenta during pregnancy.
A minute amount is produced from:

Adrenal glands.
Testes.

Estradiol and progesterone are the main secretory products of the ovary.
More than 20 estrogens are identified but only three have clinical significance and are:

Estrone (E1).
Estradiol (E2).
Estriol (E3).
Estradiol E2
It is a more potent hormone and predominantly produced in the ovary.

E2 is produced exclusively by the ovary, its measurement is often considered sufficient to evaluate the ovarian function.

The low level of estradiol stimulates the hypothalamus to produce a gonadotropin-hormone releasing factor.

These hormones stimulate the pituitary to produce a Follicular stimulating hormone (FSH) and luteinizing hormone (LH).

These two hormones (FSH and LH) stimulate the ovary to produce E2 which will have the peak during the ovulatory phase.
Estradiol transport in blood:

97% of the estradiol E2 in the blood is bound to plasma proteins.
It has a high affinity and specifically mainly bound to sex hormone-binding globulins (SHBG).
Nonspecifically bound to albumin.
SHBG increases by the estrogens, so these are higher in the female than male.
Estradiol E2 is estimated to evaluate:

Menstrual and fertility problems.
Menopausal status.
Gynecomastia.
Sexual maturity.
Feminization syndrome.
As tumor marker of the ovary.
Estrone E1
It is produced by the ovary.
The plasma estrone level is an indicator of estradiol production because this is an end product of the estradiol metabolism.
This is the major hormone after menopause.
Estriol E3
Estriol is the major hormone in pregnant women.

 Estriol has no hormonal activity.
It is produced in large quantities in the last trimester of pregnancy by the placental conversion of the fetal adrenal steroids.
Estriol E3 is produced from the placenta from the estrogen precursors.

Excretion of the Estriol E3 in pregnancy increases around the 8th week of gestation and continues to rise shortly before the delivery.
Serial urine and blood estriol estimation provide an assessment of placental function and fetal maturity in high-risk pregnancy.
It tells fetal well-being means placenta-fetus-viability.

A sudden drop in the level of estriol in the last trimester of the pregnancy is a signal for the fetal-placental abnormality.
The measurement of secreted estriol is important for fetal well-being.
Decreasing values indicates fetoplacental deterioration.
Serial studies are started usually at 28 to 30 weeks of gestation and repeated weekly.

E3 values are taken at three consecutive days at the same time if there is a decrease of more than 30%, then there is a possibility of danger to the fetus.
The value of unconjugated E3 is more reliable than the total E3.
Menstrual cycle
Follicular phase a rapid rise in estrogens occurs immediately before ovulation and appears to stimulate LH secretion.
The ovarian follicle grows and produces estrogens.
Just before ovulation, there is a dramatic increase in estrogen.
This increased estrogen will trigger the hypothalamus and gives LH surge.
LH surge is a good indicator of ovulation. This occurs 24 to 36 hours before the ovulation and peaks 10 to 12 hours before the ovulation.
The luteal phase is the last half of the menstrual cycle where there is increased production of progesterone and estrogen from the corpus luteum.
The menopausal phase when the ovary cannot produce enough amount of estrogen.
Estradiol is the most active of endogenous estrogens.
This test is of value with an evaluation of other gonadotropins for in evaluating menstrual and fertility problems in adult females.
Measurement is also helpful in the evaluation of gynecomastia or feminization states in estrogen-producing tumors.
This also helps in evaluating menstrual irregularities and sexual maturity in females.
Normal values
Source 2
Estradiol E2 (Unconjugated)
| | | |
| --- | --- | --- |
| | Serum (Blood) pg/ mL | Urine  mcg /24 hours |
| Adult male | 10 to 50 | 0 to 6 |
| Adult female  | | |
| Early Follicular phase | 20 to 150 | |
| Late Follicular phase | 40 to 350 | 1 to 13 |
| Mid-cycle phase peak | 150 to 750 | 4 to 14 |
| Luteal phase | 30 to 450 | 1 to 17 |
| Postmenopausal | ≤20 | 0 to 4 |
| Child under 10 years | <15 | 0 to 6 |
| | |
| --- | --- |
| Estriol E 3 (Free, unconjugated) | ng/mL |
| Adult male | <2.0 |
| Nonpregnant female | <2.0 |
| 34 weeks of pregnancy | 5.3 to 18.3 |
| 36 weeks of pregnancy | 8.2 to 28.1 |
| 38 weeks of gestation | 8.6 to 38.0 |
| 39 weeks of pregnancy | 7.2 to 34.3 |
| 40 weeks of pregnancy | 9.6 to 28.9 |
| Estriol E3 Total | |
| 28 to 30 weeks of pregnancy | 38 to 140 |
| 34 weeks of pregnancy | 45 to 260 |
| 36 weeks of pregnancy | 48 to 350 |
| 38 weeks of pregnancy | 59 to 570 |
| 40 weeks of pregnancy | 95 to 460 |
| Estrone E1 | |
| Adult male | 1.5 to 6.5 |
| Early follicular phase | 1.5 to 15 |
| Late follicular phase | 10 to 20 |
| Luteal phase | 1.5 to 2 |
| Postmenopausal | 1.5 to 5.5 |
| Estrogens Total | pg/mL |
| Adult male | 20 to 80 |
| Follicular phase | 60 to 200 |
| Luteal phase | 160 to 400 |
| Postmenopausal | <130 |
Urinary E3
28 weeks of gestation in normal pregnancy = average 4 mg/day  (range 2 to 7 mg/day).
32 weeks of gestation in normal pregnancy = 13 mg/day.
36 weeks of gestation in normal pregnancy = 18 mg/day.
40 weeks of gestation of normal pregnancy = 26 mg/day
The increased level is seen in:
Estrogen producing tumors.
Gynecomastia.
Hepatic cirrhosis.
Liver necrosis.
Hyperthyroidism.
Ovarian tumors.
Precocious puberty.
Testicular tumor.
Adrenal tumors.
Normal pregnancy ( E3 mainly ).
The decreased level is seen in:
primary and secondary hypogonadism.
Turner's syndrome.
Ovarian agenesis.
Hypopituitarism.
Primary and secondary hypogonadism.
Stein-Leventhal syndrome.
Menopause.
---