Eosinophil Count (Absolute Eosinophil count)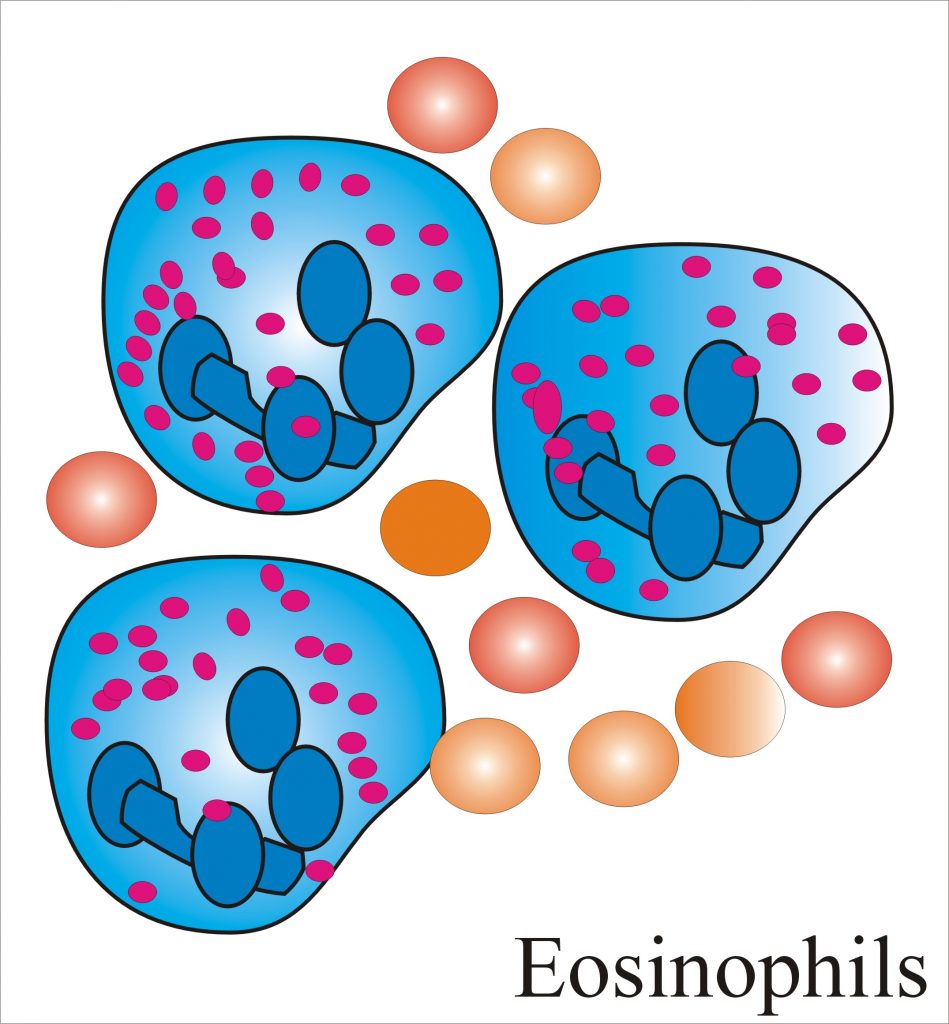 Sample
Whole blood (

EDTA

) is needed.
Heparinized blood can also be used.
The absolute count should be done within 4 hours or refrigerate the sample but do count within 24 hours.
Indications
Eosinophils count is done to diagnose allergic conditions.
To diagnose parasite infestation and its severity.
This can be used to monitor the treatment of parasites.
Pathophysiology
Definition:

If eosinophil count is elevated >1.5 x 109/L for over 6 months and associated with tissue damage then the hypereosinophilic syndrome is diagnosed.
The heart valves, skin, and lungs may be affected.
These diseases are usually treated with steroids or cytotoxic drugs.
In case if there is a clonal cytogenetic abnormality is present in the bone marrow, it is then called chronic eosinophilic leukemia.

Eosinophilic development:

Eosinophils have the same stages of maturation as other white cells have. like myelocytes, metamyelocytes, band forms, and segmented stages.
The eosinophils develop from the stem cells in the bone marrow.
Myeloid series cells get maturation under the influence of granulocytes colony-stimulating factor (G-CSF).
Eosinophils take 3 to 6 days in the bone marrow for the maturation, before they appear in the peripheral blood.
Bone marrow provides a storage area for eosinophils so that these are released whenever these are needed.
The mean transit time in the circulatory blood system is 8 hours but in some diseases has longer.
Eosinophils migrate from the blood to tissue, like bronchial mucosa, skin, gastrointestinal tract,  and vagina about 12 hours.
Eosinophils are motile, can migrate between endothelial cells into a tissue or into an area of inflammation in the same manner as neutrophils.
Eosinophils are like neutrophils except the cytoplasm contains orange or red staining granules.
The blood transient time for the eosinophils is longer than the neutrophils.
There is a diurnal variation of eosinophils count.

the lowest count will be in the morning, 10 AM to 12 AM, and the highest level at midnight (4 am).

Eosinophils granules contents:

Peroxidase.
Acid phosphatase.
Aryl sulphatase.
β-glucuronidase.
Phospholipase.
Cathepsin.
Ribonuclease.

Eosinophil functions:

The eosinophils can act as phagocytic cells.
Eosinophils are active in antigen-antibody complexes.
Eosinophils are rich in histamine granules.
Eosinophils take part in hypersensitivity reaction type 1.
It helps in the detoxification process.
A special role in the allergic reaction.
They are defensive against the parasitic infestation.
Eosinophils remove the fibrin during the inflammation,
Eosinophils with the help of antibody IgE can produce histamine from the mast cells or the basophils.

Characteristic features of eosinophils:

Cell size 10 to 16 µm in diameter.
The nucleus has two to three lobes. and the N:C ratio is 1:1. The nucleus is central or eccentric. The nuclear chromatin is deep-blue purple and coarsely granular chromatin.
There are no nucleoli.
The cytoplasm contains red, uniform, specific eosinophilic granules.
Procedure to count Eosinophils:
1. The best method to count eosinophils is an automated analyzer.
2. Dunger's solution:
This will use the acid dye like eosin.
Water may be used to lyse the RBC when the eosinophils are resistant to water.
3. Phloxine stain: It consists of:
Phloxine 0.1% solution to water 10 mL.
Distilled water 40 mL.
Propylene glycol  50 mL.
Sodium carbonate 1%  1 mL.
Procedure 
A sample of the blood is diluted in the WBC pipette as 1: 20 dilution with staining fluids.
Mix well for 30 seconds.
Now fill the chamber and count the colored eosinophils.
Leave the chamber for at least 10 minutes to count the cells.
Normal
Source 2
Absolute value : 50 to 400 cell/cmm
Peripheral blood smear (DLC): 1 to 5%.
Normal bone marrow = 0 to 3%.
Source 4
Absolute count = 0 to 0.7 x 109/L
Differential count = 0 to 3% of total WBC
Eosinophilia, Increased Eosinophil count is seen in:
when eosinophils are more than 5 % or > 500 cells/cmm.
Allergic disorders:

Bronchial asthma.
Angioneurotic edema.
Hay fever.
Drug sensitivity.
Food sensitivity.

Graft-versus-host disease.
Skin diseases:

Eczema
Exfoliative dermatitis.
Pemphigus.
Psoriasis.
Urticaria.
Angioedema.
atopic dermatitis.

Parasitic infestations

Especially those parasites which invade the tissue. e.g. Trichinosis, and  Echinococcus, amoebiasis, hookworm, tape-worm, and ascariasis.

Hematological disorders:

Chronic myeloid leukemia.
Polycythemia vera.
Pernicious anemia.
Hodgkin's lymphoma.

Hypereosinophilic syndrome:

Eosinophilic leukemia.
Trichinosis invasion.
Dermatitis herpetiformis.
Idiopathic.

Malignant tumors:

Especially with metastasis and necrosis.
Hodgkin's disease.
Clonal T-cell disorders.
Myeloproliferative diseases including systemic mastocytosis.

Pulmonary syndromes:

Eosinophilic pneumonia.
Tropical pulmonary eosinophilia.
Loeffler's syndrome (transient pulmonary infiltrates).
Allergic granulomatosis.

Miscellaneous.

Loeffler's syndrome.
Tropical eosinophilia.
Radiation.
Rheumatoid arthritis.
Tuberculosis.
Sarcoidosis.
Certain poison.
Eosinopenia, when < 50/cmm seen in the following conditions:
Cushing's syndrome.
Due to some drugs like

ACTH

, epinephrine, thyroxine, and prostaglandin.
In the shift to the left where there are immature cells.
---