Enteric Fever:- Part 2 – Typhoid Fever Diagnosis, Widal test, Its Procedure and Interpretations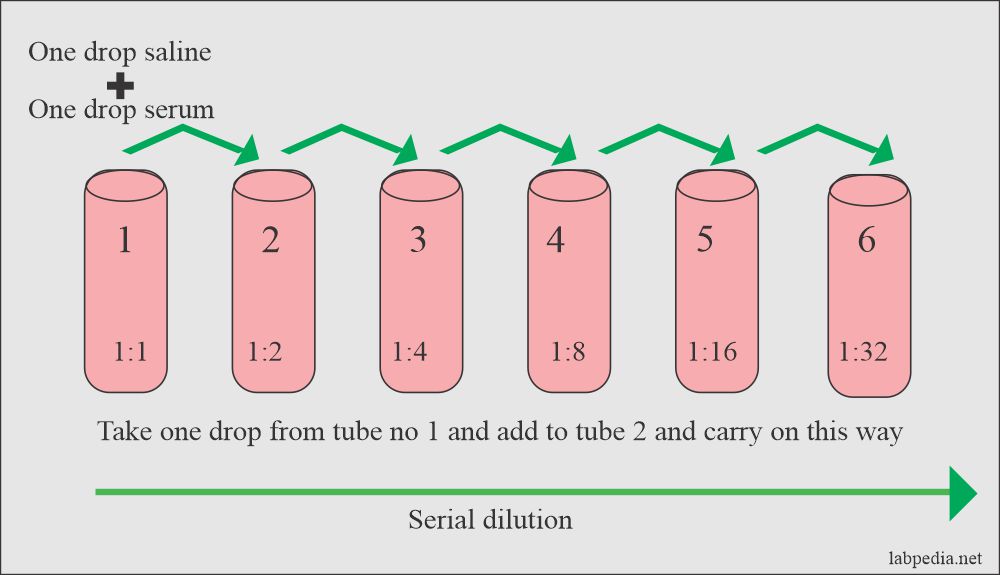 Widal test
Enteric fever
Sample for Enteric fever 
It is done on the serum of the patient for the widal test.

A random sample can be taken.

For blood, culture collects the blood in sterile test tubes or specialized culture tubes.
For urine culture, clean the area and then collect the mid-stream sample.
Stool culture samples may be collected in sterile containers.
Bone marrow, if needed, will be done with all precautions and sterilely.
Purpose of the test (Indication)
This test is done to diagnose enteric fever (Typhoid and paratyphoid fever).
History of the Salmonella infection
Diseases caused by salmonella are divided into two groups:

Typhoidal infection by S.typhi and S.paratyphi.

Humans are the only host of these pathogens, spreading person-to-person or via contaminated foodstuffs and water.

Non-typhoidal infection from all other organisms.

The most common non-typhoidal organisms in the USA are S.typhimurium, and S.enteriditis.
Of these infections, 95% are food born.

History of widal test:

In 1896 widal test was discovered by George-Fernand Widal for the diagnosis of enteric fever.

Enteric fever includes typhoid and paratyphoid fever.

Paratyphoid fever is milder than typhoid fever.
Enteric fever is also called typhoid fever.

Typhoid fever is caused by the bacterium Salmonella Typhi.

Salmonella typhi has an incubation period of 14 to 21 days. Sometimes may even be longer.
30% of the cases become chronic carriers due to persistent gallbladder infection.
Antigens and the antibodies of the salmonella typhi:
H antigen: This is flagellar H antigen.