Dubin-Johnson Syndrome Diagnosis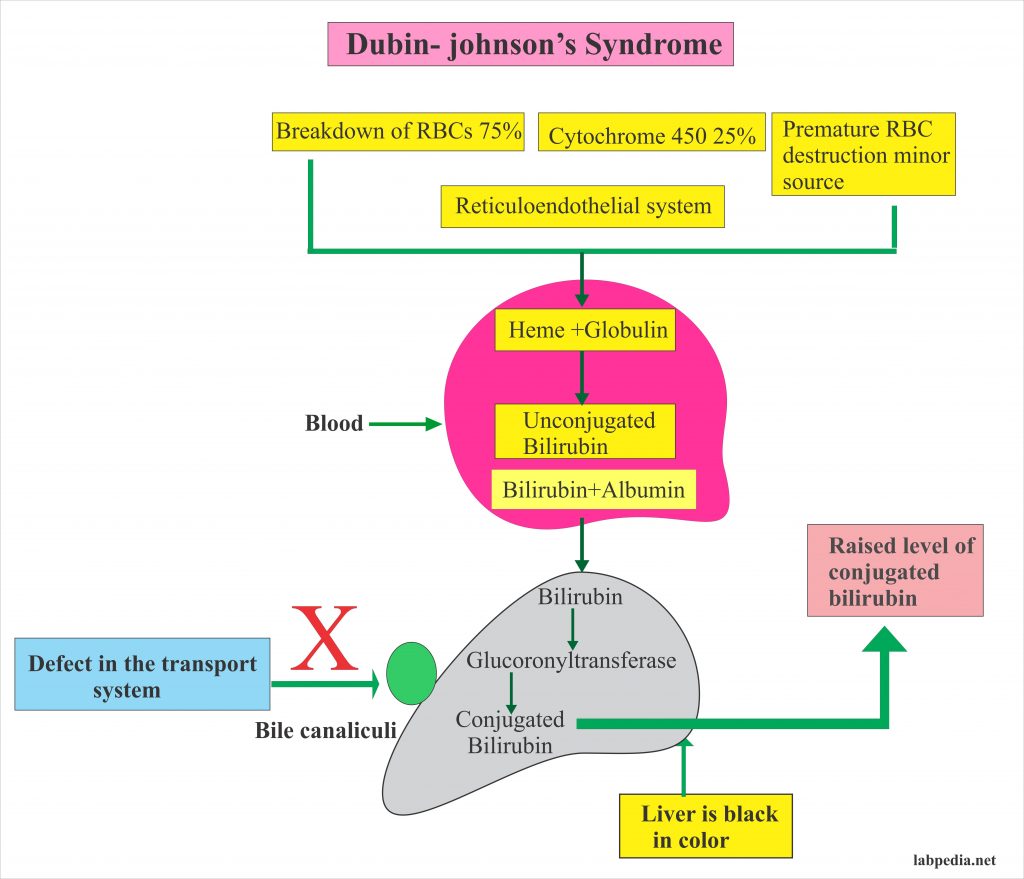 Sample
Blood is needed to get the serum.
A random sample can be taken.
Definition
Dubin-Johnson syndrome (DJ) is benign, looks like mild viral hepatitis.
It is characterized by mild recurrent jaundice with hepatomegaly.
Pathophysiology
This is a rare genetic autosomal recessive disorder.
This is due to the inability to transport bilirubin-diglucuronide through the parenchymal hepatic cells into bile canaliculi.
This is a defect in the canalicular multispecific organic anion transport associated with increased plasma conjugated bilirubin.
There is mild jaundice with total bilirubin 2 to 5 mg/dL.
The liver has intense dark pigmentation due to the accumulation of lipofuscin pigment.
While the conjugation of bilirubin is normal.
Sign and symptom
There is a yellowness of eyes and skin due to hyperbilirubinemia.
Mild jaundice, which may not appear until puberty or adulthood, is the only symptom of Dubin-Johnson syndrome.
The jaundice is nonpruritic.
Mostly the patients are asymptomatic.
Risk factors that increase jaundice:
Infection.
Pregnancy.
Birth control pills.
Use of alcohol.
Environmental factors which may affect the liver.
Diagnosis
Serum bilirubin is raised (maybe 3 to 10 mg/ 100 ml). Approximately 50% is indirect bilirubin.
Serum 

SGOT

and

SGPT

(

ALT, 

AST

)  are normal.
Urine contains bile and urobilinogen.
Liver biopsy shows plenty of yellow pigments or black pigments in the hepatocytes and gives the liver a black appearance.
Cholecystography shows the absence of the gallbladder.
Treatment
This is a benign disease and does not need any specific treatment.

This patient should be given a warning for follow-up in case of pregnancy, oral contraceptives, and any illness which leads to an increase in the bilirubin level.

Phenobarbitone was used but not now recommended.
The outcome of the disease
The picture is not gloomy and it does not shorten the lifespan of the patient.
---