Diabetes Mellitus:- Part 7 – Diabetic Ketoacidosis and Ketone Bodies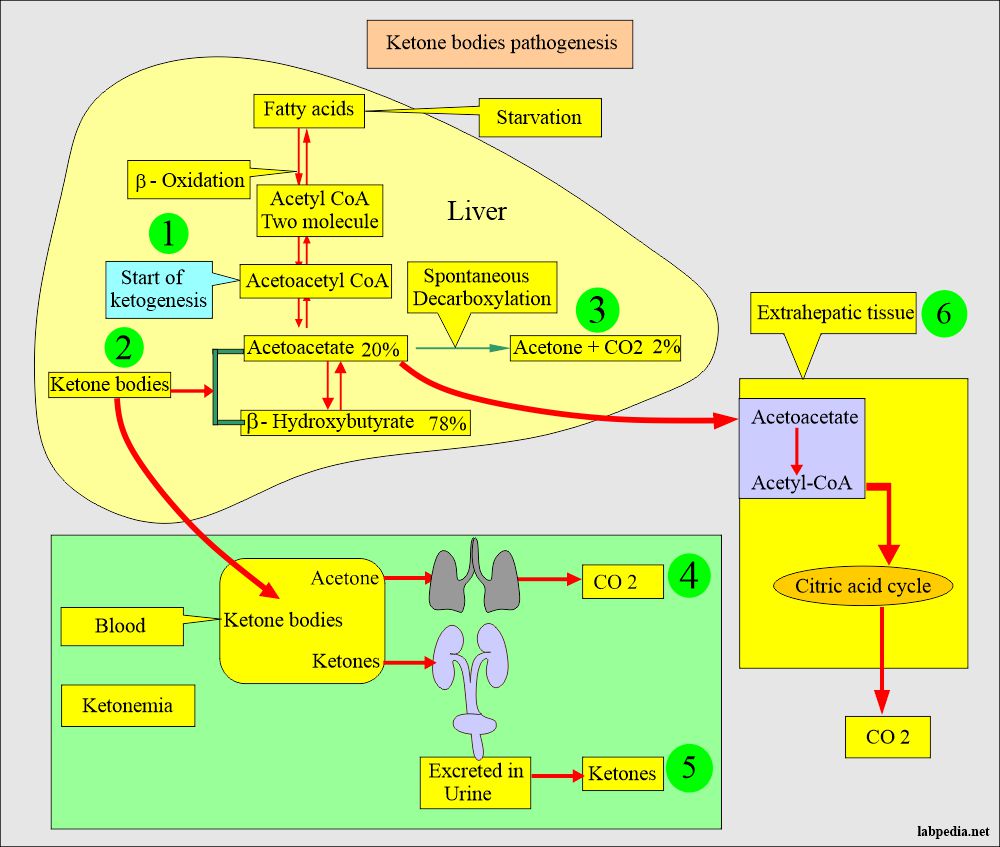 Diabetic Ketoacidosis
Sample
The ketones can be detected in blood and urine.
Precautions
The false-positive test may be seen in some medications.
Prolonged exposure of the strips to air gives the false-negative result.
Definition of diabetic ketoacidosis
Normally no ketones are present in the urine.
Diabetic ketoacidosis is due to Ketone bodies in the blood and the urine.
There is a presence of ketones in the blood, which are toxic acids.
Pathophysiology
This is a complication in diabetic patients with hyperglycemia and massive fatty catabolism.
The primary substrate for ketone body formation is free fatty acids from adipose tissue.

This is due to the lack of insulin in uncontrolled diabetes mellitus.
These free fatty acids are substrates for the formation of ketone bodies.
When reesterified in the liver, these free fatty acids give rise to triglycerides and low-density lipoproteins.
When the body can not utilize carbohydrates or glucose can not enter the cells.
Pathogenesis of ketone bodies production:
Glucose provides energy to the body. During starvation or uncontrolled diabetes mellitus, the energy is supplied by the breakdown of fats.
In the blood samples, mainly  78% is beta-hydroxybutyric acid, and acetone is hardly 2%.
Ketones are formed when fats provide energy to the body.  The enzymes responsible for forming ketone bodies are present in the mitochondrial.

Acetyl-CoA from acetoacetyl-CoA by the β-oxidation.
Acetoacetyl- CoA is the starting point of ketogenesis.
Acetoacetate is formed from the acetoacetyl-CoA in the liver.
In the extrahepatic tissue, acetoacetate is activated by acetoacetyl-CoA.
Now acetoacetyl- CoA is split into acetyl-CoA by thiolase, is oxidized in the citric acid cycle, and produces CO2.
In most cases of ketonemia, increased ketone bodies are formed in the liver and not dependant upon the utilization of ketone bodies in the extrahepatic tissue.
Ketone bodies are:

Acetoacetate.
β-hydroxybutyrate.
Acetones.
ketone bodies are the end product of fatty acid breakdown.
The presence of ketones bodies in the urine indicates poorly controlled diabetes mellitus.
Definition of diabetic ketoacidosis:
When the body can not utilize the ketone bodies produced in excess, it is called ketosis.

These are excreted in the urine and are called ketonuria. There is the excretion of ketones more than traces.
The elevated level of ketones in the blood is called ketonemia.
This overproduction of the keto acids leads to acidosis or lowers blood pH.

Ketone bodies are toxic to the brain; if present in abundance in the blood, these will leave to coma.
Diabetic ketoacidosis is life-threatening metabolic acidosis due to uncontrolled diabetes mellitus, it is seen usually in type 1 and less common in type 2.
Procedure for ketone bodies
Gerhardt's ferric chloride reacts with acetoacetate only.

Principle of Gerhardt's test:

The reagent is 10% ferric chloride.
It is based on the reaction of ferric chloride (FeCl3) with acetoacetic acid only, and it will form red color.

The procedure of Gerhardt' test:

Take 3 to 5 mL of urine.
Add 5 mL of Ferric chloride solution.

Note the color, if it is red, indicates ketone body, acetoacetic acid.

Now boil the above solution for 5 minutes.

Color disappear indicates acetoacetic acid. By boiling acetoacetic acid changes to acetone by losing CO2.
The color remains red, indicating the presence of salicylates.

Nitroprusside Method:

It is 10 times more sensitive to acetoacetate than acetone.
Strip method:
Take urine (freshly voided sample) + add sodium nitroprusside (strips) = Deep violet color in positive cases.
 It has no reaction to β-hydroxybutyrate.
Rothera's test is the modification of the Nitroprusside method.
Nitroprusside tube method:

Add 0.5 to 1.0 grams of nitroprusside to the bottom of the test tube, or can put it on porcelain tile.
Add one drop of freshly voided urine. Sufficient to moisten the powder.
Observe for one minute for the development of mauve-purple color.
It is easy to assess the color when testing in a test tube. Can see better against the white background.
Results are reported as:

| | |
| --- | --- |
| Color change of the reagent | Test result for ketones |
| No color change | Ketones Negative |
| Slight purple color | Ketones are + |
| Moderate purple color | Ketones are ++ |
| Dark purple color | Ketones are +++ |

For β-hydroxybutyrate, urine is heated to convert β-hydroxybutyrate to acetone and acetoacetate by oxidation.

Commercial kits are available to estimate the β-hydroxybutyrate.

Ketone bodies in the urine:

Urine ketone bodies test detects acetoacetate and acetone.
Signs and Symptoms of diabetic ketoacidosis
This condition is seen in carbohydrates deficiency or starvation, or frequent vomiting.

The patient will have a thirst and a dry mouth.

Increased frequency of urine.

There is easy fatigue.

There may be nausea, vomiting, and abdominal pain.

There is a fruity odor breath.

Difficult in concentration and confusion.

This condition may become very serious if not treated in time.

Ultimately patient may go into a coma.
Typical findings in diabetic ketoacidosis :
Lab test
Result
Blood glucose
300 to 500 mg/dL
Ketones urine
Positive
Ketones serum

Increased ++++
Plasma acetone = positive in diluted plasma

Acetone breath
Positive
Electrolytes

Sodium = decreased
Potassium = increased
The anion gap = increased (>12)
pCO2 = decreased

Blood gases
Total CO2 = decreased
Metabolic acidosis

pH = <7.3
Bicarbonate = decreased (<15 meq/L)

Osmolality
Moderately increased
Insulin (plasma)
0 to low
Serum lactate
2 to 3 mmol/L
The complication of diabetic ketoacidosis:
There is brain edema due to fluid accumulation.
The patient may have a cardiac arrest.
The patient may go into kidney failure.
Treatment
Start with saline for volume replacement.
Insulin infusion (but delay if serum potassium level is low <_3.3 meq/L.
Potassium replacement when the serum level is <5.5 meq/L.
Glucose drip (5% dextrose with 0.45% saline when the plasma glucose level is <250 mg/dL).
Continue glucose and insulin until the anion gap is <12 meq/L.
---