Dengue Fever, Dengue Hemorrhagic Fever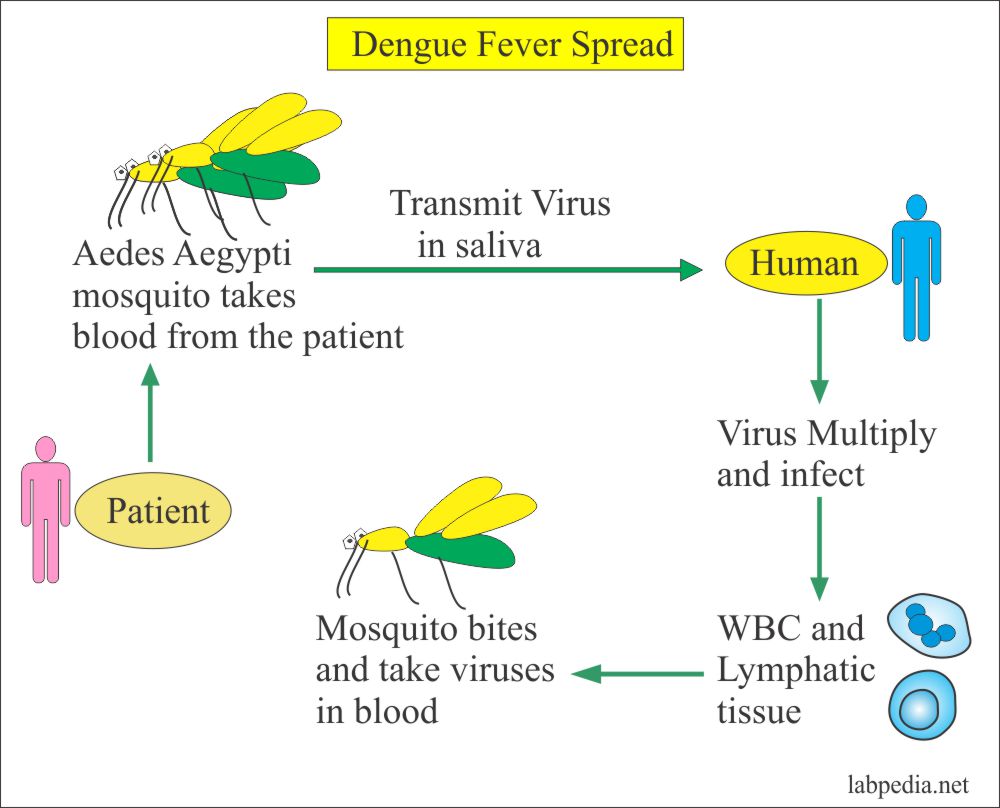 Sample
The patient blood is needed.
Definition
Dengue fever is caused by the Dengue virus. This is also called as Break Bone Fever.
Epidemiology
Definition:

Dengue fever is the most common and most important arthropod – born viral (arbovirus) disease most common in the tropical and subtropical people.
It is transmitted by mosquitos.
Its incidence recently increased to 40 to 50% of the world population is at risk.
People living or traveling to tropical countries at risk

Dengue fever is caused by four serotypes of the Dengue virus.

This is basically flavivirus.

This may lead to:

Dengue hemorrhagic fever.
Dengue shock syndrome.

Dengue fever is transmitted by mosquitoes and these are of two types.

Aedes aegypti.
Aedes albopictus
The Serotypes of Dengue virus are:

Dengue  Den-1
Dengue Den-2
Dengue den-3
Dengue Den-4

 Recovery from infection by one serotype provides lifelong immunity against that serotype.

But still, you are at risk of the other three sub-serotypes.

There is no direct spread from the patient. So no worry about handling the patient.

Cross-reactive immunity is partial and temporary.

Dengue virus is transmitted by female mosquitoes mainly of the species

Aedes aegypti and

, to a lesser extent, Aedes albopictus.

These types of mosquitoes are present throughout the world. These Insects that transmit disease are called vectors.

The disease is widespread throughout the tropics and is influenced by rainfall, temperature, and unplanned urbanization.

This will spread to susceptible populations, usually by the viremic travelers, in that case, epidemic spread ranges from 50 to 70%.

WHO 

estimates that about 40% of the world population is at risk. There is no discrimination of the age group because all age groups are at risk.
The epidemic of dengue hemorrhagic fever occurred in the last 20 years in East Africa, Sri Lanka, and Latin America.
Dengue is a second febrile disease after malaria in travelers coming from developing countries.
Signs and Symptoms
The incubation period

is usually 4  to  7 days after the mosquito bite.

History of travel from the dengue-endemic area.

Dengue infection may range from:

Asymptomatic patients.

Severe hemorrhagic fever.

Dengue shock syndrome (Fatal shock).

Dengue fever is a self-limited biphasic fever disease.

50% of the children are asymptomatic.

This disease is more severe in adults.

After the incubation period:

The patient has flu-like signs and symptoms.

These signs and symptoms last for  3  to 10 days.

In some cases, it becomes lethal and is called severe Dengue fever.

There are sudden:

Fever, mostly high-grade fever.
The patient may have chills.
The fever is biphasic, initially 3 to 7 days and then remission of few hours to 2 days.
There is a sore throat.
There is a headache.
Muscle pain leading to severe myalgias.
Joint pain (arthralgias). This is more common in serotype 2.

There is a characteristic skin rash like measles. These rashes may be like maculopapular, morbilliform, or petechial form.
25% of the cases may show heart involvement.
5% may show fulminant hepatitis.
The patient may go into depression.
When the disease is severe and may lead to bleeding, it is called  Dengue hemorrhagic fever which is due to low platelets count.
Another complication is low blood pressure which leads to Dengue shock syndrome.
Some patients may show:

Ecchymosis.
Gastrointestinal bleeding.
Epistaxis.

In the case of dengue hemorrhagic fever may see:

Restlessness.
Epistaxis.
Abdominal pain.
The gastrointestinal area may show bleeding. tenderness and ascites.
Prevention
There is no commercially available Vaccine.
Try to stay away from the affected area.
Try to reduce or eradicate the mosquitoes in that area.
Try to avoid bite by this mosquito.
Do the proper disposal of waste and garbage.
Try to remove all possible places where the mosquito can survive.
Apply adequate insecticides to water storage containers on a weekly basis.
Try to stop the entry of the mosquitoes from the windows or doors.
Diagnosis
This may be diagnosed with the signs and symptoms of fever, nausea, vomiting, rashes, and generalized pain.
Laboratory tests are:

Low blood count.
low platelets count.
positive tourniquet test.
Raised hematocrit due to hemoconcentration.
ESR is usually normal if it is raised then thinking about another differential diagnosis.

Confirmatory tests are virus isolation. This can be done in cell culture.

Virus isolation is possible in the acute phase of the disease.
PCR -Nucleic acid detection by PCR can be done.
Viral antigen (NS1) can be detected. This is positive in more than 90% of the primary infection in the febrile phase.

Serological tests detect dengue virus-specific antibodies.

These antibodies are of:

 IgG antibody.
 IgM antibody.

Diagnosis of the disease in the later stages of the infection.

Both IgG and IgM are produced after 5 to 7 days.
IgM antibody indicates acute primary infection. This is undetectable after primary infection up to 30 to 90 days.

IgM may be produced in reinfection.

Liver function tests show raised transaminases.
Complications
There may be:

Respiratory involvement like pneumonia.
Hepatitis.
Orchitis.
Oophoritis.
Retinal hemorrhage.
Depression.
Encephalitis.
Bacterial superinfection may occur in older patients.
Treatment
For pain give pain reliever drugs. Acetaminophen can be used. Avoid Aspirin and NSAID because they may cause bleeding.
In case hemorrhagic dengue fever patient needs plenty of fluids.
There is no vaccine available.
WHO reported in late 2015 and early 2016 the first Dengue vaccine "Dengvaxia (CYD-TDV) by the company Sanofi Pasteur was registered for some of the countries. This can be used between the ages of 9 to 45 years for people living in the endemic areas.
The outcome of the disease:
There may be 2.5% mortality due to dengue fever.
---