Cryoglobulin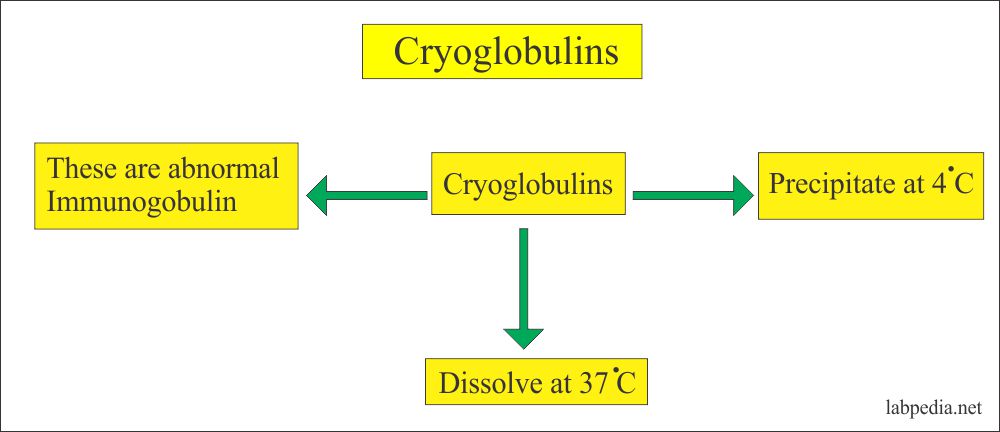 Sample
Venous blood is needed.
Keep the blood at 37 °C.
Separate the serum at 37 °C,  so the cryoglobulins remain in the serum.
Precaution
Maintain the temperature of the blood at 37 °C.
Also, maintain the temperature of the serum at 37 °C.
Purpose of the test
This test is done to diagnose:

Purpura.
Arthralgia.
Raynaud phenomenon.
Pathophysiology
Definition:

These are immunoglobulins that precipitate reversibly at low temperatures.
Most of the cryoglobulins are polyclonal immunoglobulin complexes, and nearly half are monoclonal, usually IgM.

Cryoglobulins are abnormal immunoglobulins proteins produced due to various diseases.
Cryoglobulinemia is defined as a condition in which plasma or serum proteins (IgM) precipitate when cooled below body temperature.

These proteins precipitate at 4 °C and dissolve again at 37 °C.
These are the proteins that reversibly precipitate or gel at 4 °C.
These cryoglobulins are classified as follows:

Type I (Monoclonal).
Type II (This is mixed cryoglobulin, a mixture of polyclonal immunoglobulins).
Type

III

(Polyclonal).

Type I monoclonal cryoglobulins are produced by the neoplastic lymphocytes and plasma cells. These are typically IgM type of immunoglobulin.

May see IgG as well.
These may constitute 25% of the cryoglobulins.
Associated with multiple myeloma, macroglobulinemia, and rare neoplasm of the plasma cells and lymphocytes.

Type II cryoglobulins consist of two types:

The monoclonal form is seen as the rheumatoid factor and usually is IgM with a kappa light chain.
Second is polyclonal IgG which reacts with rheumatoid factor (IgM).

Type  

III

  cryoglobulins are mixed cryoglobulins and two polyclonal immunoglobulins.

More than 90% contains IgM. rheumatoid factor and IgG.
Mostly seen in autoimmune diseases.

There are circulating immune complexes produced by various antigens like viral, bacterial, and autologous antigens.

Mixed cryoglobulinemia consists of type II and type III.
Signs and symptoms:

These proteins precipitate in the blood vessels of fingers when exposed to cold.

These patients will have symptoms of:

Vascular purpura.
Bleeding tendency.
Arthralgia.
Cold-induced urticaria.
Raynaud phenomenon (pain, cyanosis, the coldness of fingers).

These proteins are present in various diseases.

Serum level > 5mg = Multiple myeloma, macroglobulinemia, and leukemia.
Serum level between 1 to 5 mg = Rheumatoid arthritis.
Serum level < 1mg =

SLE

, RA, infectious mononucleosis, viral hepatitis, endocarditis, cirrhosis, glomerulonephritis.
Type of cryoglobulin
disease
Type I
Multiple myelomas, macroglobulinemia, monoclonal gammopathy.
Type II
Vasculitis, glomerulonephritis,

SLE

, RA, Sjogren's syndrome, hepatitis,

CMV

.
Type

III

May see diseases like type II, and autoimmune diseases.
Normal
The serum is negative for the cryoglobulins.
Procedure
Clotted blood is centrifuged at 37 °C.
Keep the serum in the fridge at 4 °C.

Keep it for at least 3 days and again centrifuge at 4 °C.

Check the serum daily for white precipitate or gel.
Check daily for at least 72 hours to 7 days.

The precipitate is recorded and measured, which is cryoglobulin.
Rewarm the sample if it dissolves, then it confirms the cryoglobulins.
Cryoprecipitate is washed and subject to Immunoelectrophoresis is done to identify the type of cryoglobulin.
Causes of Cryoglobulins
Autoimmune diseases like

SLE

, RA, Sjogren's syndrome.
Malignancies like Multiple myeloma, Leukemia, Waldenstrom macroglobulinemia, and Lymphoma.
Acute and chronic infections like Infectious mononucleosis, Poststreptococcal glomerulonephritis, and endocarditis.
Liver diseases like Cirrhosis and Hepatitis.
Renal involvement manifests as either nephrotic or nephritic syndrome and associated with hypocomplementemia.

The most common finding is membranoproliferative glomerulonephritis type II.
---