Crigler-Najjar Syndrome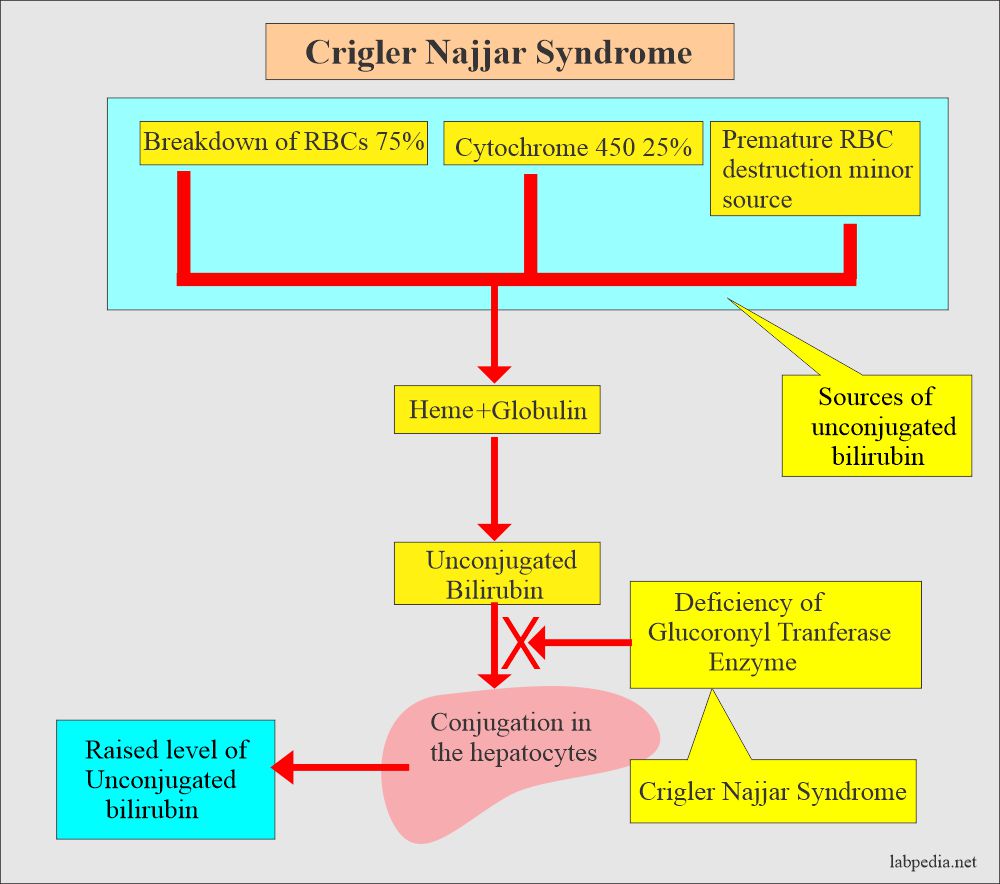 Crigler-Najjar Syndrome (Hereditary Glucuronyl-Transferase Deficiency)
Sample
Serum of the patient needed.
Pathophysiology
Crigler-Najjar syndrome is a rare familial autosomal recessive disease.
This is rare but is a very severe disease, 50% of the babies die within one year of birth.

The rest half of the patients suffer from severe brain damage.
Mechanism of Crigler-Najjar Syndrome:
There is a congenital marked deficiency or absence of glucuronyltransferase enzyme (

GTE

).

GTE

converts (conjugated) bilirubin into bilirubin-glucuronide in the hepatocytes.

UGT1A1 gene coding has a severe deficiency of the enzyme.
Type I has no glucuronyltransferase enzyme leading to neonatal jaundice and kernicterus.
Type II (Arias syndrome) some glucuronyltransferase enzyme activity, usually <10% of the normal, and jaundice appears later on.

Now unconjugated bilirubin (indirect bilirubin) can build up in the body and lead to jaundice.
This is caused by gene mutation and deletion.
To understand the mechanism of Crigler-Najjar syndrome, the following diagram showing bilirubin metabolism will give the good concept of this disease.
Side effects of unconjugated bilirubin (Crigler-Najjar Syndrome):
This unconjugated bilirubin can cause damage to the brain, muscles, and nerves.
To understand the mechanism of Crigler-Najjar syndrome following diagram of bilirubin metabolism gives a better idea.
Crigler-Najjar syndrome is of two types:
 Type 1 has an almost absence of

GTE

and is a severe disease. There is a homozygous non-function protein.

There is no enzyme activity in the liver.

Type 2 has partial or at a reduced level. The disease is less severe than type 1.

There is <10% of the normal enzyme activity, and survival to adulthood is possible.
Signs and Symptoms
These patients may have confusion.
There is yellowness of eyes and skin due to raised unconjugated bilirubin.
In type 1:

jaundice develops in the first few days of birth and is severed by the second week.

Bilirubin may be as high as 25 to 50 mg/dL.
No conjugated bilirubin is present in the serum or urine.

These patients may develop kernicterus due to brain damage.
Unconjugated hyperbilirubinemia always exceeds 5 mg/dL and time may exceed 20 mg /dL.
Kernicterus when there is the deposition of bilirubin in the brain particularly affects the basal ganglia, mainly the lenticular nucleus.

Kernicterus may show hypotonia, deafness, lethargy, oculomotor palsy, and ultimately death.

These patients may also have diarrhea, vomiting, fever, seizures, and difficulty in swallowing.

Early liver transplantation is the only effective treatment.

Lab findings:

Fecal urobilinogen is very low.
Liver function tests are normal.
BSP test is normal.
Liver biopsy is normal.
There is no evidence of hemolysis.

The outcome of type 1:

Untreated patients often die of kernicterus before they cross the age of 18 months.
Type 1 can be considered when there is unconjugated hyperbilirubinemia of >20 mg/dL after one week of age, and there is no evidence of hemolysis, and breast milk jaundice is ruled out.

In type 2:

This is a rare autosomal dominant disorder.
There is a partial deficiency of the glucuronosyltransferase enzyme.
Neurological complications are rare.
Clinically there are no signs and symptoms except mild jaundice.

Bilirubin may be 5 to 25 mg/dL.

There is roughly 10% of the normal activity of the enzyme.
There is a possibility of survival of the child to adulthood.
There is a good response to phenobarbitone therapy and the patient may have more life than expected.
With phenobarbitone therapy, bilirubin may be <5 mg/dL.
Difference between type 1 and type 2 Crigler-Najjar syndrome:
Clinical/lab findings
Type 1
Type 2
Incidence
Very rare
Uncommon
Age at onset
Infancy
Childhood, and adolescent
Transmission
Autosomal recessive
Autosomal dominant
Serum bilirubin total
>20 mg/dL
<20 mg/dL
Type of bilirubin
All unconjugated
All unconjugated
Kernicterus
Frequent
Absent
Glucuronytransferase enzyme
Absent
Marked decrease (present)
Bile
Mostly colorless
Normal color
Signs and symptoms

Jaundice
Kernicterus in infants
Kernicterus is also seen in young adults

Mostly asymptomatic
Kernicterus is rare
There is mild jaundice

Stool color
Plae yellow
Normal
Oral cholecystogram
Normal
Normal
Phenobarbitone response
No response
There is a positive response
Status of parents

Normal bilirubin in both parents
Partial defect, there is ∼a 50% defect for glucuronide conjugation in both parents

One parent shows minimal to severe jaundice
Defect in glucuronide conjugation is present in one of the parents
Diagnosis
Type 1: Indirect bilirubin is increased. It appears in the first or second day of life and may be raised to 12 to 45 mg/100 ml.

Conjugated bilirubin is absent in the serum.
Bilirubin is absent in the urine.

Type 2: Raised bilirubin level is low in the range of 7 to 20 mg/100 ml.

Liver function tests are normal.
Liver biopsy is normal.
Fecal urobilinogen is very low.
Treatment
These patients need phototherapy 

throughout

 their life (blue LED light). This is difficult because patients need 10 to 12 hours of treatment every day.

Phototherapy may not work in some patients after the age of 4 years due to the thickness of the skin.

Drugs that may be given are 

phenobarbital

, Vit. E, Vit. C, Coenzyme Q, Actigall, L-carnitine, and Creatine.

Blood transfusion exchange or plasma exchange may be helpful in raising the bilirubin level.

Calcium may be given to bind the bilirubin in the gut.

In type 1 liver transplantation may be done as early as possible and that is the only hope for longer survival.
---