Cortisol Suppression Test (Dexamethasone Suppression) (ACTH suppression)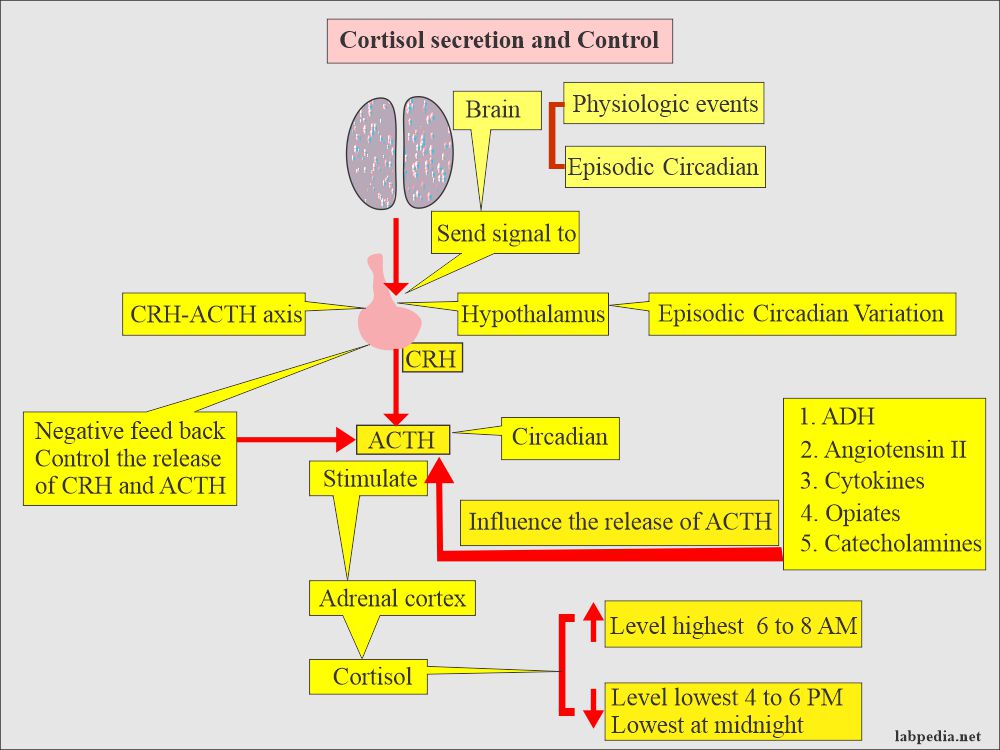 Cortisol Suppression Test
Sample for cortisol suppression test
Rapid cortisol suppression test:
This test is easy and quick to perform.
This is used as a screening for Cushing's syndrome.

Obtain 4 ml of fasting blood at 8 AM.
Inject I/M or  /V cortisone.
Collect blood 5 ml after 30 and 60 min. Of injection.
Serum or heparinized blood can be used.
Prolonged suppression test:
Obtain 24 hours of urine as a baseline sample.
Collect blood for baseline cortisol level.
Collect 24 hours urine samples daily for 6 days.
On day 3 give a low dose of dexamethasone by mouth (with antacid or milk).
On day 5 give a high dose of dexamethasone by mouth like above.
Keep the urine refrigerated.
Protocol for an overnight low-dose dexamethasone suppression test:
One mg of dexamethasone is given at night at 11 PM.
Collect the blood at 8 AM.
In a normal person, cortisol concentration is suppressed to 2  µg/dL or less.
Cushing's patient does not show suppression, and the level may be >10  µg/dL.
Purpose of the test (Indications)
This test is done to diagnose adrenal hyperfunction (Cushing's Syndrome).
This also diagnoses adrenal hypofunction (Addison's disease).
Pathophysiology
Corticotropin-releasing hormone (

CRH

) is made in the hypothalamus.

CRH

 stimulates the production of

ACTH

from the anterior pituitary gland.

ACTH

stimulates the adrenal gland cortex (zona fscicultra) to produce cortisol.
The feedback mechanism is rising levels of negative cortisol feedback, stopping further production of

CRH

and ACTH.
Cortisol is a potent glucocorticoid released from the adrenal cortex (zona fasciculta)
Cortisol hormone affects the metabolism of:

Carbohydrates.
Proteins.
Fats.
The main effect is on the glucose level.

Cushing's syndrome is due to bilateral adrenal hyperplasia.

The pituitary gland only responds to the high level of cortisol (corticosteroids).

Cushing's syndrome due to adrenal adenoma or cancer, cortisol secretion continues despite a decrease in

ACTH.

Cushing's syndrome due to ectopic ACTH-producing tumors, there is the secretion of

ACTH

despite high cortisol levels.
Interpretations of cortisol suppression test
Suppression occurs in patients with:

Cushing's syndrome where the level is >10 µg/dL.
In 50% of the cases, the cause is endogenous.

There is no suppression in patients with:

Adrenal Adenoma.
Adrenal carcinoma.
In the case of ectopic ACTH producing neoplasm.
Table showing the relation of Cushing's syndrome with the dose of cortisone:
Disease
Causative reason
low dose
High Dose
Cushing's syndrome
Bilat. adrenal hyperplasia
No change
>50 % reduction in cortisol
Cushing's syndrome
Adrenal adenoma or carcinoma
No change
No change
Cushing's syndrome
Ectopic

ACTH

tumors
No change
No change
Absent or failure response to cortisol stimulation seen in:

Addison's disease (adrenal insufficiency).
Hypopituitarism (secondary adrenal insufficiency).
Adrenal adenoma and carcinoma.

Respond to cortisol stimulation indicate adrenal hyperplasia (Cushing's syndrome).
Adrenal hyperfunction is seen in:
Cushing's Syndrome.
Ectopic ACTH- producing tumors
Adrenal adenoma or carcinoma.
Bilateral adrenal hyperplasia.
Mental depression.
Adrenal Hypofunction is seen in:
Addison's disease.
Neoplastic infiltration.
Granulomatous inflammation like TB, histoplasmosis, and sarcoidosis.
After adrenalectomy.
Differential diagnosis of adrenal gland tumors:
Test
Normal
Cushing's Syndrome
Adrenal tumor
Ectopic

ACTH

Urinary free cortisol
<100 µg/day
>120 µg/day
>120 µg/day
>120µg/day
Serum cortisol
<3 µg/dL
>10 µg/dL
>10 µg/dL
>120 µg/dL
H.D Dexamethasone
50% supp.
Most supp.
Fail to supp.
fail to supp
Supp = suppression.
H.D = high dose.
---