Coombs' Test:- Part 1- Coombs' Direct, Direct-Anti-globulin test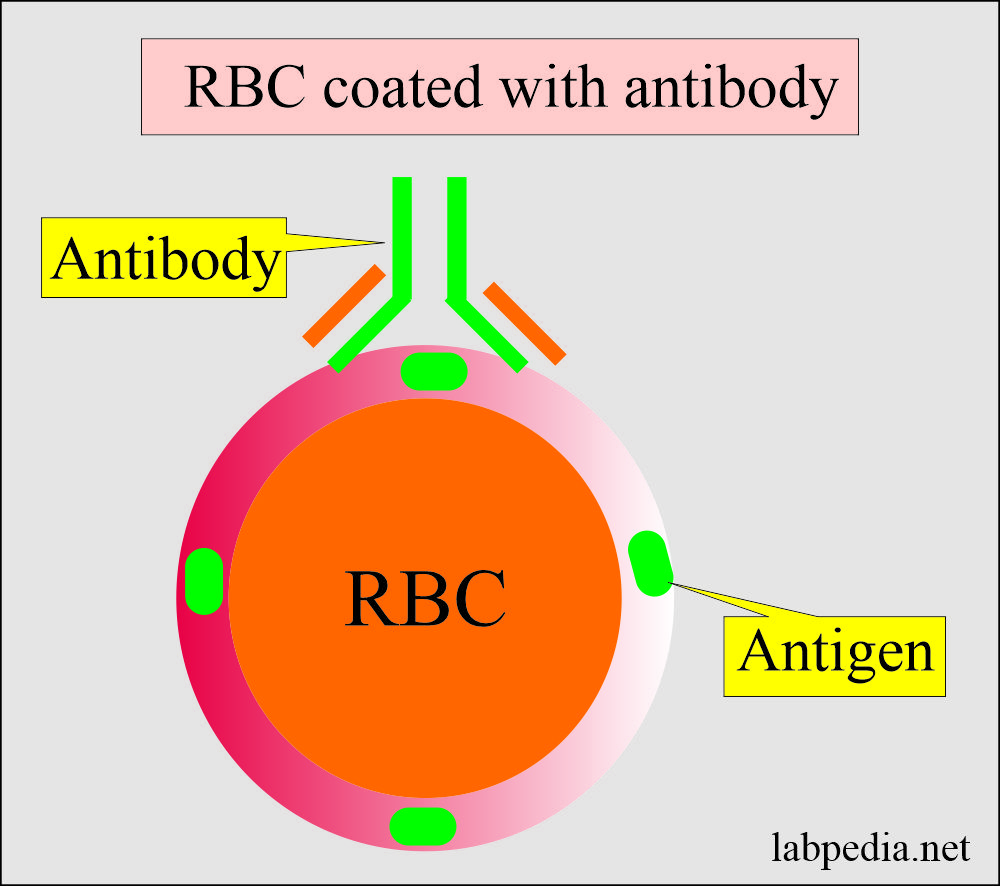 Coombs' Test Direct
Sample
The blood is collected in

EDTA

.
Separate

RBC

immediately to prevent the absorption of the complement to

RBC

.
Avoid clotted blood if possible. In the case of clotted blood, keep the blood at room temp. 37 °C, until the cells are separated.
Can store samples at 4 °C for one week.
Purpose of the coomb's test direct (Indications)
To diagnose the hemolytic anemia of the newborn.

This test is done on the cells (

RBC

), especially in the case of a newborn in the Rh-negative mother when the baby is Rh-positive and in the case of erythroblastosis fetalis.

T0  diagnose autoimmune hemolytic anemias.
To diagnose blood transfusion reactions.
To diagnose drug-induced hemolytic anemia.
Precautions for Coomb's test
Keep in mind that some drugs give false positive coombs direct tests, like cephalosporin, chlorpromazine, ampicillin, captopril, indomethacin, isoniazid (INH), streptomycin, tetracycline, sulphonamide, and penicillin.
Pathophysiology of the Coomb's test
Coombs' test will detect coated RBCs with antibodies.
Most of the antibodies are due to

ABO

and Rh antigens.
Antibodies appear within 7 to 10 days of primary exposure (Primary immune response) and 1 to 2 days in the second exposure (Secondary immune response).
Once there is a reaction, then these antibodies are coated to

RBC (RBC coated-antibodies)

.
Such antibodies can also develop due to drugs like methyldopa and penicillins (Non-blood grouping antigens).

Also, autoantibodies can attach to

RBC

.

Signs and symptoms of blood transfusion reaction are:

Fainting and dizziness.
Fever and chills.
Rash.
Back pain and pain in the flanks.
Hematuria (blood in the urine).

Coombs' serum (Antibody) is prepared in the rabbit against the human antibodies IgM and IgG.

Rabbit produces anti-human (IgM and IgG) antibodies, which are called Coombs' serum.
The procedure of Coomb's direct test
Wash the patient's

RBC

three times with saline.
Decant the supernatant saline.
Now make 2 to 5 % of these RBCs suspension in saline.
Now add Coombs' serum and centrifuge.
Look for agglutination (clumping of

RBC

).
Result for reading the Coomb's test
It is normally negative; there is no agglutination.
Positive direct Coombs show agglutination immediately after centrifugation, indicating that RBCs are coated with antibodies.

This test is read positive when the clumping is on a scale of a trace to +4.

False-positive results are seen in:

Insufficient washing of the RBCs.
Over Centrifugation of the test.
Contaminated reagents.
If the washed RBCs are left for a longer period.
The positive Coomb's test is seen in:
Autoimmune hemolytic anemia.

Warm reactive autoantibody.
Cold reactive autoantibody.
Cold haemagglutinin disease is seen in Lymphoma, pneumonia.
Paroxysmal cold hemoglobinuria.
Systemic lupus erythematosus.

Drug-induced hemolytic anemia, e.g., penicillin, quinidine, Cephalosporin, and α-methyldopa.
Hemolytic anemia: Transfusion reaction to incompatible

RBC

and hemolytic anemia of the newborn.

Erythroblastosis fetalis.
Incompatible blood transfusion.

Malignant diseases:

Lymphoma.
Chronic lymphocytic leukemia.

Infections :

Infectious mononucleosis.
Mycoplasma pneumoniae
---