Coagulation:- part 5 – INR, International Normalized Ratio (PT, PTT)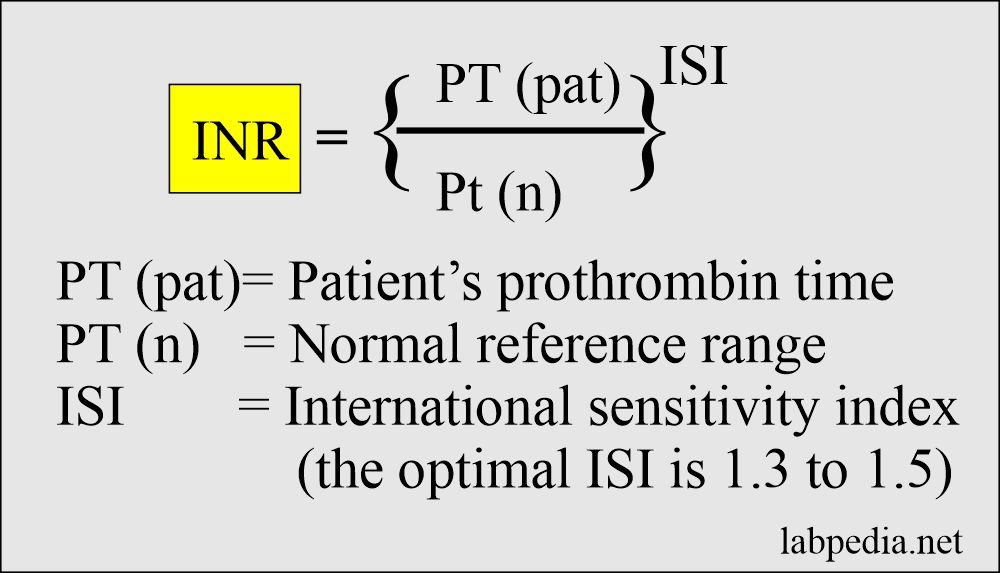 Sample
This sample is just like for

PTT

or

APTT

.
The blood sample is taken with ESR (sodium citrate) solution.

Mix blood 1.8 ml with ESR solution 0.2 ml.
Definition of INR
This is the ratio of the patient's prothrombin time (PT) and the normal mean PT time raised to the power of the international sensitivity index.
Indications
PT and PTT are advised to find the cause of unexplained bleeding or blood clot formation.
INR is advised to monitor the thinning drug's medication like warfarin therapy.
This is done for routine health screenings.
To evaluate the medical condition is improving or worsening.
To assess to measure the success or failure of a medication or treatment plan.
This measures the extrinsic pathway.
Pathophysiology
Prothrombin (Factor II) is produced in the liver and is Vit. K dependent.
Vit. K deficiency leads to a decreased level of Prothrombin and gives rise to bleeding tendency.
PT is used to evaluate the extrinsic pathway and common pathway.
The first reaction of the body to active bleeding is blood vessel constriction.
The first response to vascular injury:

In a small vessel, is the constriction, may be enough to stop bleeding while in the large blood vessels hemostatic mechanism is involved.

The primary phase of hemostasis is platelet aggregation and activation.

The hemostatic system forms the clot which plugs the vessel.

Secondary hemostasis: 

It will have the first activation of the tissue factor and then coagulation factors.

The extrinsic pathway is activated by tissue factor and factor VII which stimulates factor X and enters into the common pathway.
The intrinsic pathway occurs through XII, XI, IX, VIII, and enters the common pathway through activation of factors X, and Xa.
INR (International normalized ratio):
INR is a simple ratio. There is no unit of INR.

This is calculated by dividing the patient PT by the mean of the normal range PT.

The international sensitivity index (ISI) is 1.3 to 1.5. The following is the formula.
The prophylaxis  range of 2.0 to 3.0 is used to prevent:

Embolism.

Venous thrombosis.

Pulmonary embolism.

Myocardial infarction.

The patients with anticoagulant therapy the INR is maintained between 2 to 3.

Raised range from 2.5 to 3.5 is used in the patient with mechanical heart valves.
Normal INR
The

INR

test result is given as a number.

INR

= 1 represents equal to normal clotting time.

INR

= 2 represents twice the normal clotting time.

Normal value =0.8 to 1.1
The expected range of INR in various diseases :
| | |
| --- | --- |
| Disease | Required  range |
| DVT patient on warfarin treatment | 2.0  to 3.0 |
| DVT prophylaxis | 1.5 to 2.0 |
| Atrial fibrillation | 2.0  to 3.0 |
| Pulmonary embolism |  2.5 to 3.5 |
| Orthopedic surgery | 2.0  to 3.0 |
| Prosthetic valve prophylaxis | 3.0 to 4.0 |
| Prevention of embolus in a patient in atrial fibrillation | 2 to 3 |
PT values in various diseases:
| | |
| --- | --- |
| Clinical condition | PT  |
| Factor VIII deficiency | Normal |
| Factor XI deficiency | Normal |
| Factor XII deficiency | Normal |
| Factor II deficiency | Prolonged |
| Factor V deficiency | Prolonged |
| Factor VII deficiency | Prolonged |
| Factor X deficiency | Prolonged |
| Heparin therapy | Prolonged |
| Vit. K deficiency | Prolonged |
| Liver diseases | Prolonged |
| Coumarin therapy | Prolonged |
Warfarin therapy is given in:
Deep vein thrombosis
Atrial fibrillation.
Pulmonary embolism.
Replacement of the artificial valves.
Some cases of heart failure.
Critical value and be Careful when  INR = >5.5

Please, for more information see PT and PTT.
---