Cardiac marker:- Part 2 – CK-MB (Cardiac Enzyme)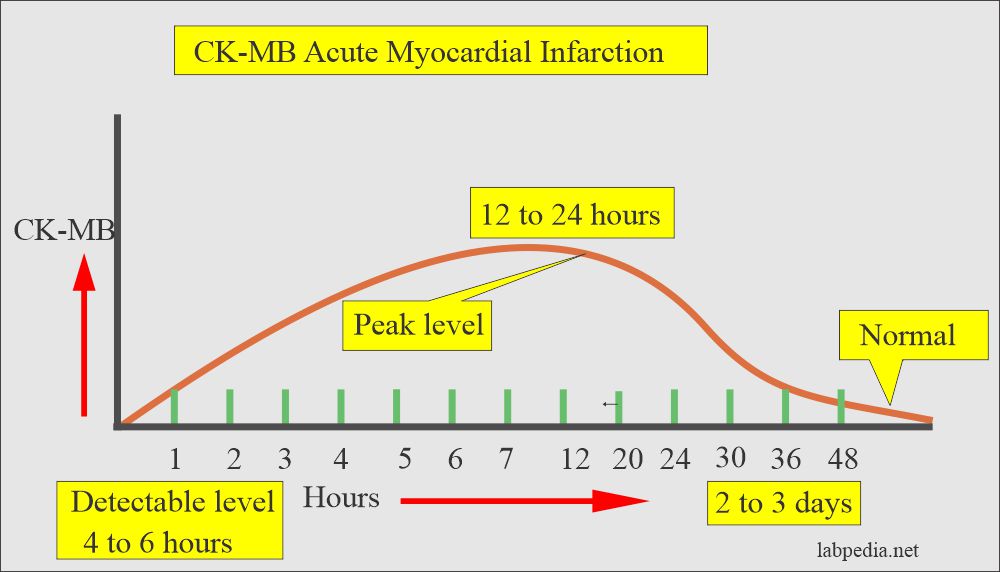 CK-MB
Sample
The test is done in the serum (clotted blood 3-5 ml) of the patient.
It also helps in quantifying myocardial muscle damage.
The sample is stable for 4 to 8 hours at room temperature.

1 to 2 days at 4 °C.
One month at -20 °C.
Purpose of the test (Indications) for CK-MB:
To diagnose myocardial muscle injury (MI).
It is an early marker of acute myocardial infarction. This is considered an early gold standard diagnostic tool.
It Detects reinfarction or extension of myocardial damage after 72 hours.
It is needed for reperfusion after thrombolytic therapy.
This may replace troponins when advised within 24 hours of the onset of symptoms.
Precautions for CK-MB
Avoid intramuscular injection with cardiac disease. I/M may raise the CK-MB level.
Strenuous exercise and recent surgery may increase the CK-MB level.
Early pregnancy may produce a decreased level of CK-MB.
Drugs that may increase the level are alcohol, ampicillin, amphotericin B, aspirin, anesthetics, decadron, furosemide (Lasix), lidocaine, morphine, propanol, lithium, captopril, clofibrate, colchicine, and statins.
Definition of CK-MB
CK-MB is an isoenzyme of Creatinine kinase.
It is present in the cardiac muscles, skeletal muscles, and brain.
CK-BB is found in the brain and nervous tissue; it is also found in the serum of newborn babies and malignancies showing embryonic tissue differentiation.
The more rapid rise in CK-MB and fall back of the CK-MB marker of myocardial infarction.
Pathophysiology of CK-MB
CK, creatine kinase; adenosine triphosphate:

Creatine N-phosphotransferase is a dimeric enzyme with 82 kDa weight.
It will catalyze the reversible phosphorylation of creatine by adenosine triphosphate (ATP).

When muscle contracts, then ATP is converted into ADP (adenosine diphosphate).
CK catalyzes the conversion of ATP to ADP using phosphocreatine (creatine phosphate) as the phosphorylation reservoir.