Cardiac marker:- Part 1 – Diagnosis of Acute Myocardial Infarction, AMI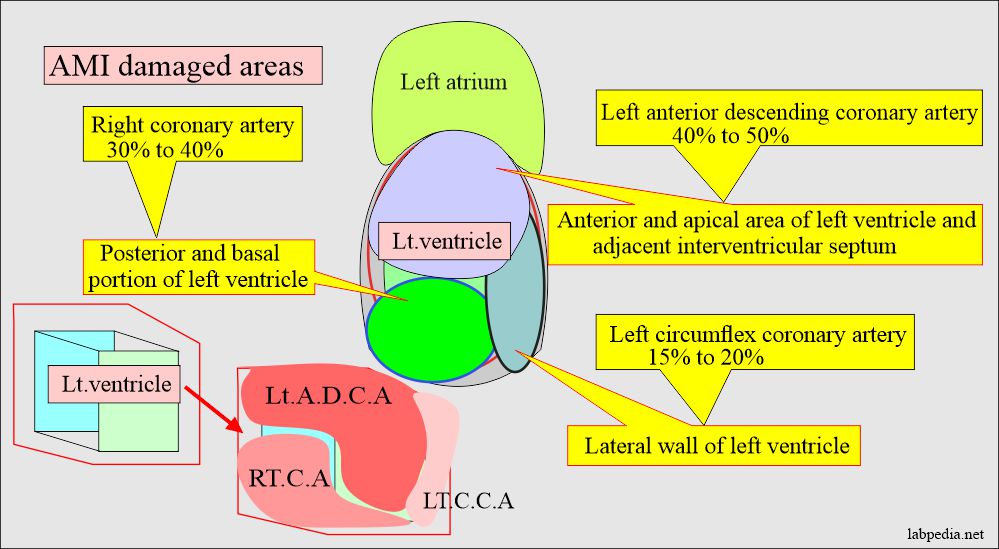 Diagnosis of Acute Myocardial Infarction
Sample
The best sample is Venous blood to get a clear serum.

Heparinized plasma can be used.

Rapid Troponin-T can be done on whole blood (some available methods).

Current recommendation on admission with the possibility of acute MI, blood sample should be taken at intervals of:

Blood sample at admission.

Second sample at 2 to 4 hours.

Third sample at 6 to 8 hours.

Fourth sample at 12 hours.

The serum can be stored at room temperature for 4 to 8 hours.

At 4 °C, the serum is stable for  1 to 2 days.

For troponin-T, the serum is stable for 24 hours at 2 to 8 °C.
Precautions
I/M injection may raise the level of CPK.

Strenuous exercise and recent surgery may raise the CPK level.

Early pregnancy may decrease the CPK level.
Definition of Acute Myocardial Infarction
This is characterized by the ischemia of the myocardial muscles. Also, this myocardial ischemia results in irreversible myocardial cell damage or death (necrosis).

Or when there is obstruction of the blood supply to any part of the heart and necrosis of the muscles, or massive cell death occurs.
It is almost always caused by atherosclerosis of the coronary arteries, followed by thrombosis.
Clinical S/S is very important in both suspicious and diagnosed cases of AMI.
Diagnosis depends upon the type of pain, its distribution, and its response to nitroglycerine.
The pain characteristics are typical, and pain will respond to nitroglycerine.
20% to 30% of the AMI are painless.

Acute Coronary syndrome:

Acute coronary syndrome includes:

Silent ischemia.
Stable angina.
Unstable angina.
Non-ST wave elevation.
Non-Q wave.
Infarction to typical acute myocardial infarction (AMI).