Carboxyhemoglobin (CO-Hb), Carbon monoxide (CO) poisoning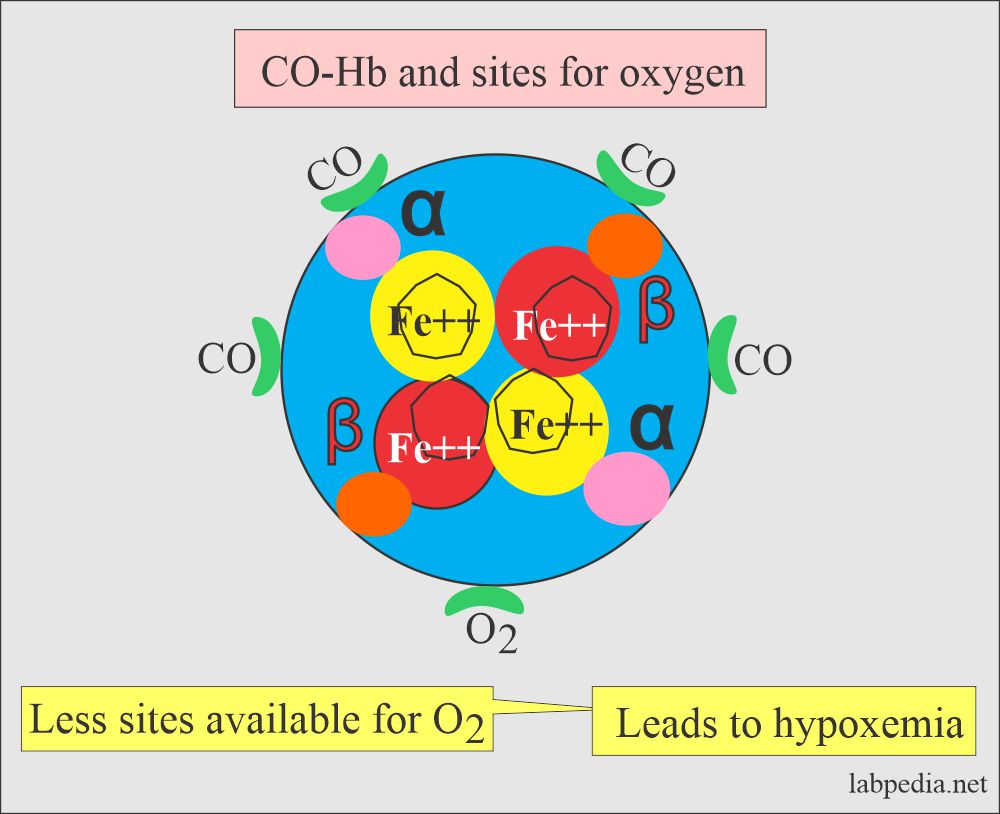 Sample
Collect the venous blood immediately when CO poisoning is suspected.

Heparinized arterial or venous blood for spectrophotometric methodology.
Because CO is rapidly cleared from the hemoglobin when the patient is exposed to fresh air.

Whole blood in heparin is stable >4 months infilled well-caped bottle.
Blood in EDTA anticoagulant is stable at room temperature for more than one week.
Precautions
Don't use oxalate for the blood sample.
Collect the blood sample before oxygen therapy is started.
O2 saturation and oximetry are inaccurate in the CO-poisoning because it measures all forms of O2 – saturated hemoglobin and CO-Hb.
Purpose of the test (Indications)
This test is done to detect carbon monoxide poisoning.
It is prescribed in patients who are exposed to smoke inhalation, exhaust fumes, and fires.
Pathophysiology
Definition:
CO is a colorless, odorless, and tasteless gas, undetectable unless it is mixed with the visible or odorous pollutant.

It is produced by the incomplete combustion of such fuels as gasoline.
CO binds more tightly with hemoglobin than O2. It displaces the O2 and causes hypoxia.
CO is a chemical agent, which produces hypoxic injury due to O2 deprivation.
CO Poisoning:
CO is produced in the environment where there is partial combustion of Carbon-containing fossil fuels.

Complete oxidation leads to the production of CO2.

Carbon monoxide combines with hemoglobin with 200 times more affinity as a comparison to oxygen.

CO + Hb = CO-Hb
CO-Hb produces a cherry-red or violet color of the blood and skin.
So there are few sites available for O2 to combine with Hb.
Less O2 is available for tissue respiration leads to Hypoxemia because CO-Hb is not capable of transporting O2.
CO poisoning is directly toxic to the intracellular oxidative mechanism and produces more nitric oxide (NO).
When CO poisoning takes place, ask for Hb analysis for CO-Hb.
CO is readily cleared by breathing normal air.
Fetal Hb has more affinity for CO, and if these fetuses are exposed to CO, they are more at risk.
Sources of CO are:
Tobacco smoke.
Automobile exhaust fumes.
Natural gas heaters where there is less ventilation.
Defective gas stoves.
Petroleum and natural gas fuel fumes.
Endogenous production of the CO:

It is produced from the heme, and the CO-Hb level is ≥1%.
CO is also produced in the liver by the metabolism of dichloromethane (methyl chloride), and this is found in paints and varnish.

People  who are prone to get CO-poisoning:

In defective furnaces.
A worker such as coal mining.
The firefighter.
Smokers of cigarettes, cigars, or pipes in the closed space.
Accidental poisoning was most often seen in house fires, engine exhaust (car left starting in the closed garage), indoor heaters, and stoves.
Unventilated spaces where charcoal and gas are burning are the source of poisoning during winter power outages.

Intentional CO-poisoning is common in suicide cases.
Signs and symptoms of Carbon monoxide poisoning:
This CO poisoning takes place from the house fire, gas heaters, stoves, and engine exhaust.

30% to 40% carboxyhemoglobin contents are associated with severe symptoms.
>50% is associated with coma.
Cigarette smoking may produce levels as high as 10% to 15%.

There are nausea and weakness.
There is a headache, dizziness, and vomiting.
Tinnitus is ringing in the ears.
It upsets the stomach.
The patient may have chest pain.
The patient will be confused.
Drunk or sleeping people may die due to CO poisoning.
Carbon monoxide % level effects on the body:

CO level
Clinical presentation of the patient
0.4% to 2%
Normal (nonsmoker person)
2% to 6%
Normal smoker
10% to 20%

Dyspnea on exertion
Mild symptoms

20% to 50%

Severe symptoms
Lethargy
Headache
Loss of consciousness

>50%

The patient will go into a coma
Ultimately there is death

Clinical effects  and source of CO-Hb:

CO-Hb poisoning is due to smoking, exhaust fumes, and fires.
Hemolytic disease.
Bleeding in the intestine.
Newborn where the fetal Hb breakdown that yields endogenous CO.
There is a direct relationship between the CO  and symptoms of heart disease, angina, and myocardial infarction.
Various levels of CO% and clinical effects on the body:
| CO-saturated Hb % | Signs and Symptoms |
| --- | --- |
| 10 | Slight dyspnoea |
| 20 | A headache |
| 30 | Irritable, impaired judgment, Loss of memory |
| 40 | Confusion, decreased vision, weakness |
| 50 | Fainting, ataxia, and collapse |
| 60 | Coma |
| > 60    (>70%) | death |
Measurement (Lab diagnosis):
For CO estimation, can use venous or arterial blood.
CO is measured by CO-oximeter.
A blood gas analyzer measures oxyhemoglobin by calculation.
Lactate can be measured.
Calculation of the anion gap.
Check myocardial markers.
Normal
Source 1
CO-Hb = <0.5% of total hemoglobin.
Newborn = upto 5 % saturation of total Hb.
Nonsmoker = <3 % saturation of total Hb.

Smoker Light = 2 to 5 % saturation of total Hb.
Smoker heavy = 5 to 10 % saturation of total Hb.

Critical value = >20 % saturation of total Hb.
Lethal value   =  >50 % saturation of Hb.
Source 2
| | |
| --- | --- |
| Clinical condition | % saturation of Hb |
| Nonsmokers | 0.5 to 1.5 |
| Smokers | |
| 1 to 2 packs /day | 4 to 5 |
| >2 packs/day  (heavy smoker) | 8 to 9 |
| Toxic level | |
| Toxic level | >20 |
| Lethal level | >50 |
Source 3
Saturation of hemoglobin
Nonsmoker = <3%
Smoker = ≤ 12%
Newborn = ≥ 12%
Source 2
Clinical values and their effects:
| | |
| --- | --- |
| COHb % | Clinical signs and symptoms |
| 20 to 30% | Dizziness, headache,  and disturbance in judgment |
| 30 to 40% | Tachycardia, hyperpnea, hypotension, and confusion |
| 50  to 60% | Coma |
| >60% | Death |
Source 4
Nonsmoker = <2% of total Hb.
Light smoker = 4 to 5% of total Hb.
Heavy smoker = 6 to 8% of total Hb.
Newborn = 10 to 12% of the total Hb.
Increased level of CO:
This is 50 to 60% seen in CO-poisoning.
Treatment:
CO- toxicity needs a high concentration of O2 to replace the CO-Hb.
In the case of severe CO, toxicity may be treated with hyperbaric oxygen (100% O2 gas).
---