C-Peptide (Insulin, Proinsulin) and Interpretations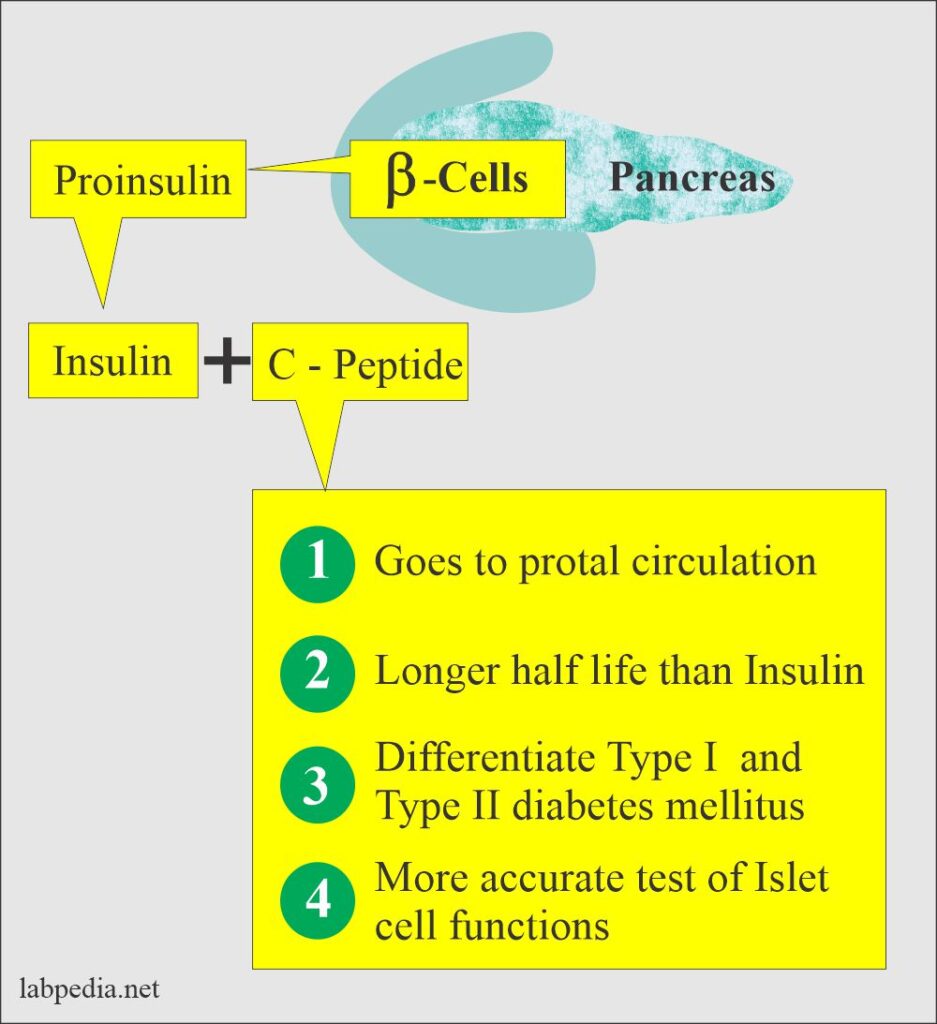 Sample
Venous blood is collected to prepare the serum.
A fasting sample is needed.
Glucose samples should also be taken at the same time.
Keep the blood at 4 °C.
Stable for 30 days when it is freezed.
A urine 24 hours sample is needed.

Neutralize the urine to pH 7.0 to 7.5.
Can store at -15 °C.
Precautions
As the majority of the C-peptide is degraded in the kidneys, renal failure will increase the level.
Take H/O drugs that may increase the level of hypoglycemic agents (sulfonylureas).
Purpose of the test (Indications)
This test is done to evaluate diabetic patients.
This test is the best tool for the diagnosis of hypoglycemia.
It provides a reliable indication of the pancreatic secretory function and insulin secretion.
It is helpful to diagnose Insulinoma (Tumor of islets of Langerhans).

It is advised for the follow-up of a patient treated for insulinoma.

To find patients injecting exogenous insulin.
The C-peptide level can be advised to diagnose insulin resistance syndrome.
Helpful in the case of patients with pancreatectomy where it will be undetectable.
Precautions
Patients with renal failure may have a high level of C-peptide because it is mostly degraded in the kidney.
Oral hypoglycemic agents may increase the C-peptide level.
Pathophysiology
C-peptide is a connecting peptide for the β and α chain of proinsulin.
C-peptide is formed during the conversion of proinsulin to Insulin.

C-peptide is released into a portal vein in an equal amount.
It has a longer half-life than insulin. So more C-peptide is present in the circulation.

Proinsulin is cleaved into Insulin + C-peptide (inactive biologically).
Proinsulin is synthesized in the pancreas and metabolically inactive.

It is larger in size and is also called big insulin.
It consists of 100 amino acids and mol. Weight is 12,000, is formed by the ribosomes in the rough endoplasmic reticulum of the pancreatic β-cells.
Preproinsulin is not detected in the blood circulation, is rapidly converted by cleaving enzyme into proinsulin.
Proinsulin by proteolytic cleavage gives rise to insulin and C-peptide.
The C-peptide assay provides the difference between endogenous and exogenous insulin.

C-peptide is 31 amino acids connecting peptides with a molecular weight of 3600.
Its half-life is 35 minutes, slightly longer than insulin.
The liver does not extract the C-peptide, which is removed from the circulation by the kidneys and degraded.
A small fraction unchanged is excreted in the urine.
C-peptide level correlates with insulin level in the blood except in islet cell neoplasm and possibly in obese patients.

In general C-peptide level and insulin level correlates with each other (except obese patient and patient with insulinoma).

The fasting C-peptide level is 5 times to 10 times higher than the insulin due to a longer half-life.

The capacity of beta cells of the pancreas to produce insulin can be measured either by measuring C-peptide or insulin directly.
C-peptide level estimation is helpful in the following conditions:

Differentiate type 1 and type 2 diabetes mellitus. In type 1 diabetes mellitus, there will low level of C-peptide and insulin, while in type 2 diabetes mellitus will have a normal or high level of C-peptide.
In patients who are taking exogenous insulin, C-peptide is a more accurate test of islet cell function. This will also help to see the endogenous production of insulin.
DM patients treated with insulin and have anti-insulin antibodies. These antibodies falsely increase the level of insulin.
In people who produce hypoglycemia by giving them insulin. Where there will be raised levels of insulin, but the C-peptide level will be normal. Exogenous given insulin suppresses endogenous insulin and C-peptide production.
A rise in the C-peptide level in a treated patient with insulinoma indicates recurrence.
Advantages of C-peptide over Insulin are:

C-peptide is a better indicator of β- cells functions due to its good concentration level in the blood than peripheral insulin concentration.
It does not cross-react with the insulin antibody, which interferes with insulin immunoassay.
The C-peptide assay doesn't measure the exogenous insulin.
C-peptide is not found in the commercial preparation of insulin.
 C-peptide has a longer half-life than insulin.
C-peptide is a better indicator of fasting hypoglycemia.
C-peptide has negligible metabolism in the liver, so its concentration is a better indicator of the β- cells function than the peripheral insulin.
Normal C-peptide
Source 2
| | |
| --- | --- |
| Fasting level | 0.78 to 1.89 ng/mL (0.26 to 0.62 nmol/L) |
| One hour after glucose load (or glucagon) | 2.7 to 5.64 ng/mL (0.9 to 1.87 nmol/L). |
| Urinary C-peptide | 74 t± 26 µg/L (25 ±8.8 µmol/L) |
(values varies from lab to lab, best to establish your own values)
Source 1
Normal C-Peptide 
| | | |
| --- | --- | --- |
| Sample | ng/mL | nmol/L |
| Serum (fasting) | 0.78 to 1.89 | 0.26 to 0.63 |
| Urine | µg/dL | |
| 24 hours | 64 ± 20.5 |  21.5 ± 6.8 |
The raised level of C-peptide seen in:
Insulinoma.
Oral hypoglycemic drugs.
Islet cell tumor producing insulin (Insulinomas).
Type 2 DM (non-insulin dependant).
Renal failure.
Hyperthyroidism.
Cirrhosis.
The decreased C-peptide level is seen in:
Exogenous administration of the insulin, e.g., Factitious hypoglycemia.
Type 1 diabetes mellitus.
Pancreatectomy.
Insulin/C-peptide ratio:
This insulin/C-peptide ratio is 1:5 to 1:15.
50% of the insulin is removed from the blood during initial passage through the liver.
Insulin will be metabolized in the liver, and its half-life is 30 minutes, while the half-life of C-peptide is 35 minutes.
The normal molar fasting ratio of C-peptide: Insulin = 5.

<1.0 ratio is seen in:

Insulinoma.
Sulfonylurea administration.
Renal failure.

>1.0 ratio is seen in:

Exogenous insulin administration.
Cirrhosis.
---