Bone Marrow Trephine biopsy (Bone biopsy) Part 2
Bone Marrow Trephine biopsy
Sample for Bone Marrow Trephine biopsy
The bone marrow is aspirated, and a trephine bone biopsy is taken.
Indications for bone marrow biopsy:
Bone marrow aspiration and biopsy are advised in the following ways:
To confirm the megaloblastic anemia.
To confirm the diagnosis of Leukemia.
To confirm the diagnosis of multiple myeloma.
It is advised in bone marrow hypoplasia.
This can be done for the culture of the organism.
For the diagnosis of metastatic infiltrate.
Indication for the bone biopsy:
To diagnose bone disorders like Paget's disease and bone cancer.
Bone tumor-like osteoma can be diagnosed.
This can give an idea about osteomalacia or osteoporosis.
Metastatic cancer infiltrates from the lung, breast or prostate, or any other organ.
To differentiate benign lesions of the bone like a benign cyst.
To find the causative agent of osteomyelitis.
To diagnose chronic bone pain in a specific area.
To evaluate any abnormality seen on X-ray.
Precautions for bone biopsy:
Stop the blood-thinning medicines (aspirin, warfarin, etc.)
Avoid bone biopsy in pregnant women.
Stop all medication, even including herbal medicine, which may thin the blood.
Ask about any allergy to anesthetic drugs.
Complications of Bone Marrow Trephine biopsy:
Sometimes the needle may break into the bone.
Rarely there may be a bone infection.
There may be local hemorrhage or bleeding.
There may be an injury to the nerve or blood vessels.
This procedure is the same as Bone marrow aspiration; a Trephine biopsy is done to take bone tissue.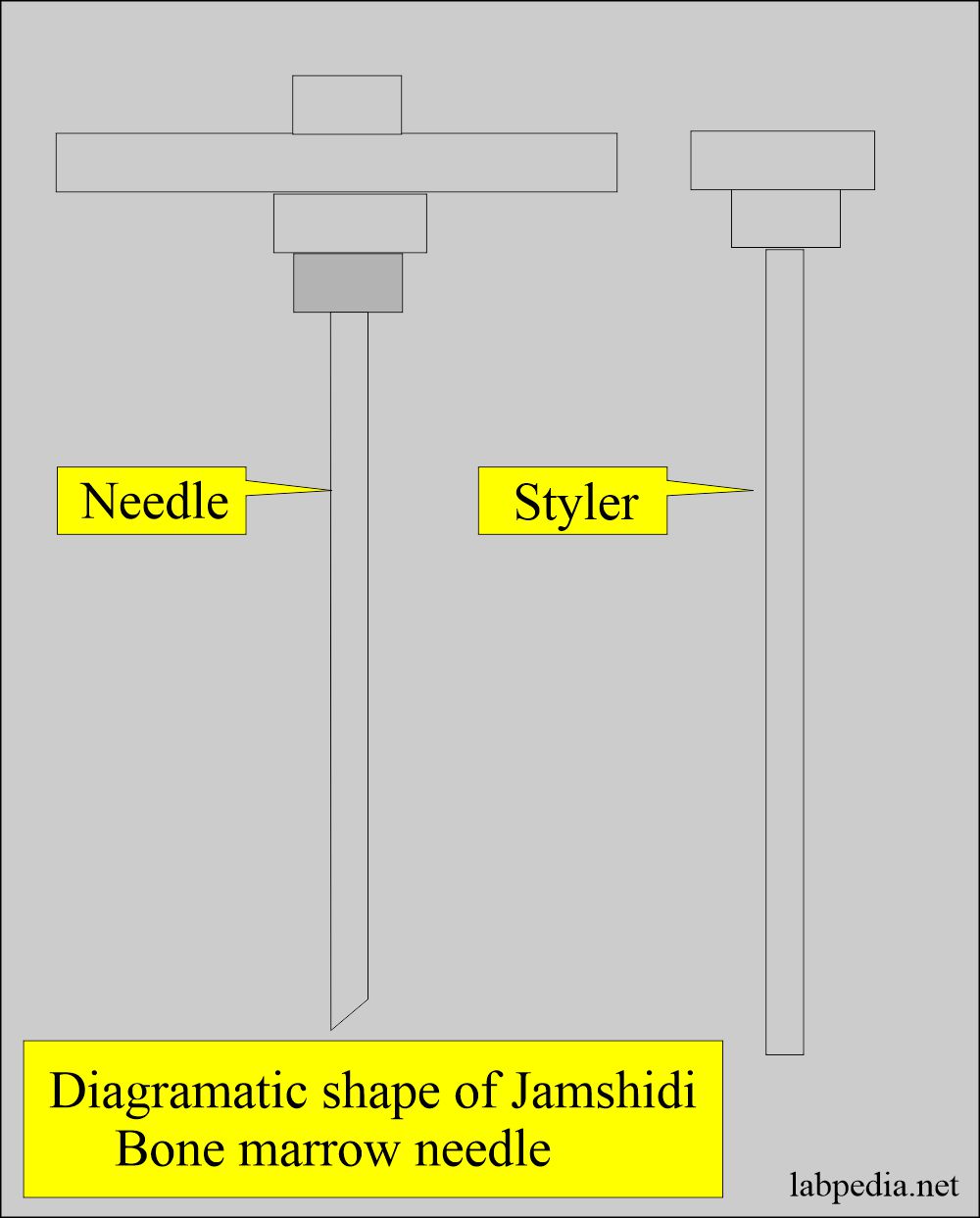 Local anesthesia is applied.
This gives more information about the abnormalities of bone marrow cellularity and is more helpful for diagnosing Aplastic marrow.
Adequate bone biopsy measures around one inch.
Before putting it into formalin, make touch preparation.
Put this biopsy into buffered formalin.
It needs fixation for 12 to 24 hours.
Tests done on bone marrow and bone biopsy:
Bone marrow smears and touch preparation may be stained by the Wright-Giemsa stain.
A special stain like Prussian blue for iron is done.
Paraffin sections are stained with hematoxylin-eosine, PAS stain, and stain for reticulin.
Can do immunochemistry and molecular diagnostics.
Flow cytometry was also performed.
Molecular genetics studies are done for:

PCR for detection of viral DNA and RNA.
Fluorescent in-situ hybridization (FISH).
Detection of the chromosomal abnormalities.

Bone marrow/biopsy material may be used for culture.
Can do electron microscopy (E/M).
Can do tissue culture.
Bone marrow shows:
Myeloid, erythroid, megakaryocytes, and lymphoid series cells.
Normal bone marrow:
Cellularity to fat ratio at birth = 100%.

It declines ∼10% each decade.
Young children = 9:1.
Young adults = 2:1.
Middle-aged = 1:1.
In old people gradually decreases = 1:9.

Bone marrow stainable iron = It is seen in reticuloendothelial cells and normoblasts or sideroblasts.
Flow-cytometry = It will differentiate:

T- lymphocytes and B-lymphocytes.
Degree of maturation as pre-B or mature B-lymphocytes.
Detects the presence of cytokines or other receptors.
Please see more details in the Bone marrow examination.
Difference between bone marrow aspiration and trephine biopsy:
Feature

Bone marrow aspiration

Bone marrow trephine biopsy

Site
Posterior iliac crest, sternum.
Posterior iliac crest.
Indication
Anemia, pancytopenia, neutropenia, and thrombocytopenia a possible cause of leukemia and myeloma.
Polycythemia vera, myelofibrosis, myeloproliferative disorder, aplastic anemia, lymphomas, metastatic infiltrate, splenomegaly,  PUO, and in case of a dry tap.
Information and purpose

Assess cytomorphology.
Perform a differential count.
Find M: E ratio.
It can perform cytochemical stains.

 To assess cellularity.
 To appreciate different cellular elements.
 To assess fibrosis.
 To assess the infiltration by the tumors.
 To evaluate bony trabeculae.
 If in saline, then we can do flow cytometry.
 If in formalin, then perform immunohistochemical stains.
 Can do T – cell and B – cell rearrangements by PCR.

Possible studies
Cytogenetics, culture, biochemical analysis, cytochemical marker, immunological studies, genetic abnormality studies by DNA, and RNA analysis.
Immunological studies and stains
Staining procedure

Romanosky, Giemsa.

Prussian blue stain for iron.

Hematoxylin and eosin stain.

Reticulin stain.
---