Blood banking:- part 4 – Blood Transfusion Reactions in Donor and Recipient, Treatment of Blood Reactions
Blood Transfusion Reactions
Definition of the blood transfusion reaction:
Most of the blood donations proceed without any complications.
Occasionally, a donor may have adverse effects on the donation.
Blood transfusion reactions are defined as any adverse events resulting from the transfusion of blood or blood components.
Summary of the blood transfusion reactions:
Type of reaction
Clinical presentation of reaction

Recipient reaction to donor antigens (These antigens are present on donor cells)

Allergic reaction
Anaphylactic reaction
Hemolytic reaction
Nonhemolytic febrile reaction

Leukoagglutinin reaction
Pyogenic reaction

Tissue-organ immunologic reaction
Cytopenic reaction

Rh blood group system
ABO system
Minor blood groups
Platelets antigens
Histocompatibility leukocyte antigen (HLA) system

Hepatotropioc viruses (HBV, HCV, HAV)
Syphilis
Malaria
Cytomegaloviruses (CMV)
Epstein Barr virus (EBV)
HIV-1 and HIV-2

Hyperkalemia
Citrate overload
Transfused blood temperature
Donor medication
Depletion of platelets
Depletion of coagulation factors
Type of reaction in the Donor (due to blood donation):
Most of the donations proceed without any reaction. The reactions are:

Vasovagal reactions.
Some may have a psychological influence on the sight of blood.
Neurophysiological response to actual blood donation.
These reactions are divided according to the severity:

Mild reactions.
Moderate reactions.
Severe reactions.
Mild  reaction in the donor:
Mild reactions are the most common reactions; most donors will have signs and symptoms of shock but do not lose consciousness.
Mostly these are the following reactions that may be seen in donors.

Donors may have anxiety and nervousness.
There may be pallor and sweating.
Some of the donors may feel warm.
Some of the donors may have hyperventilation (increased respiration).
Some donors may have increased or thready pulse.
There may be hypotension.
Some donors develop nausea and vomiting.
Treatment of mild donor reactions:

The best way is to stop the donation immediately.
Remove the tourniquet and needle from the donor.
In case of hyperventilation, ask the donor to breathe inside the bag, increasing the amount of CO2.
Loosen the clothes, particularly the clothes around the neck like a necktie.
Raise the legs of the donor (45 degrees at least).
Reassure the donor and decrease his anxiety or stress.
Keep an eye on the donor till he is fully recovered.
Moderate reaction in the donor:
These signs and symptoms are like mild donor reactions, but the donor will lose consciousness.
There will be S/S of the mild reactions as well.
Donors will have unconscious attacks.
The pulse rate is low (decreased).
There will be rapid, shallow respiration and hyperventilation.
There will be hypotension, and the blood pressure may be as low as 60 mm Hg.
Treatment of the moderate reactions are:

Take all the measures done in the mild reaction.
Check BP, pulse, and respiration until these become normal.
Give 95% oxygen and 5% CO2.
Take the donor to a separate area so that other donors may not feel the same  S/S.
The severe reaction in the donor:
These are different from the above due to the presence of convulsions. However, there will be the presence of mild and moderate reactions S/S.
The convulsions (seizures) are caused by cerebral ischemia associated with vasovagal syncope.
Vasovagal ischemia is due to:

Reduced blood flow to the brain due to deepening shock symptoms.
Marked hyperventilation.
Severe CO2 depletion can cause convulsions or tetany.

Other severe signs and symptoms are:

There is tetany due to hyperventilation.
The donor may have stiffness or tingling in the fingers.
The symptoms may increase and more pronounced convulsions if the CO2 intake increases.
Fingers and thumbs may have spasms.
Mild convulsions:

The voice will fade out.
There is a short lapse of consciousness.
There will be involuntary movements of the arms and legs.

Severe convulsions:

Donors will have rigid bodies and tightly clenched teeth.
There will be slight involuntary movements of the arms and the legs.
The donor may temporarily lose breathing, followed by rapid breathing.
Treatment of the severe donor reactions:

Ask the donor to breathe in the airbag.
Try to prevent any injury to the donor in convulsions.
Ensure adequate airways.
Give 95% Oxygen and 5% CO2.
Get a consultation from a medical doctor.
If the donor develops cardiopulmonary problems, call medical assistance immediately.
In case of cardiac arrest, start cardiopulmonary resuscitation until medical help arrives.
Blood transfusion reactions in the recipient:
Since no two individuals possess the same antigens on their RBCs except identical twins, there is always the risk of developing alloantibodies in the recipients.
When alloimmunization occurs due to blood transfusion, it will have harmful consequences in future transfusion and pregnancy.
The reactions of the recipient are:

Urticaria allergic reaction.
Anaphylactic type I hypersensitivity reaction.
Febrile reactions.
Hemolytic reactions.
Infection due to contaminated blood transfusion.
Transmission of the diseases like syphilis, malaria, viral hepatitis, and HIV.
Type of blood transfusion reaction in recipient according to unset:
Acute reaction:
This occurs within minutes to 24 hours of the transfusion.
Delayed reaction:
These may develop in days to months to even years after the transfusion.
Basis of  blood transfusion reactions in recipient:
These complications of blood transfusion reaction in the recipient may be due to various factors:
Immune, Hemolytic transfusion reactions are due to RBCs in the recipient:
These are quite uncommon because of serological advancement. These are hardly 0.1% in the United States.
These may be life-threatening complications.
ABO incompatibility is a more common and fatal outcome than HIV and HCV.
This usually occurs due to lab errors.
This reaction is due to the presence of Alloantigen on the RBCs and their reaction to the Alloantibody.
Common signs and symptoms due to blood transfusion reaction in the recipient:
Always keep an eye on the appearance of any of the following signs and symptoms in the recipient, indicating the start of a blood reaction.
An early sign may be allergic in the form of itching and hive formation.

Fever. The patient's temperature increases by 1°C, with only minor changes in other vital signs.
Chills
Nausea and vomiting.

Chest, abdomen, or flank pain.
Back pain.
Hypotension or hypertension.
The patient may go into shock.
The feeling of heat along the vein where the blood is transfused.
The feeling of constriction in the chest.
Facial flushing.
Hemoglobinuria.
Oliguria.
Dyspnea.
Oozing blood from the wound.
Anemia.
So the patient may have any of the above findings in the case of a blood transfusion reaction.
Work-up of the blood transfusion reaction in the recipient:
Types of blood transfusion reactions are:
Acute blood transfusion reaction occurs within 24 hours.

Acute reactions are more severe than delayed reactions.
Acute reactions accompany a fever, nausea, vomiting, hypotension, back pain, and substernal pressure.
There is hemolysis, and it is generally intravascular.
Hemoglobin released from the RBCs may give rise to hemoglobinemia (red plasma rather than yellow plasma)  and hemoglobinuria (red urine that remains red even after centrifugation).
There is impaired renal function.

A delayed blood transfusion reaction occurs in 5 to 7 days. This may vary from 3 to 21 days.

This occurs in two conditions:

A primary immune response and antibody increase in concentration leads to hemolysis.
When the patient is sensitized by exposure to the alloantigen in a previous blood transfusion or pregnancy.

Antibodies to Kidd and Rh antigens are responsible.
Hemolysis is typically extravascular; the only evidence is a decrease in hemoglobin and an increase in bilirubin.
The patient may have a low fever and feel malaise.
When no hemolysis is found in a delayed reaction, it is called a serologic reaction rather hemolytic.
Febrile nonhemolytic transfusion reaction in the recipient:
These are common complications seen in patients with multiple blood transfusions.

These are related to anti-leucocyte antibodies present in the recipient's blood.

These antibodies react with the WBC.

Another possibility is the presence of cytokines released by the lymphocytes in the donated plasma during storage.

There is an increase in body temperature of 1°C or more.

This is accompanied by chills, rigors, and generalized discomforts.
Some patients may have nausea and vomiting.

This occurs shortly after the transfusion, usually within 1 to 2 hours.

Mostly these reactions are mild and persist not more than 8 hours.

Antipyretics and meperidine treat these for rigors.
Transfusion-related acute lung injury in the recipient:
This complication takes place during or within 6 hours of transfusion completion.
The cause of this complication is the presence of anti-leucocyte antibodies in the donor's plasma.

The immune complexes are trapped in the pulmonary vasculature, leading to alveolar edema.

This is characterized by:

Acute respiratory distress.
Hypoxia.
Bilateral infiltrates on chest X-ray.
There is a fever.
There is hypotension.

These patients recover through supportive measures.

But overall mortality is 5%.
Transfusion-associated graft versus host reaction:
 Immunocompetent T-lymphocytes in the cellular components may give rise to a reaction.
These T-lymphocytes can react in the skin and gastrointestinal tract and to cells in the bone marrow.
This reaction is usually fatal.
These T-lymphocytes in the blood components can be inactivated by exposure to gamma radiation. This treatment is very effective.
The patients who are prone to these complications are:

Hematopoietic stem cell transplantation.
Hematological Malignancies.
Infants born with hemolytic disease of the newborn.
Infants with low birth weight.
The fetus receives an intrauterine blood transfusion.
Posttransfusion purpura in the recipient:
This rare complication occurs in patients who lakes common platelet antigens.
These patients develop antibodies by previous blood transfusion or pregnancy.
These patients develop an anamnestic reaction and become severely thrombocytopenic.
This reaction usually takes 7 to 10 days.
The reaction is self-limiting but sometimes may be complicated by severe hemorrhage.
It can be Managed by steroids and immunoglobulins.
Refractoriness to platelets transfusion:
Patients may become sensitized to leucocytes and platelet antigens through previous blood transfusion or pregnancy.
Platelets are cleared immediately from the circulation when there are preformed antibodies.

The reaction is against the foreign platelets' antigen or HLA-class 1 molecule (expressed on the platelets membranes).
It becomes challenging to evaluate the platelet count in these patients.
Reaction to plasma components:
1% to 3% of patients may have an allergic reaction to the blood products.
This is the host reaction to the plasma proteins of the donor.
The majority of these reactions show:

Hives.
Pruritis.
Erythema.

Steroids or antihistamines can treat it.

Serious reactions are less frequent, like:

Bronchospasm.
Laryngeal edema.
GIT symptoms like nausea, vomiting, abdominal cramps, and diarrhea.
Hypotension due to type 1 anaphylactic reaction.

Patients with IgA deficiency need components from the IgA-deficient donor or can use their own components.
Etiological signs and symptoms of blood transfusion reactions in the recipient:
Circulatory overload shows:

Shortness of breath.
Direct Coombs' test is negative.
There is no fever or chills.

Acute hemolytic transfusion reaction shows:

Fever and chills.
There are fever and chills.
Hemoglobin is low.
There is hemoglobinuria.
There may be hypotension and shock.
Direct Coombs' test is positive.

Febrile non-hemolytic transfusion reaction:

There are fever and chills.
There are nausea and vomiting.
There may be shortness of breath.
Direct Coombs' test is negative.

Transfusion-related acute lung injury:

There are fever and chills.
There is shortness of breath.
There are hypotension and shock.
Direct Coombs' test is negative.

Bacterial contamination of the blood:

There are fever and chills.
Hemoglobin is low.
There may be hemoglobinuria.
There are hypotension and shock.
Direct Coombs' test is negative.
Non-immunologic reactions in the recipient:
Hypothermia:

It usually occurs when cold blood is transfused.
There may be minor discomfort.
This may also happen in a massive blood transfusion, where the blood is at 1°C to 10 °C.
Hemostasis is affected when the circulating blood is below 37 °C.
In extreme cases, cardiac dysrhythmias may occur and cause cardiac arrest.
Use of the high-throughput blood warmer is needed.

Transfusion-associated circulatory overload:

Volume overload is usually common and often is an overlooked complication of blood transfusion.
The following group of patients is at risk:

Patient with congestive heart failure.
Patient with renal failure.
Very young and old patient.

These patients have signs and symptoms:

There is dyspnea.
There is orthopnea.
Cough and chest pain.
During or soon after the transfusion, there is hypoxia, rales, tachycardia, or hypertension.

The patient can be treated with supplemental oxygen and diuresis.

If another blood transfusion is given, then give blood slowly and add diuretics.
Chemical complications in the recipient:
Iron-overload:

Each unit of blood contains around 200 mg of iron.
Repeated blood transfusion leads to the deposition of iron in various tissues.
In case a patient has got around 100 bottles or more of blood transfusion, then the patient may have complications like:

Cardiac Arrhythmias.
Pancreatic failure and bronze diabetes.
Liver function abnormality.

Iron overload can be treated by chelating agents such as desferrioxamine or deferasirox.
This should be started in the early stage before the deposition of iron.

Potassium – Toxicity:

Potassium leaks out of the RBCs during storage because of the decrease in the ATP level.

ATPase dependant Na+/K+ pump activity decreases.
Each blood RBC unit contains as much as 6 mmol of extracellular K+ when an outdated sample is used.
Extra K+ may lead to cardiac arrhythmias.

Washing the RBCs may remove extra K+.

Citrate toxicity:

Citrate is used as an anticoagulant.

Citrate is present in the plasma.
Citrate is metabolized by every nucleated cell of the body.
In the case of massive blood transfusion, the rapid influx of citrate may not be metabolized by the body, leading to the accumulation of the citrate in the patient's plasma.
The patient can receive up to one unit of fresh frozen plasma every 6 minutes without any citrate toxicity evidence.
Patients with liver diseases metabolize citrate slowly and are prone to develop citrate toxicity.
The citrate chelates the calcium, causing the ionized calcium level to drop and leading to:

Peri-oral tingling.
Extremity paresthesia.
There may be severe hypocalcemia  (ionized calcium) leading to cardiac dysrhythmias.

Depletion of 2, 3 – Diphosphoglycerate:

When blood is kept for a longer period for storage, there is a decrease in the intracellular 2,3 – Diphosphoglycerate.
This will lead to a shift to the left of the oxyhemoglobin dissociation curve.
 When the stored unit is transfused, it restores the 2,3 – DPG over 24 to 48 hours.

It is recommended that transfused blood to the neonates is kept should be less than a week.
It is found complications in the neonates if the older blood units are transfused.
In the case of stored blood deficient of 2,3 – DGP, it impairs oxygen delivery, particularly in neonates.
Infectious complications in the recipient:
Viral infections. There is a risk of infection by:

Hepatitis B virus.
Hepatitis C virus.
HIV

Because donor education and screening have reduced the incidence.
The current significant pathogens like bacterial blood contamination are a problem even in developed countries like the USA.
The bacteria which more frequently found are:

Yersinia enterocolitis.
Pseudomonas.
Enterobacter spp.
Serratia sp.

Platelets units are reported to have an infection by:

Gram-positive bacteria cocci like:

Streptococcus.
S.Epidermidis.
Staphylococcus.

Gram-negative bacteria reported are:

Klebsiella spp.
Serratia spp.
Salmonella spp.
Enterobacter spp.

The source of the infection may be contamination from the skin. The skin commensals are thought to be picked up and introduced into the blood donation with venepuncture.
Cytomegalovirus (CMV) can be transmitted by transferring blood components containing leukocytes, such as packed RBCs and platelets.

It can produce systemic infection by CMV in immune-compromised patients who are seronegative.
The following groups are more prone to getting CMV infection:

Premature infants with low birth weight (<1200 g).
CMV – negative pregnant women receiving an intrauterine transfusion.
CMV – negative, HIV-infected patients.
CMV – negative recipient of or candidate for hematopoietic organ transplantation.

To reduce the risk of CMV, advise the screening of the donors.
Remove the leukocytes that contain latent CMV by filtration with leukocyte reduction filters.
Summary of blood transfusion-related reactions: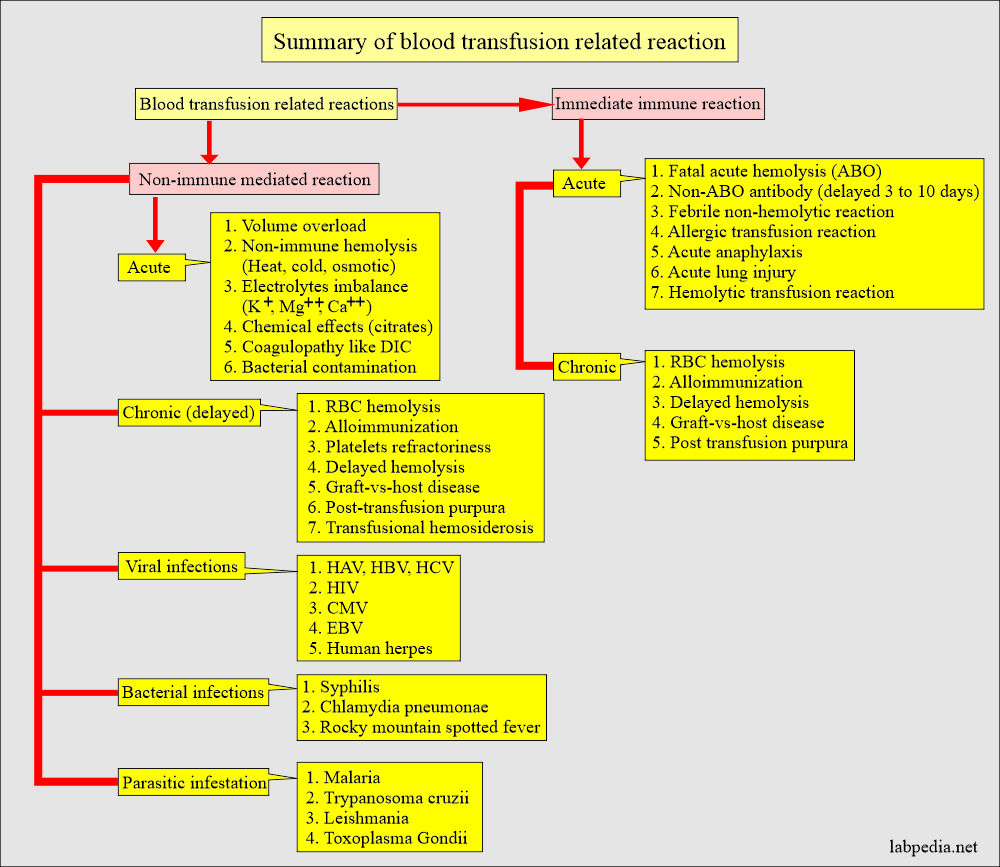 Risk of the various viruses transmission through blood components:
| | |
| --- | --- |
| Viruses | Estimated risk  of transmission from the blood components/During pregnancy |
| HIV | 1:493,000 |
| HTLV | 1:641,000 |
| HBV | 1:63,000 |
| HCV | 1:103,000 |
| HAV | Rarely reported in some cases |
| West Nile virus | It may spread through the blood |
| Transmission during pregnancy: | |
| HBV, HCV, HIV, CMV, HPV-B19 | Rates vary from country to country |
| Dengue fever | In tropic and subtropic countries |
| Zika virus | May transmit to fetus |
Complications of blood transfusion reaction:
Anemia
Kidney failure.
Respiratory problems.
Ultimately shock.
Common Causes of blood transfusion reaction:
The most common cause is faulty matching.
Improper identification/labeling of donor and recipient may cause a transfusion reaction.
Problems are seen in the ABO Blood Typing:
There may be abnormal, weak agglutination. Normally there is 3+ to 4+ agglutination.
Mixed field agglutination occurs when some of the patient's RBCs agglutinate while others do not.
Rouleaux formation by RBCs should be differentiated from the agglutination (Rouleaux formation is stacking RBCs appearance).
Clumping due to blood micro-clots in the procedure.
No agglutination when all cells and serum ABO is nonreactive.
Common mistakes in the ABO blood group typing:
If there are incorrect blood reagents,
If there is contamination of the reagents.
If there is the use of wrong or outdated reagents.
If you miss adding the reagents, the patient's serum, or the patient's cells.
Fail to follow the manufacturer's instructions.
If there is over-centrifugation or centrifugation leads to false-negative results.
If there is an incorrect incubation temperature.
If there is an improper ratio of the antisera or RBCs.
The clerical mistake of typing the result.
If there is contaminated glassware or supplies.
If there is a failure to identify the signs of hemolysis.
If there is weak agglutination.
Summary of the adverse effects of blood and blood products reaction:
Recipient reaction to donor antigens (donor RBCs):
The recipient may have a reaction to the donor RBCs antigens, e.g.:
Anaphylactic reaction (type 1 hypersensitivity reaction).
Hemolytic reactions.
Allergic reactions.
Nonhemolytic febrile reactions.
Ctopenic reactions.
Tissue-immunologic reaction
Antigens leading to reactions are:

Blood group ABO system.
Blood group Rh system.
HLA antigen (histocompatibility leukocytes antigen).
Minor blood groups.
Platelets antigens.

Infectious organisms:

Hepatitis B virus.
Hepatitis C virus.
HIV – infection.
Cytomegalovirus (CMV).
Epstein-Barr virus.
Malarial infection.
Syphilis.

Side effects of the blood preservatives are:

Overload due to citrate.
Depletion of coagulation factors.
Hyperkalemia.
Donor medications.
Depletion of platelets.
The temperature of the transfused blood.

Tissue-organ immunologic reaction:

Graft-vs-host disease.
Treatment of blood transfusion reaction:
This is just like the type I Hypersensitivity reaction.

Give epinephrine subcutaneously 0.3 to 0.5 mL of 1:1000 solution.

Epinephrine can be repeated in 20 to 30 minutes.

Start O2 therapy.

Give Diphenhydramine 50 mg I/M; if needed, give I/V.

Start I/V saline to maintain blood volume and pressure.

If hypotension persists, then give Epinephrine I/V 10 m of 1:100 solution.

For bronchospasm, give Aminophylline 6 mg/Kg body weight at the start and then give 0.5 to 1 mg/Kg body weight.

If there is severe respiratory distress, then intubate the patient. 

In the case of severe laryngeal edema, we can do a tracheostomy.

In a prolonged reaction, consider Hydrocortisone up to 500 mg I/V every 6 hours.
Questions and answers:
Question 1: What is the end result of blood transfusion reaction in the recipient?

Patient due to blood transfusion may go into shock and death="]
Question 2: Is there a possibility of iron overload in repeated blood transfusion?

---