Blood banking:- part 3 – Blood Donation Procedure, Blood Components and Their Indications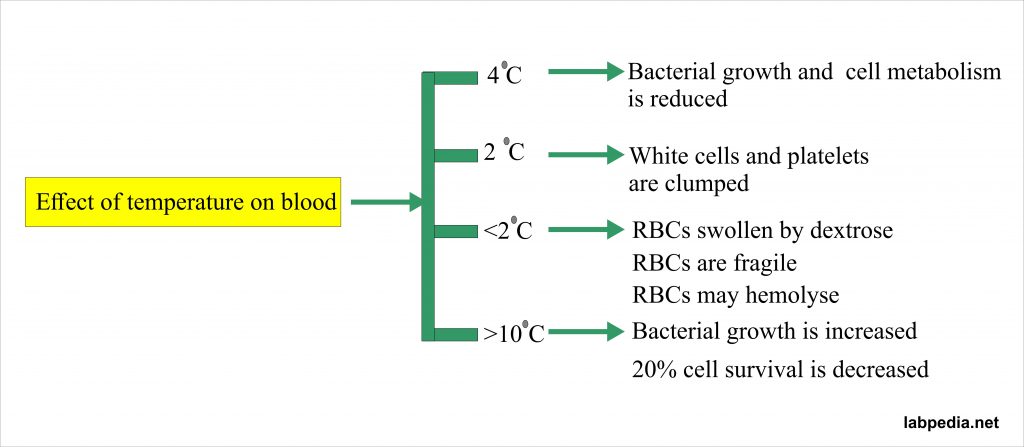 Procedure to collect blood from the donor.
Donor assurance:
Make the donor comfortable and assure him about safety.
Give some time to the donor to acclimatize with the atmosphere.
Now apply the blood pressure cuff above the elbow and give a pressure of 20 to 40 mmHg.
Cleaning the site:
Now clean the site of venipuncture thoroughly.

Can use chlorhexidine, or 1% tincture iodine, or 1% PVP iodine.

Collection of the blood:
Keep the blood pack below the level of the donor.

Can keep the pack in the balance.

Now increase the blood pressure to 60 to 80 mmHg till the vein is prominent. Ask him to clench his or her fist.
Insert the needle into the vein; as blood comes out, remove the bead, which prevents the blood from entering the pack.
Now reduce the pressure in the cuff.
Carefully and slowly mix the blood with the anticoagulants.
When blood donation is complete, reduce the pressure to 0 in the cuff.
Clamp the blood pack (bag).
Take out the needle and apply the pressure on the venipuncture site.
Precaution after the collection of blood:
Please don't allow the donor to sit immediately; ask him to lie down for at least 5 to 10 minutes.

Sometimes the donor gets headaches, nausea, and dizziness.
Donor blood pressure may become low.

Label the pack and make at least 4 to 5 tubing segments for further testing.
Allow the blood to cool down before refrigeration is done. This period should not exceed more than one hour.
Before the donated blood is released, the following tests are done:
The following tests are done on the donor blood and the serum.

The donor's blood grouping ABO is verified.

Verify the Rh typing. Rh-negative blood is reconfirmed.

Reverse blood ABO grouping is done on the donor serum.

Antibody screening is done by the enzyme and antiglobulin method.

Perform the VDRL, HBS, HCV, and HIV.

After doing all these tests, you can now release the blood pack for donation to the patient.
Blood components most common in use are:
Whole blood.
Fresh frozen plasma.
Packed red blood cells.
Frozen red blood cells.
Human serum albumin.
Human immune serum globulin.
Antihemophilic factor concentrate (cryoprecipitate).
Factor IX concentrate.
Platelets concentrate or platelets-rich plasma.
White blood cell poor blood (where the white cells are removed).
How to make Fresh Frozen Plasma:
Fresh frozen plasma is separated from the RBCs after centrifugation at 4 °C temperature and immediately is frozen.
Before giving to the patients, it needs to be thaw at 37 °C for at least 20 minutes or until the thawing is complete.
Don't delay after thawing to transfuse into the patient because factor V and VIII deteriorate in a short time.
The thawing process may be accelerated by an agitator machine and a specially designed microwave.
Blood components and their indications:
Components

Composition

Indications

Packed RBCs
Only RBCs without plasma

For the treatment of anemia
Hemolytic disease of the newborn

Fresh frozen plasma
Plasma separated and frozen in 8 hours of collection.

Used to control bleeding in coagulation factors deficiency

Cryoprecipitate

Prepared by thawing fresh frozen plasma at 1 to 6 °C;
The precipitates are collected and again refrozen.
Cryoprecipitate <25 mL contains fibrinogen 150 mg and 80 units of factor VIII.

Used in deficiency of fibrinogen,
Or deficiency of factor XIII, and in DIC.

 Platelets concentrate

Platelets are separated from a single unit of blood.
Suspended in 40 to 60 mL of plasma
Stored at 20 to 24 °C

 Indicated in thrombocytopenia  due to any cause
Prevents bleeding in low platelets count

 Granulocytes collected by apheresis
 Granulocytes are collected by apheresis.

In neutropenia
Infection
It is more effective in infants than adults.

Platelets collected by apheresis
platelets collected by apheresis and volume is 200 to 300 mL

Used as platelets concentrate
Effects of temperature on the storage of the blood: