Bleeding Time (BT)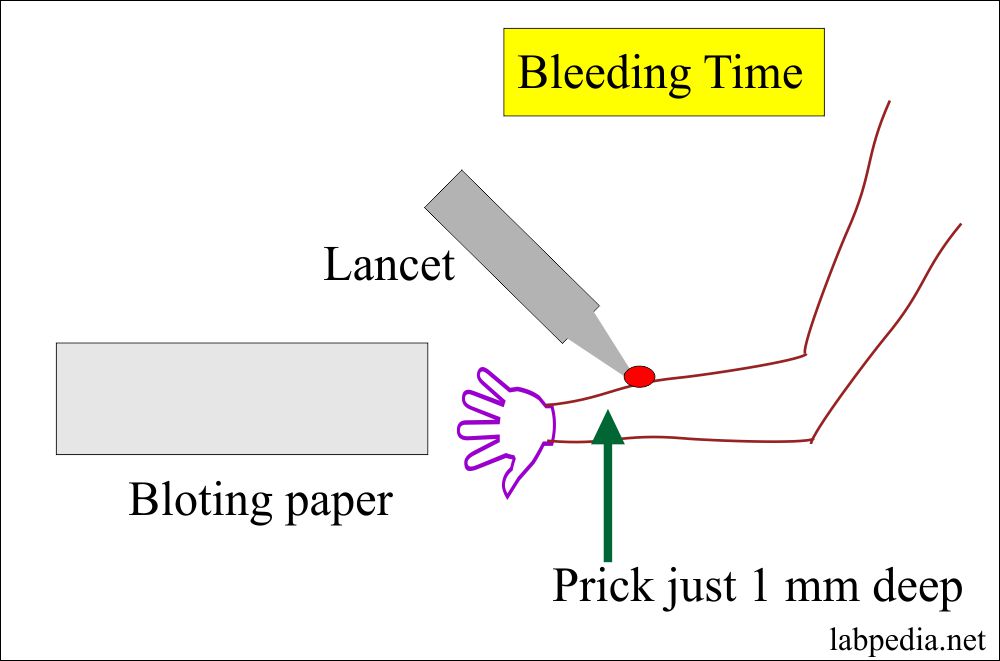 Sample
This test is done on the patient while he is in the lab.
No preparation is needed.
Precaution
This test should be avoided in a patient with a low platelet count.
There may be false positive (raised value) in a patient with aspirin.
Avoid in patients with keloid formation or senile skin changes.
Avoid in patients who have undergone mastectomy or axillary lymph nodes dissection.
Avoid in uncooperative patients.
Extreme body temperature gives false results.

High body temperature prolonged the result.
Low body temperature lowers the result.

Avoid and take the history of drugs which may prolong the result like patients on anticoagulant therapy, use of salicylates,  antibiotics, streptokinase, nonsteroidal anti-inflammatory drugs, and warfarin.
Indications
This test is done to evaluate vascular and platelet factors.
This may be done Preoperatively to rule out the possibility of bleeding e.g. in patients for tonsillectomy etc.

But this may not be the routine presurgical procedure.
Advantage
This test is used to differentiate Von Willebrand's' disease from mild hemophilia.
Disadvantage
This test is unable to predict excessive surgical bleeding.
Pathophysiology
Bleeding time is basically a screening test for:

Disorders of platelets function:
The integrity of the vascular wall.

There are three important compartments of the hemostasis:

Platelets.
Blood coagulation factors.
Vasculature.

To vascular injury, the first hemostatic response is in the form of contraction of blood vessels.

The next phase is the adherence of platelets to the injured vessel and plugs the damaged area.

This phenomenon takes places as follows:

Vasoconstriction (vasospasm). This is controlled by local, humoral, and neuronal factors.

Initially, there is vasoconstriction and this is followed by vasodilatation for the influx of the inflammatory cells.

Formation of platelets plug.

There are granules discharge from the platelets.
The platelets aggregates into clumps or plug.
Then release chemical mediators.
Platelets are attracted in 15 to 20  seconds to the site of endothelial injury.
Platelets make plug formation.
Platelet membrane glycoprotein determines the interaction between the platelets and its external environment.
The binding of fibrinogen to the platelets leads to platelets aggregation.
Adherent platelets produce histamine and serotonin will lead to vasoconstriction.
Activation of coagulation factors.
Formation of a clot.
Clot retraction.
Clot dissolution (fibrinolysis).
Failure of any of the above factors leads to prolonged bleeding.
If the blood vessels have increased fragility that will also lead to prolonged bleeding time as in old age,  in a patient with a defect in the capillaries.
Blood vessel constriction and platelet adherence are not affected by the coagulation system (Intrinsic and as well as the extrinsic pathway).
This test is a sensitive measure of platelet functions and the elasticity of blood vessels.

Normal platelets count is 140,000 to 340,000/cmm.
Platelets around 20,000/cmm may have a major episode of hemorrhage.

It is a crude bio-assay but by careful standardization, it has become a reliable and sensitive test of Platelet function.
Critical values:

Platelets less than 50,000 may lead to prolonged bleeding time.
Bleeding time more than 10 minutes has a risk of bleeding and when it is 15 to 20 minutes then bleeding risk may become greater.
NORMAL

Values
Bleeding time normal: 2 to 7 minutes

Borderline: 7 to 11 minutes.
Abnormal value: 10 to 15 minutes

Duke ear lobe method = 1 to 3 minutes
Source 2
Ivy method = 1 to 9 minutes

Prolonged bleeding time may be repeated to confirm it. Because if sometimes the large-caliber blood vessel is punctured then bleeding time will be prolonged.
Method for bleeding time:
IVY method, the most common method where the lancet is used which ensures a precise surgical incision, depth of 1 mm. This will give reproducible results.

Bleeding Time is determined after superficial skin incision and timing the duration of blood flow from the wounded area until it stops.

Template method where there is a puncture of the forearm after having pressure in the upper arm 40 mm Hg by blood pressure instrument.

Clean the volar surface of the forearm.
Give incision with the template up to 1 mm depth.
Avoid any visible vein.
Now blot the blood till it stops.
Bleeding time is usually normal in coagulation disorders.
longer-than-normal bleeding time may be due to:
Blood vessel defect.
Platelet count may be decreased or there is a defect in their function.
Thrombocytopenia.
Disseminated intravascular coagulation (D I C) where the platelets are consumed.
Acute Leukemia.
Coagulation factor deficiencies like Factor I, II, V, VIII,  IX, and XI may show some increase.
Hodgkin's disease.
Severe hepatic disease.
Hemolytic disease of the newborn.
Patients with uremia where there are decreases and dysfunction of platelets.
Patients with anti-inflammatory drugs like aspirin, and indomethacin.
Severe liver diseases.
In Von Willebrand disease the bleeding time is variable.
Critical values = >15 minutes
---