Antidiuretic Hormone (ADH, Vasopressin, Arginine Vasopressin Hormone)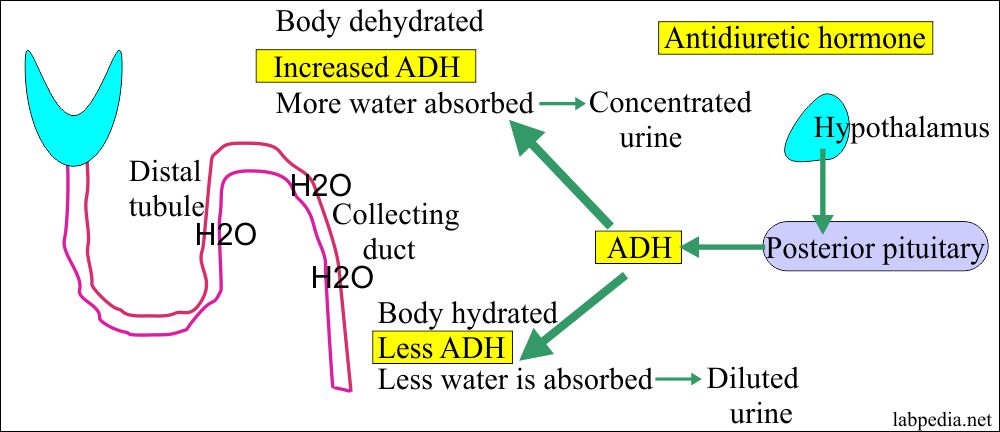 Sample
This test is done on the venous blood sample, (Tube is prechilled).
Plasma with

EDTA

is needed.
Take the blood when a patient is in a sitting position and calm.
Put the sample on ice.
Or collect the sample in prechilled vials.
Separate plasma immediately in the refrigerated centrifuge, and freeze at -20 °C.
Purpose of the test
ADH

is done in patients with diabetes insipidus.
Advised in a patient with polyuria or polydipsia.
This is also advised in hyponatremia.
For the diagnosis of ectopic ADH production.
This is advised in SIADH.
This is also advised in psychogenic water intoxication.
Precautions
Avoid glass syringe or collection tube which causes degradation of the ADH.
Avoid dehydration, hypovolemia, and stress which may lead to increase ADH levels.
Avoid overhydration and hypervolemia which may decrease the ADH level.
Drugs like acetaminophen, cholinergic drugs, barbiturates, nicotine, estrogen, oral hypoglycemic agents, diuretics (thiazide), narcotics, and tricyclic antidepressants will lead to an increase the ADH.
Drugs like alcohol, morphine antagonists, Dilantin, and beta-adrenergic agents will decrease the ADH level.
The recent history of radioisotopes gives the wrong result.
Pathophysiology
ADH

is also called Vasopressin produced by the hypothalamus stored in the post. pituitary gland excreted in circulation.
The osmolarity of the extracellular fluid control ADH release.

Increased osmolarity stimulates the osmoreceptors in the hypothalamus which stimulates the ADH  release.

The major function of ADH controls:

When ADH activity is present then a small volume of concentrated urine is excreted.

When ADH is absent, then a large volume of dilute urine is excreted.

Maintain water homeostasis.
There is water reabsorption by the kidney and urine concentrated.
ADH in sufficient quantity induces generalized vasoconstriction that leads to an increase in the arterial blood pressure.

ADH increases the release more water is reabsorbed from the distal and collecting tubule, it increases water reabsorption and leads to concentrated urine and more water in the blood circulation.

ADH

decreased level, less water reabsorbed (water is allowed to be excreted), leads to dilute urine and hemoconcentration.
ADH

release is stimulated by:

The increase in serum osmolality.
The decrease in intravascular blood volume.
Higher secretion at night and with erect posture and exercise.
Physical Stress, surgery, and even anxiety.

Syndrome of inappropriate ADH secretion (SIADH) associated with high serum ADH levels.

Paraneoplastic syndrome is seen in the case of ectopic production of the ADH like carcinoma of the lung, thymus, lymphoma, carcinoma of the pancreas, leukemia, urinary system, and intestine.
This condition may also be seen in pulmonary tuberculosis and pneumonia.
Other conditions are CNS tumors, infection, and trauma.
Diagnosis of SIADH:

The water load test means ADH suppression is used to differentiate the SIADH from the other causes of hyponatremia and or edematous conditions.

Measure urine and serum osmolarity.

Patients with SIADH secrete very little or none of the water overload.
Urine osmolarity will be never <100 mmol/kg
Urine/serum ratio is >100.

Diabetes Insipidus occurs when:

ADH

is inadequate OR
Kidneys are not responsive to

ADH

.

The patient excretes a large volume of water in the urine.
There is hemoconcentration and patients feel thirsty.

Diabetes Insipidus may be:

Neurogenic Diabetes insipidus. It is caused by:

Trauma, tumor, or inflammation of the brain (Hypothalamus).

ADH

level is low.
Surgical ablation of the pituitary gland or mass lesion.
X linked recessive familial form.

Nephrogenic diabetes insipidus. It is caused by:

Renal collecting system unresponsiveness to

ADH

.

ADH

level is raised.
Hypercalcemia.
Hypokalemia.
A very low protein diet.
Lithium therapy.
The release of long-standing obstruction.
Aging may be associated with partial nephrogenic diabetes inspidus.

Diabetes insipidus criteria are:

There are polyuria and polydipsia.
Low urine osmolarity.
Hypernatremia.

How to diagnose Diabetes inspidus:

This is confirmed by overnight deprivation of water.
Record the osmolarity before and after the administration of vasopressin.
It is followed by the ADH (vasopressin) administration.

In a healthy person urine osmolarity increases during water deprivation.
Administration of vasopressin has to additional effect on urine concentration.
In the case of neurogenic diabetes inspidus:

 No urine concentration in response to water deprivation.
When vasopressin is given, then urine osmolarity increases.
THE Serum ADH level is low.

While in the case of nephrogenic diabetes inspidus:

Urine cannot be concentrated in either case.
There is no rise in the urine osmolality after water deprivation or after vasopressin administration.
THE Serum ADH level is high.

ADH

presence leads to a small volume of concentrated urine.

ADH

absent leads to a large volume of diluted urine.

ADH release is stimulated by:

Increase in serum osmolality.
A decrease in intravascular blood volume.
Sleep
At night.
In erect position.
with pain.
In surgery.
Physical Stress.
High level of anxiety.
Exercise.
Chemical agents like catecholamine, opiates, nicotine, anesthesia drugs, barbiturates, and angiotensin ii.

ADH release is inhibited by:

The increase in plasma volume.
The decrease in plasma osmolality.
Alcohol.
Phenytoin.
Glucocorticoids
Normal
Source 2
1 to 5 pg/ mL or 1 to 5 ng/L.
Or < 2.5 pg/mL.
ADH suppression test (water load test):

65% of the water load is excreted in 4 hours.
80% of the water load is excreted in 5 hours.
Urine osmolality in the second hour = ≤100 mmol/kg
Urine to serum  (U/S) osmolality ratio = >100 mmol/kg
Urine specific gravity = <1.003
Another source
Source 4
<2.5 pg/mL or <2.3 mmol/L
Increased

ADH

level is seen in:
Hyperfunction of ADH state gives rise to Syndrome of inappropriate antidiuretic hormone secretion (SIADH).
There is sustained release of ADH in the absence of a known cause.
Central nervous system diseases like tumors or infection.
Pulmonary tuberculosis or pneumonia.
Lung cancer (ectopic

ADH

).
Nephrogenic diabetes insipidus due to renal diseases.
Myxedema.
Physical stress like pain, trauma.
Hypovolemia.
Dehydration.
Acute and intermittent porphyria.
Guillain-barre syndrome.
Decreased

ADH

level is seen in:
Hypofunction ADH gives rise to a polyuric state.

Urine output is more than 2.5 L/day.

Nephrogenic diabetes insipidus.
Nephrotic syndrome.
water intoxication (psychogenic polydipsia).
Surgical ablation of the pituitary gland.
Hypervolemia.
Decreased serum osmolality.
This polyuric state is divided into:

Hypothalamic diabetes inspidus.
Nephrogenic diabetes inspidus.
Psychogenic polydipsia.
---