Antidiuretic Hormone (ADH, Vasopressin, Arginine Vasopressin Hormone), Diabetes Insipidus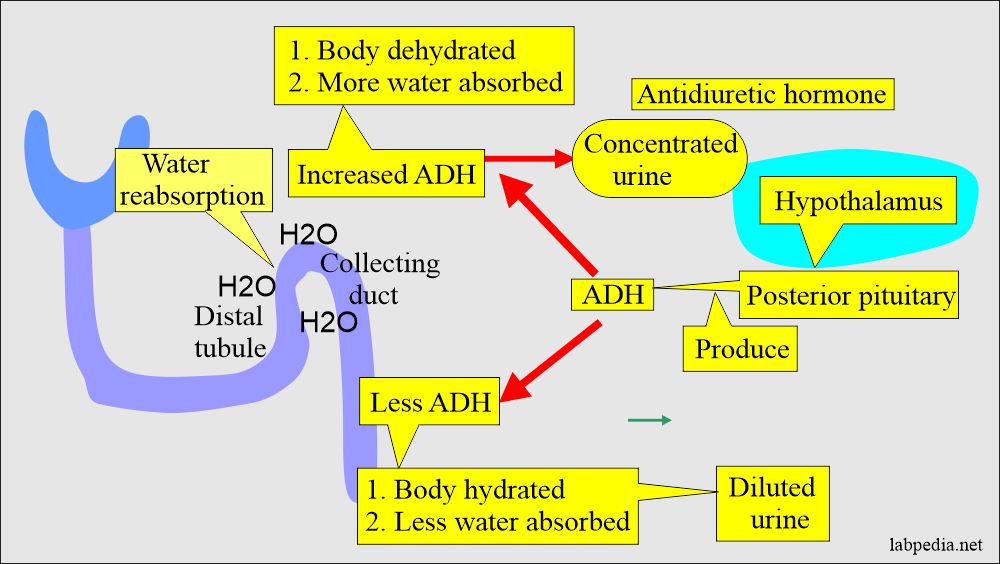 Sample
This test is done on the venous blood sample (Tube is prechilled).
Plasma with

EDTA

is needed.
Take the blood when a patient is in a sitting position and calm.
Put the sample on ice.
Or collect the sample in prechilled vials.
Separate plasma immediately in the refrigerated centrifuge and freeze at -20 °C.
Purpose of the test (Indications)
ADH

is done in patients with diabetes insipidus.
Advised in a patient with polyuria or polydipsia.
This is also advised in hyponatremia.
For the diagnosis of ectopic ADH production.
This is advised in SIADH (syndrome of inappropriate antidiuretic hormone secretion).
This is also advised in psychogenic water intoxication.
Precautions
Avoid glass syringe or collection tube which causes degradation of the ADH.
Avoid dehydration, hypovolemia, and stress, which may lead to increase ADH levels.
Avoid overhydration and hypervolemia, which may decrease the ADH level.
The use of a glass syringe or collection tube causes degradation of the ADH.
Drugs like acetaminophen, cholinergic drugs, barbiturates, nicotine, estrogen, oral hypoglycemic agents, diuretics (thiazide), narcotics, and tricyclic antidepressants will increase the ADH.
Drugs like alcohol, morphine antagonists, Dilantin, and beta-adrenergic agents will decrease the ADH level.
The recent history of radioisotopes gives the wrong result.
Pathophysiology
Definition:

ADH

is also called Vasopressin (arginine Vasopressin) produced by the hypothalamus stored in the posterior pituitary gland is excreted in circulation.

ADH is considered one of the plasma volume regulators, by its ability to concentrate the urine via its action on the renal distal and collecting tubules by water reabsorption.
The osmolarity of the extracellular fluid control ADH release.

Increased osmolarity stimulates the osmoreceptors in the hypothalamus, which stimulates the ADH  release.

The major function of ADH controls:

When ADH activity is present, then a small volume of concentrated urine is excreted.

When ADH is absent, then a large volume of dilute urine is excreted.

ADH Maintain water homeostasis.
There is water reabsorption by the kidney and urine concentrated.
ADH in sufficient quantity induces generalized vasoconstriction that leads to an increase in arterial blood pressure.
ADH increases the release of more water reabsorbed from the distal and collecting tubule; it increases water reabsorption and leads to concentrated urine and more water in the blood circulation.

ADH

decreased level, less water reabsorbed (water was allowed to be excreted), leads to dilute urine and hemoconcentration.
ADH

release is stimulated by:

The increase in serum osmolality.
The decrease in intravascular blood volume.
Higher secretion at night and with erect posture and exercise.
Physical Stress, surgery, and even anxiety.

The most important syndromes associated with ADH are:

Diabetes inspidus.
Inappropriate ADH syndrome.
Syndrome of inappropriate ADH secretion (SIADH) associated with high serum ADH levels.
Paraneoplastic syndrome is seen in ectopic production of the ADH like carcinoma of the lung, thymus, lymphoma, carcinoma of the pancreas, leukemia, urinary system, and intestine.
This condition may also be seen in pulmonary tuberculosis and pneumonia.
Other conditions are CNS tumors, infection, and trauma.
Diagnosis of SIADH, and its characteristic features:

Hyponatremia.
 Continued renal excretion of the Na+ despite the hyponatremia.
Serum hypoosmolarity.
Urine osmolality shows a significant degree of concentration, instead of one would expect to have dilute urine.
No evidence of blood volume depletion.
There is a normal renal and adrenal function that will differentiate from other causes.

These criteria will demonstrate that ADH secreted despite the hemodilution, decreased serum osmolality, or both.

Most of these patients do not have edema, because interstitial fluid expansion is usually moderate in degree.
The water load test means ADH suppression is used to differentiate the SIADH from the other causes of hyponatremia and or edematous conditions.

Measure urine and serum osmolarity.

Patients with SIADH secrete very little or none of the water overload.
Urine osmolarity will be never <100 mmol/kg
Urine/serum ratio is >100.

Treatment of the choice for SIADH is the restriction of the fluid intake and it may provide some evidence of this syndrome.
Diabetes Insipidus
Definition:

This is a syndrome characterized by hypotonic polyuria.
This is called diabetes but it has no relation with diabetes mellitus where the polyuria is hypertonic due to overexcretion of the glucose in the urine.

Pathogenesis:

There are three possible etiologies:

Neurogenic where hypothalamus unable to produce ADH.
Renal where the end-organ inability to respond normally to ADH.
Temporary overpowering of vasopressin system. There is ingestion of a large quantity of water, sometimes called primary diabetes inspidus.

ADH

is inadequate OR
Kidneys are not responsive to

ADH stimulation.

The patient excretes a large volume of water in the urine.
There is hemoconcentration, and patients feel thirsty.

Diabetes Insipidus may be:

Neurogenic Diabetes insipidus. It is caused by:

Trauma, tumor, or inflammation of the brain (Hypothalamus).

ADH

level is low.
Surgical ablation of the pituitary gland or mass lesion.
X-linked recessive familial form.

Nephrogenic diabetes insipidus. It is caused by:

Renal collecting system unresponsiveness to

ADH

.

ADH

level is raised.
Hypercalcemia.
Hypokalemia.
A very low protein diet.
Lithium therapy.
The release of long-standing obstruction.
Aging may be associated with partial nephrogenic diabetes inspidus.

Diabetes insipidus criteria are:

There are polyuria and polydipsia.
Low urine osmolarity.
Hypernatremia.

How to diagnose Diabetes inspidus:

This is confirmed by overnight deprivation of water.
Record the osmolarity before and after the administration of vasopressin.
It is followed by the ADH (vasopressin) administration.

In a healthy person, urine osmolarity increases during water deprivation.
Administration of vasopressin has to additional effect on urine concentration.
In the case of neurogenic diabetes inspidus:

 No urine concentration in response to water deprivation.
When vasopressin is given, then urine osmolarity increases.
THE Serum ADH level is low.

While in the case of nephrogenic diabetes inspidus:

Urine cannot be concentrated in either case.
There is no rise in the urine osmolality after water deprivation or after vasopressin administration.
THE Serum ADH level is high.

ADH

presence leads to a small volume of concentrated urine.

ADH

absence leads to a large volume of diluted urine.

Before starting the test to find the etiology, it is recommended that note:

24 hours urine volume.
The osmolality of urine.
Amount of solute excreted in the urine.
Serum sodium, potassium, calcium, and osmolality without any restriction of the diet or water are recorded.
When Results show the following value, then think about Diabetes Inspidus:

Excess urine output.
Urine is hypotonic.

The standard diagnostic test for Diabetes Insipidus is the water deprivation test.
ADH release is stimulated by:
Increase in serum osmolality.
A decrease in intravascular blood volume.
Sleep
At night.
In erect position.
With pain.
In surgery.
Physical Stress.
High level of anxiety.
Exercise.
Chemical agents like catecholamine, opiates, nicotine, anesthesia drugs, barbiturates, and angiotensin ii.
ADH release is inhibited by:
The increase in plasma volume.
The decrease in plasma osmolality.
Alcohol.
Phenytoin.
Glucocorticoids
Normal ADH:
Source 2
1 to 5 pg/ mL or <1.5 ng/L.
Or < 2.5 pg/mL.
ADH suppression test (water load test):

65% of the water load is excreted in 4 hours.
80% of the water load is excreted in 5 hours.
Urine osmolality in the second hour = ≤100 mmol/kg
Urine to serum  (U/S) osmolality ratio = >100
Urine specific gravity = <1.003
Another source
Source 4
<2.5 pg/mL or <2.3 mmol/L
Increased

ADH

level is seen in:
Hyperfunction of ADH state gives rise to Syndrome of inappropriate antidiuretic hormone secretion (SIADH).
There is sustained release of ADH in the absence of a known cause.
Central nervous system diseases like tumors or infection.
Pulmonary tuberculosis or pneumonia.
Lung cancer (ectopic

ADH

).
Nephrogenic diabetes insipidus due to renal diseases.
Myxedema.
Physical stress like pain, trauma.
Hypovolemia.
Dehydration.
Acute and intermittent porphyria.
Guillain-barre syndrome.
Decreased

ADH

level is seen in:
Hypofunction ADH gives rise to a polyuric state.

Urine output is more than 2.5 L/day.

Nephrogenic diabetes insipidus.
Nephrotic syndrome.
Water intoxication (psychogenic polydipsia).
Surgical ablation of the pituitary gland.
Hypervolemia.
Decreased serum osmolality.
This polyuric state is divided into:

Hypothalamic diabetes inspidus.
Nephrogenic diabetes inspidus.
Psychogenic polydipsia.
---