Anti-Thyroid Microsomal Antibody, Anti-Thyroid Peroxidase antibody, Thyrotropin-Receptor Antibody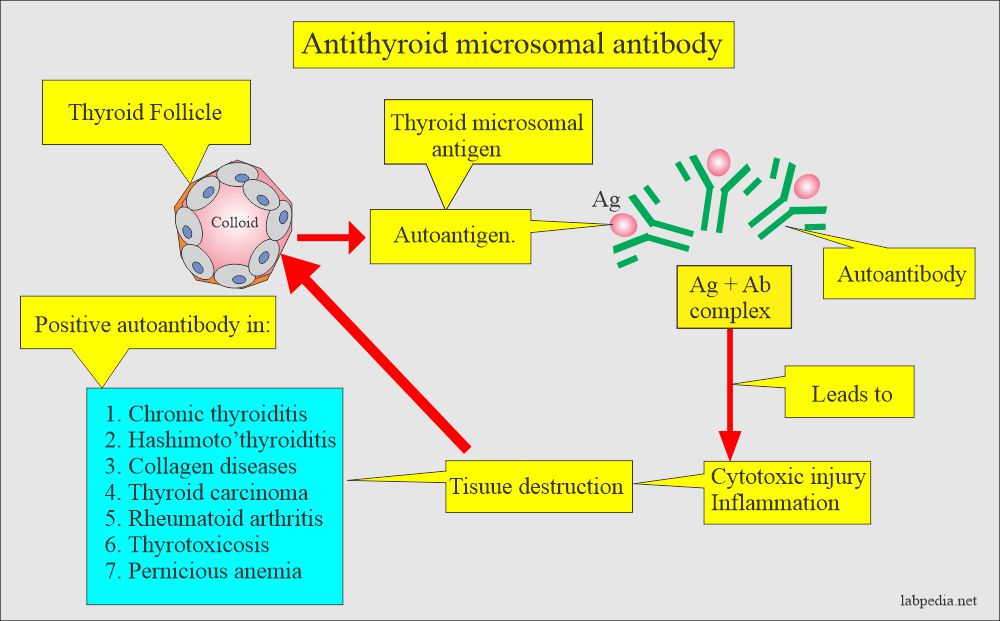 Sample
The serum is needed.
The fasting sample is preferred.
Stop vitamins before taking the sample.
Pathophysiology
These may be any number of antibodies directed against various self-antigens like cellular components (Antimicrosomal antibodies) or proteins( thyroglobulins).
These autoantibodies are found in the autoimmune diseases of the thyroid gland.
There are four autoantigens:

Thyroglobulin
Thyroid microsomal antigen (the vesicle-like structure formed from the endoplasmic reticulum when cells are disrupted).
TSH-Receptor (Thyrotropin receptor).
Thyroperoxidase (a component of thyroid microsomal antigen).

The antibodies are:

Antithyroglobulin antibody.
Antimicrosomal antibody.
Long-acting thyroid-stimulating antibody (LATS) includes:

TSI = thyroid-stimulating immunoglobulin.
TSH-R antibody = thyroid hormone receptor-antibody.
Antithyroid microsomal antibody: 

This test differentiates between Hashimoto's thyroiditis and chronic lymphocytic thyroiditis in children.

These are found more in chronic thyroiditis than antithyroglobulins antibodies.

These are present in 70 to 90% of Hashimoto's thyroiditis.
This antibody is against the microsomes of the thyroid cells.
There is a cytotoxic injury to the thyroid follicles.
Antithyroid peroxidase antibody:

This is recognized as the principal and possibly only autoantigen component of the thyroid microsomes.
This is suggested in routine the case of autoimmune disease of the thyroid.
The thyroid microsomal antibodies are difficult to perform and a limited amount of human thyroid tissue.

There are irrelevant thyroid antigens and autoantibodies and contamination of microsomes with the thyroglobulin.
The thyroperoxidase antibody eliminates these complications.

The RIA and chemiluminescence can detect these antibodies.

The above two methods are more accurate than passive hemagglutination.

Antiperoxidase antibodies are seen in:

These are seen in Hashimoto's thyroiditis, and idiopathic myxedema, and the majority of
Grave's disease.
Diabetes mellitus type 1.
It may be seen in nonimmune thyroid disease.

Thyrotropin receptor antibody (TSH-R antibody):

Some immunoglobins bind to the thyroid cell membrane near or to the TSH-receptor site.
These are often seen in Grave's disease patient's blood.
These are also found in other thyroid autoimmune diseases.
Their function is variable:

In some cases, they may have a stimulatory effect.
In some cases, they block the TSH-receptor site and decrease thyroid function.
In some, there may be no effect.

Their functional role may be in the pathogenesis of Grave's disease. Is found a long-acting thyroid stimulator in the serum of these patients.
A lab diagnosis method for thyroid microsomal antibody:
Thyroid microsomal antibody can be detected by:
Complement fixation test.
Immunofluorescence of tissue biopsy.
Passive hemagglutination.
ELISA method.
Radioimmunoassay (RIA).
Normal Antimicrosomal antibodies:
Negative = < 1:100
5% to 10% are present in healthy people without thyroid disease.
Antithyroid Ab Positive in:
Chronic thyroiditis (40 to 70 %).
Thyrotoxicosis (Grave's disease).
Hypothyroidism.
Hashimoto's thyroiditis.
Pernicious anemia.
Other autoimmune diseases like Rheumatoid arthritis and systemic lupus erythematosus.
Table showing various thyroid diseases and auto-antibodies
Disease
Anti-thyroglobulin antibody
Anti-microsomal antibody

Antithyroperoxidase

antibody 

Long-acting thyroid

stimulating antibody (LATS)

Grave's disease
positive 30%
positive 60 to 80%
positive >85%
positive 100%
Hashimoto's thyroiditis
positive 70 to 90%
positive 80%
positive 100%
negative
Lymphocytic thyroiditis
positive 30 to 50%
positive 50%
positive
negative
Thyroid carcinoma
positive 20 to 50%
positive 15%
negative
Normal person
positive low titer
 positive low titer,  5 to 10%
positive 5 to 10%
LATS antibodies are of two types:

TSI = Thyroid stimulating immunoglobulin.
TSH-R antibody = Thyroid-stimulating hormone receptor antibody.

Please see more details on the Antithyroglobulin antibody.+
Antimicrosomal autoantibodies increased level seen in:
Hashimoto's thyroiditis.
Thyroid cancer.
Myxedema.
Sjogren's syndrome.
Goiter.
Autoimmune hemolytic anemia.
Lupus erythematosus.
Antimicrosomal antibodies positivity in various diseases:

| | | |
| --- | --- | --- |
| Clinical disease | Antimicrosomal antibody | Antithyroglobulin antibody |
| Grave's disease | 75% (71% to 86%) | 55% (29% to 65%) |
| Hashimoto's disease | 97% (92% to 100%) | 70% (50% to 86%) |
| Nontoxic nodular goiter | 27% | 5% to 50% |
| Primary myxedema | 75% (67% to 86%) | 55% (50% to 64%) |
| Thyroid carcinoma | 20% | 20% |
| Female, normal | 15% | 2% to 20% |
| Male, normal | 0% to 3% | 0% to 2% |
Either hemagglutination or immunofluorescent methods do the above tests.
---