Anti-parietal cell antibody (APCA)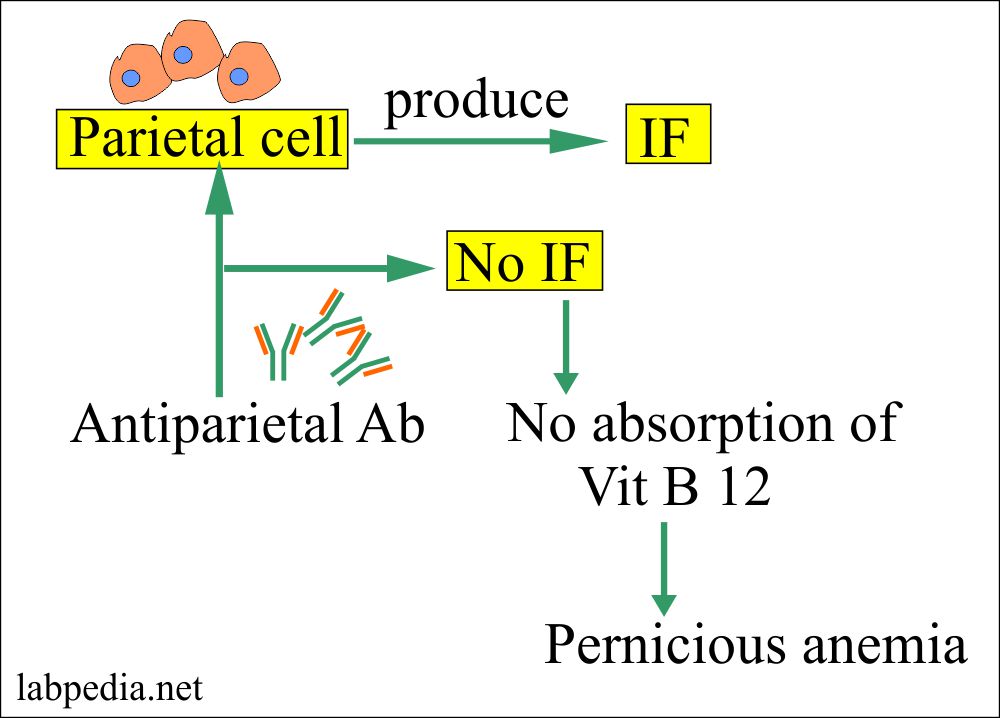 Sample
Venous blood needed to prepare the serum
The serum of the patient is needed and it should be stored at -20 c.

How to get good serum: Take 3 to 5 ml of blood in the disposable syringe or in vacutainer. Keep the syringe for 15 to 30 minutes at 37 °C and then centrifuge for 2 to 4 minutes to get the clear serum.
Indication
This antibody test is done to diagnose the autoimmune type of Pernicious anemia.
Precaution
APCA is present in many healthy persons over the age of 60 years.
Pathophysiology
The parietal cells are present in the proximal portion of gastric mucosa and produce acid (

HCL

) and Intrinsic factor.
The intrinsic factor is needed for the absorption of vit B 12.

When there is a lake of an intrinsic factor because of the antiparietal antibodies will leads to pernicious anemia.
These antiparietal cell antibodies lead to the destruction of the gastric mucosa.
Parietal cell antibodies occur in patients with pernicious anemia (50 to 100 %).
There will be a disruption (no production) of the intrinsic factor by the parietal cells.

In pernicious anemia two types of the antibodies found:

One against the parietal cells.
Second against the intrinsic factor.
This antibody can be seen in other autoimmune diseases (20 to 30%) like Thyroiditis, myxedema, juvenile diabetes, Addison disease, and iron-deficiency anemia.
Antiparietal antibodies are 95% positive in cases of Pernicious anemia.

The normal population has 10 to 15 % of these antibodies.
With increasing age, the incidence of

APCA

increases especially in the relatives of pernicious anemia patients.
In autoimmune pernicious anemia, antiparietal antibodies are >80% positive; 50% have antibodies to intrinsic factor.
Antiparietal antibodies are seen in healthy adults >60 years of age.
Sometimes these antiparietal antibodies are seen in:

Atrophic gastritis.
Gastric ulcer.
Gastric malignancies.
Juvenile diabetes mellitus.
Iron-deficiency anemia.
Myxedema.
Thyroiditis.
Addison's disease.

APCA when positive then needs a more invasive procedure like a gastric biopsy to rule out a gastrointestinal disease.
Normal
These are normally negative.
Source 4
Negative antiparietal antibody by IFA technique.

When positive then titrate the serum.
APCA level is raised in:
Pernicious anemia (in 95% of the cases although its specificity is low).
Atrophic gastritis.
These are present in 25 to 30% of the autoimmune diseases of the thyroid.

Hashimoto's thyroiditis.
Myxedema.

Juvenile diabetes.
Addison disease.
---