Anemia:- Part 9 – Sideroblastic Anemia, and Anemia Due To Chronic Diseases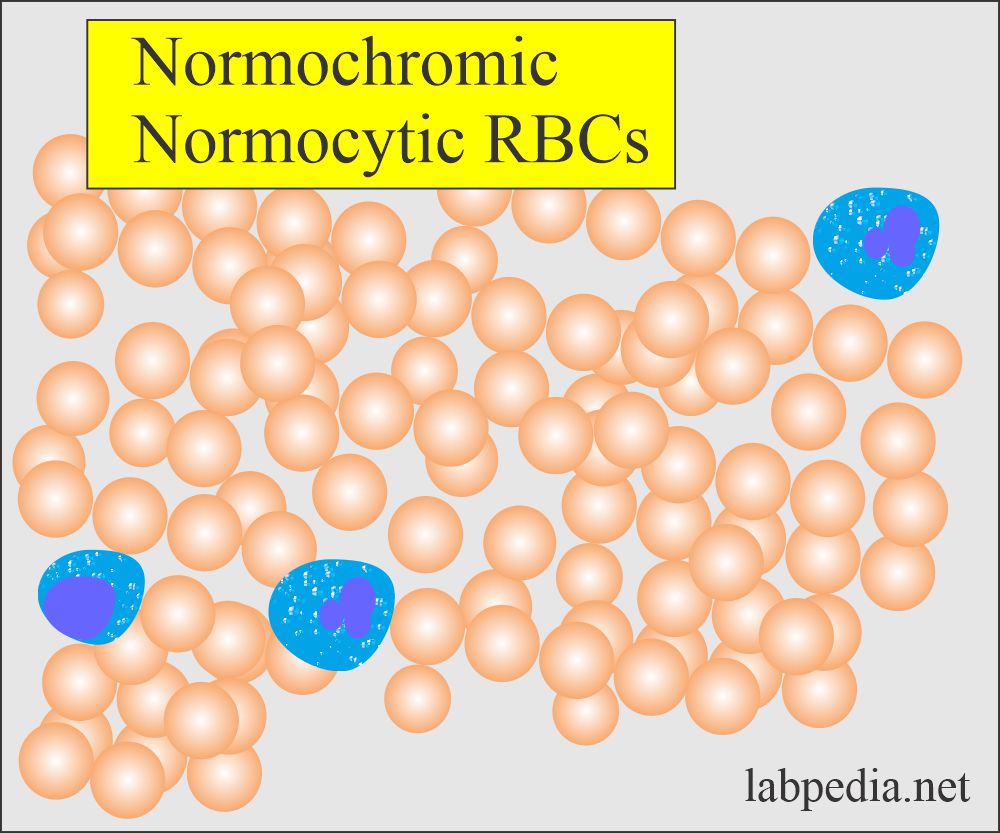 Sideroblastic anemia:
Definition:
The sideroblastic anemia indicates a group of disorders with the presentation of:

Anemia.
Ineffective erythropoiesis.
Increased serum, and tissue iron.
Increased number of ringed sideroblastic RBCs in the bone marrow aspirate (at least 20%).

Sideroblasts are normoblasts with abnormal stainable iron in the cytoplasm that form a ring around the nucleus.

These anemias are due to abnormalities of heme synthesis.
To qualify the sideroblastic anemia, >15% of ringed sideroblasts are to be found.

This may be:

Congenital (inherited).

This includes sex-linked congenital sideroblastic anemia.
Autosommal recessive sideroblastic anemia.

Acquired (drug-induced).

Primary or idiopathic.

Myelodysplasia.

Secondary.

Lead.
Alcohol.
Drugs including isoniazid, and chloramphenicol.
This may be seen in malignancies or malabsorption.
Pathophysiology:
The pathogenesis is incompletely understood.
Several investigators found the enzyme's deficiency, including the deficiency of ALA synthase and uroporphyrinogen decarboxylase in these patients.

Irrespective of the etiology, there is the abnormal deposition of iron or siderotic granules in normoblast mitochondria. The mitochondria are present around the nucleus.
There is an adequate amount of iron in the body, but it cannot incorporate into hemoglobin.
The iron (Fe) enters the developing RBCs but accumulates in the normoblast's perinuclear mitochondria in primary sideroblastic anemia.

Classification of sideroblastic anemia:

Inherited:

This is rare and is sex-linked.
Sex-linked (X-linked) anemia is more common than Autosomal recessive sideroblastic anemia.
The responsible gene is ALAS2, found on the sex chromosomes X.

Pyridoxine-responsive.
Pyridoxine-refractory.
Autosomal, pyridoxine-refractory.

These sideroblastic anemias are usually present in childhood.
MCV is usually low, and RDW is usually high.

Acquired type:

Primary (idiopathic).
Secondary:

Associated with myeloproliferative disorders like leukemia and polycythemia vera.
Pyridoxine deficiency (responsive anemia):

Alcoholism.
Drugs induced like INH, and cycloserine, chloramphenicol, and chemotherapy.
Vitamin B12 deficiency.

Hemoglobin synthesis defects:

Deficiency of vitamin B12 and folic acid.
Erythropoietic porphyria.
Lead poisoning.

Radiation.
Other diseases are, e.g., rheumatoid arthritis, carcinoma, megaloblastic,  hemolytic anemia, hemolytic anemia, and malabsorption.
A special acquired rare form of Pearson syndrome has sideroblastic anemia, pancreatic insufficiency, and copper deficiency.

Pyridoxine-responsive anemia:

Classical type.
Variant forms.
Signs and symptoms:
Typically anemia appears early, usually within the first few months or years of life.
The patients will show pallor and splenomegaly in the sideroblastic anemia.
Lab findings are:
The diagnostic feature is nucleated RBCs with iron granules called ringed sideroblasts, present in the bone marrow and dimorphic picture in the peripheral blood smear.

Peripheral blood smears show hypochromic anemia, which is microcytic, normochromic, or macrocytic (dimorphic picture).

The dimorphic picture is seen in the primary type. It is prominent anisopoikilocytosis.
The microcytic form is seen mostly in the inherited form of sideroblastic anemia. In comparison, the macrocytic form is seen in the acquired form.
There may be seen iron-containing Papenheimer bodies and may look like basophilic stippling.

Hemoglobin is low.

MCV is variable and may be low, normal, or increased.
MCH and MCHC are often low but may be normal.
White blood cells may show abnormality.
RDW is increased.

Serum iron is usually more than normal.

Transferrin% saturation is high.

The serum ferritin level is markedly raised.
The serum B12 and folic acid levels are normal.
Raised bilirubin level.
LDH is raised.
Decreased serum haptoglobin.

Peripheral blood smears show a dimorphic picture with the presence of normocytic (normal RBCs) and as well as microcytic and hypochromic RBCs (small size RBCs). Occasional macrocytes are seen.
Microcytosis is more common in the inherited form of sideroblastic anemia.
Bone marrow shows erythroid hyperplasia, but circulating reticulocytes are not increased (ineffective erythropoiesis).

There are sideroblasts in the bone marrow aspirate. and these are >15%.
Cytogenetics study shows a chromosomal anomaly in 25% to 50% of the cases.
There are increased or normal iron stores.

Treatment:

Treat the cause. Some patients respond when alcohol and drugs are stopped.
In primary type, these are unresponsive to various vitamins, especially pyridoxine (another reference says some patient responds to pyridoxine).
Folic acid may be given in case of folate deficiency.
Anemia due to chronic diseases
Definition:
This anemia occurs mostly in chronic inflammatory and malignant diseases.
The anemia is present for several months following chronic diseases (which is present for several months).
These are commonly associated with infections, malignant neoplasm, and autoimmune disorders.
Pathogenesis
The basic defect is in the iron utilization for erythropoiesis.

It looks that there is a block of the iron delivery from the reticuloendothelial system to RBCs.
Chronic disease state blocks the transfer of storage iron to maturing erythroid precursors within the bone marrow.
This will lead to a deficiency of iron in RBCs, while the stores have abundant iron.

There is a decreased release of the iron from the macrophages to plasma.
RBCs life span is reduced.
Inadequate erythropoietin response to anemia is caused by the effect of cytokines like IL-1 and tumor necrosis factor (TNF) on erythropoiesis.
Hepcidin, released by the liver in response to inflammation, will inhibit macrophages' release of iron and absorption.
The anemia will respond to successful treatment of the cause, but no response to iron therapy.
Anemia due to chronic diseases may be due to:

Decreased Erythropoietin response by the RBCs.
Decreased RBCs survival.
Defective iron absorption.
Cytokines blocking the release of iron from the reticuloendothelial system for the development of RBCs.
Causes
This is seen in collagen diseases (autoimmune diseases).

Systemic lupus erythematosus.
Rheumatoid arthritis.
Sarcoidosis.

Inflammatory chronic conditions.

Tuberculosis.
Chronic osteomyelitis.
Fungal infection.

Malignancies.

Carcinoma.
Lymphomas.
Multiple myeloma.
Causes of anemia due to chronic diseases:

Groups of the diseases
Causes of the chronic diseases
Infections

Tuberculosis
Chronic osteomyelitis
Fungal infections
Bronchiectasis
Lung abscess
Empyema
Infective endocarditis
Brucellosis

Autoimmune diseases

Systemic lupus erythematosus (SLE)
Sarcoidosis
Rheumatoid arthritis
Inflammatory bowel disease
Vasculitis

Malignancies

Lymphomas
Multiple myeloma
Carcinomas

Other causes

Chronic liver disease
Chronic adrenal insufficiency
Hypothyroidism
Signs and symptoms:
Anemia appears for several months after the chronic disease.
Anemia usually presents 1 to 3 months following the onset of chronic disease.
Lab findings:
There is Low hemoglobin (7 to 11 g/dL).
MCV is normal.
RBCs may be normal or microcytic and hypochromic RBCs. This microcytosis is not as severe as in iron deficiency anemia.

Usually normocytic RBCs with normal MCV, rarely  MCV is <75 fl.
In some cases, we may see hypochromic or normochromic RBCs.

Decreased Serum iron.
TIBC is normal or decreased.
The serum ferritin is normal or increased.
There is a decreased % saturation.
Normal to increased serum ferritin level.
It needs to differentiate from iron deficiency anemia.
Decreased sideroblastic cells (rare to absent ringed sideroblast.


| | |
| --- | --- |
| RBC size | Normocytic |
| MCH | Normal |
| Reticulocyte count | Low/normal |
| Serum iron | Variable |
| TIBC | Normal |
| Ferritin level | Normal |
| Folic acid level | Normal |
| B12 | Normal |
Table showing findings in various anemias
| Type of anemia | Hb | MCV | MCH | MCHC |
| --- | --- | --- | --- | --- |
| Iron deficiency | low | low | low | low |
| Megaloblastic | low | high | high | normal |
| Thalassemia | low | low | low | low |
| Chronic illness | low | low | low | low |
Characteristic findings in various Anemias
Anemia type

HB

MCV 

MCH

MCHC

Ferritin 

Iron binding capacity

serum iron

 RDW
Iron deficiency
low
low <76 fl
low
low/normal
decreased
increased
decreased
increased
Megaloblastic
low
high >100 fl/cell

increased

>32 pg

low 32 to 36 g/dL
 raised/normal
increased
Chronic illness
low
low/normal
low
low
normal/ increased
normal / decreased
decreased
normal
Alpha Thalassemia
low or normal
low
low
low
 normal /increased
 normal

 normal or

increased

increased
Beta Thalassemia
low
low
low
low
 increased/normal
 normal
 increased/normal
 increased
Aplastic anemia
low
increased
normal
 normal
normal
Classification of anemia based on RDW:
 Cell size
Normal  RDW
High RDW
   Microcytosis

Thalassemia minor
Chronic diseases,
Some hemoglobinopathy trait

Iron deficiency
Hb H
Anemia of chronic diseases
some cases of thalassemia.

   Normocytic

 Hereditary spherocytosis
Acute bleeding
some chronic diseases
Some Hb traits

Some early or partially treated iron deficiency anemia
Sickle cell anemia

   Macrocytosis

Aplastic Anemia

Autoimmune hemolytic anemia
vit. B or folate deficiency
Liver disease
thyroid disease
Myelodysplasia
Alcohol use
Abnormalities of RBCs and their etiology
Type of RBCs abnormality
Etiology for the abnormality

Microcytic

Iron-deficiency anemia
Thalassemia
Sideroblastic anemia
Lead poisoning

Macrocytic

Megaloblastic anemia
Liver diseases
Myelodysplastic syndrome
Increased reticulocyte count

Spherocytes

Hereditary spherocytosis
Hemolytic anemia
Post transfusion

Target cells

Thalassemia
Liver diseases
Sideroblastic anemia
Hemoglobinopathies

Teardrop cells  

Severe anemia
Pernicious anemia
Myeloproliferative anemia

Elliptocytes    

Hereditary elliptocytosis
Thalassemia
Iron-deficiency anemia

Sickle cells

Sickle cell anemia
Sickle-thalassemia

Stomatocytes 

Malignant tumors
Acute alcoholism

Burr cells        

Renal diseases
Liver diseases
Bleeding gastric ulcer
Severe burns

Acanthocytes 

Alcohol intoxication
Postsplenectomy
Vitamin E deficiency
Congenital abetalipoproteinemia

Hemet cells   

G-6-PD deficiency
Pulmonary emboli

Schistocytes  

Hemolytic uremic syndrome
Thrombotic idiopathic thrombocytopenia (ITP)
Disseminated intravascular coagulopathy (DIC)
Summary of lab findings in various anemias:
| | | | | | | | | | |
| --- | --- | --- | --- | --- | --- | --- | --- | --- | --- |
| Lab test | Iron-deficiency anemia | Pernicious anemia | Folic acid deficiency | Aplastic anemia | Thalassemia | Sideroblastic anemia | Hemolytic anemia | Post hemorrhagic anemia | Anemia of chronic diseases |
| Hemoglobin | Low | Low | Low | Low or normal | Low | Low | Low | Normal or low | Low |
| Hematocrit | Low | Low | Low | Low or normal | Low | Low | Low | Normal or low | Low |
| MCV | Low | High | High | A normal or mild increase | Low | Low | Normal or high | Slightly low | Low or normal |
| Reticulocytes count | A normal or mild increase | Low | Low | Low | Increased | A normal or mild increase | High | Increased | Normal |
| Plasma Iron | Low | Increased | Increased | Increased | Increased or normal | Increased | Normal or high | Normal | Low |
| TIBC | Increased | Normal | Normal | Normal | Normal | Normal | Normal | Normal | Low |
| Ferritin level | Low | Increased | Increased | Normal | Increased or normal | Increased | Normal | Normal | Normal |
| Folate level | Normal | Normal | Low | Normal | Normal | Normal | Normal | Normal | Normal |
| Serum B12 level | Normal | Low | Normal | Normal | Normal | Normal | Normal | Normal | Normal |
| Transferrin | Low | Mild increase | Mild increase | Normal | | Increased | Normal | Normal | Mildly low |
| Bilirubin | | | | | | | Increased | | |