Glucose-6-Phosphate Dehydrogenase Deficiency (G6PD)
Sample for Glucose-6-Phosphate Dehydrogenase Deficiency Anemia
Collect the venous blood in lavender top or green top test tubes.
Indications for Glucose-6-Phosphate Dehydrogenase Deficiency Anemia
This test is used to find Glucose-6-Phosphate Dehydrogenase Deficiency Anemia.
It is useful in males susceptible to these genetic defects.
History of the Glucose-6-Phosphate Dehydrogenase Deficiency Anemia (G6PD) deficiency:
G6PD deficiency directly resulted from investigations of the hemolytic anemia effect of the antimalarial drug primaquine in the 1950s.
Hemolytic anemia due to antimalarial drugs was reported in Pnanamian plantation workers.
During the Korean War, this hemolytic anemia due to antimalarial drugs was described by labeling the RBCs.
Carson and associates identified the enzyme G6PD deficiency in 1956 in an individual who developed hemolytic anemia after taking the antimalarial drugs primaquine.
Yoshida first time isolated the purified enzyme from the human RBCs in 1966.
Later on, the variants of the G6PD were identified by the sequencing of amino acids, DNA cloning, and nucleotide sequencing.
Recent advances in molecular biology have enabled the classification of the variants of G6PD deficiency, and there are around 50 gene mutation groups.
Another reference says >400 variants are present.
Incidence of Glucose-6-Phosphate Dehydrogenase Deficiency Anemia:
There is a high prevalence in Africa of G6PD deficiency.
Also increased incidence in Southern Europe, the Middle East, Southeast Asia, and Oceania.
G6PD deficiency affects 12% of African Americans.
Definition of Glucose-6-Phosphate Dehydrogenase Deficiency Anemia:
G6PD is the enzyme that catalyzes the first step in the hexose monophosphate pathway, converting glucose-6-phosphate to 6-phosphogluconate and generating NADPH from the NADP. NADPH will produce a reduced form of glutathione; in turn, glutathione helps maintain the RBC membrane.
This is an X-linked (sex-linked) genetic abnormality of  glucose-6-phosphate dehydrogenase deficiency, which is an inborn error of the RBCs.

This is carried by the female X-chromosomes.
The defect is more severe in the male (XY) and a much smaller number of the females in whom both XX chromosomes have abnormal genes.
If only one X-chromosome is abnormal in the females, these are carriers. These may be asymptomatic to moderate abnormality, even in the case of stimulation.

The gene for G6PD is localized to chromosome Xq28 near the factor VIII gene.
The main clinical S/S is seen in males.
This will protect against the Plasmodium spp infestation.
Reticulocytes have more normal G6PD activity than the older RBCs.
Deficient RBCs of G6PD are more fragile and short-lived.
This disease is prevalent in Africa, South Europe, the Middle East (around 20%), South East Asia (around 49% in some regions), and Oceania.
Overall,>400 million people are involved with enzyme deficiency.
Basic mechanism (pathogenesis) of Glucose-6-Phosphate Dehydrogenase Deficiency:
There are two types of disease-causing mutation are:

Mediterranean  = G6PD med. 

This mutation is more severe and is due to every new RBC being deficient in the G6PD enzyme.
The G6PD enzyme deficiency is 10% of the normal.

African = G6PDA.

Young RBCs (these are reticulocytes) maintain an adequate G6PD enzyme level for a longer time.
 G6PD activity is around 20% to 60%.

G-6-PD is the initial enzyme involved in the pentose-phosphate pathway of RBC metabolism.

G6PD is involved in producing NADPH, which will maintain glutathione and other proteins in the reduced state and protect them from oxidants.
When hemoglobin is oxidized, it will precipitate as Heinz bodies.
When passing from the sinusoids of the spleen, the macrophagic cells target the Heinz bodies containing RBCs.

It catalyzes the removal of H+ ions from glucose-6-phosphate to produce 6-phosphogluconate and requires a cofactor NADP.
NADP is reduced to NADPH, preventing oxidants' effect on RBCs.

G-6-PD produces NADPH, which maintains the Glutathione and other proteins when the RBCs are exposed to oxidants.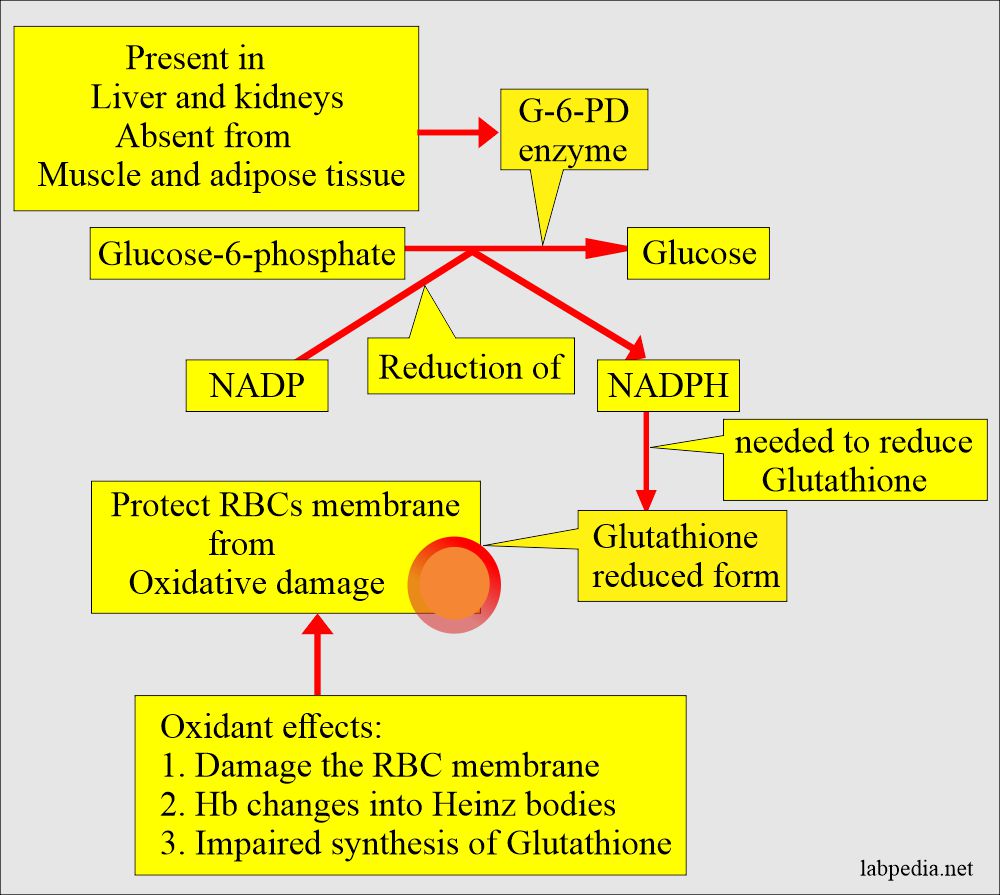 In G-6-PD deficiency, there is a shortage of NADPH, and RBCs can not neutralize the oxidant stress and are hemolyzed.
When RBCs are exposed to oxidant stress, it damages the RBCs membrane and gives rise to Heinz bodies' formation (denatured hemoglobin) formation.

RBCs containing the Heinz bodies will have difficulty crossing the splenic pulp and will not be rapidly eliminated from circulation.

A gene on the X-chromosome determines the structure of  G-6-PD, which gives remarkable polymorphism in the human population.
Reticulocytes are normal at the G6PD enzyme level compared to the older RBCs.
Glucose-6-PO4 (G6PD) structure:
It is a dimer form which is quite common.
Or tetramer form (these are pH-dependent).
It consists of identical subunits.
There are 515 amino acids.
It weighs 59 kDa.
Classification of the G6PD deficiency based on the amount of the enzyme:
G6PD may be associated with different clinical syndromes.
Class 1, where there is <5% of normal RBCs enzyme activity.

This is a rare disease.
It is chronic, congenital, and nonspherocytic hemolytic anemia.
This condition is worsened by oxidant drugs or febrile illness.
This condition does not improve by splenectomy.

Class 2, where there is <10% of the normal RBCs enzyme activity.

There may be acute hemolytic crises induced by the oxidant drugs like Primaquin, sulfonamides, and acetanilid.
This condition may be seen in acidosis.
There is no improvement by splenectomy.

Class 3 is 10% to 60% of the RBCs enzyme activity.

These patients may have hemolytic crises induced by the oxidant drugs or infections.
There is hemolysis which is self-limiting and subsides in 2 to 3 days.
This is also seen in hepatic coma, hyperthyroidism, myocardial infarction, megaloblastic anemia, and chronic blood loss.

Class 4 shows very mild or no deficiency of the G6PD enzyme.
Class 5 shows increased activity (only one such variant was described).

Classes 2 and 3 represent 90% of the cases. Classes 4 and 5 show no clinical signs or symptoms.
Causes of Glucose-6-Phosphate Dehydrogenase Deficiency Anemia (G-6-PD deficiency):
Vegetables like Fava beans.
Drugs:
Antimalarial drugs like:

Primaquine.
Pamaquine.
Chloroquine.
Fansidar.
Maloprim.
Quinine.

Antibacterial drugs like:

Sulphonamide.
Sulphones like co-cotrimoxazole, sulfanilamide, dapsone, and salazopyrin.
Nitrofurans.
Chloramphenicol.
Ciprofloxacin.
Dapsone.

Analgesics like:

Asprin.
Acetanilide.
Phenacetin

Antihelminths like stibophen and β-naphthol.
Other agents like vitamin K, probenecid, naphthalene, nalidixic acid, dimercaprol, and phenylhydrazine.
Glucose-6-Phosphate Dehydrogenase Deficiency (G6PD) decreased in:
African American females, 3% and 20%, are the carriers.
African American males are 13%.
It is also seen in other ethnic groups like Greeks, Sephardic Jews, and Sardinians.
It is seen in all patients with sensitivity to fava beans (favism).
Glucose-6-Phosphate Dehydrogenase Deficiency (G6PD) increased in:
In the case of ITP, it becomes normal after the splenectomy.
Pernicious anemia is 3 times the normal level and remains elevated for several months, even after the treatment with vitamin B12.
Clinical presentation of Glucose-6-Phosphate Dehydrogenase Deficiency Anemia:
Usually, these patients are asymptomatic and more common in males than females.
G6PDmed mutation is more severe, and even the very young RBCs are depleted of the G6PD enzyme.
G6PDA is more common in the USA. Young RBCs (reticulocytes) have an adequate level of G6PD enzymes.

G6PD activity is in the range of 20% to 60%.

Hemolytic anemia starts:

Acute hemolytic anemia in response to oxidant stress like fava beans or infections.

There is intravascular hemolysis,
There is hemoglobinuria.

Neonatal jaundice.
Rarely, there is congenital non-spherocytic hemolytic anemia. This may be because of some other enzyme deficiency.

G6PD can be divided into:

Type A  is present in about 20% of black Africans with reduced G6PD activity.
Type B is present in almost all Caucasians and 70% of black Africans with normal activity.
The main races affected are West Africa, the Mediterranean, the Middle East, and South-East Asia.
Severe deficiency occasionally occurs in white people.

The commonest presentation is neonatal jaundice.
There is congenital hemolytic anemia.
The patients may have drug-induced hemolysis.
Mostly hemolysis starts after eating the fava beans called favism.
Most of the patients do not have any symptoms.
RBC number is normal, and functions and survival are normal unless exposed to oxidative stress.
Antimalarial drugs primaquine directly lead to hemolysis.
Summary of the G6PD deficiency:

Drug-induced hemolysis.
Favism: Acute hemolytic anemia in response to oxidant stresses like fave beans.
Infection-induced hemolysis.
Neonatal jaundice.
Rarely is a congenital non-spherocytic hemolytic anemia.

Drugs that may increase the G6PD level are:

Vitamin C (ascorbic acid).
Vitamin K.
Aspirin and phenacetin.
Primaquine, and quinidine.
Sulfonamides.
Nitrofurantoin.
Tolbutamide.
Differential diagnosis of glucose-6-PO4 deficiency:
G6PD deficiency needs to differentiate from:

Drug-induced hemolytic anemia is associated with unstable hemoglobinopathies.
Enzyme defects in the pentose-phosphate shunt, like γ-glutamyl cysteine synthetase, GSH synthetase, and possibly glutathione reductase, may mimic G6PD deficiency.
Hemoglobinopathies can be differentiated by stability tests and electrophoresis. Both of these tests are normal in G6PD deficiency.
G6PD enzyme assay or fluorescent screening test will be positive only in G6PD deficiency.
Favism:
Favism is the grave end result of G6PD deficiency of the RBCs.
Hemolysis may be sudden in onset. This is reported within the first hours after exposure to the fava beans.
In most cases, onset is gradual; hemolysis is noticed in 1 to 2  after the beans ingestion.
The urine will become red or quite dark.
In severe cases, the patient may go into shock.
Lab findings of G6PD deficiency:
In between the crises, the blood picture is normal.
Hemoglobin varies from 7 g/dL to normal.
Typically following the drug exposure, there is an acute drop in the Hemoglobin level (Hb is low in hemolytic crises).
There is an increase in the reticulocyte number. These may go as high as 50%.
The peripheral blood smear shows poikilocytosis. During the attack, the peripheral blood smears show:

RBCs with punched-out defects in their shapes are seen.
There are fragmented RBCs, and more typically, there are blister cells.
There may be seen normoblastic cells.
Spherocytes may be seen.
Heinz bodies may be found in the RBCs.
Diagnosed by a screening test for G-6-PD deficiency.

Screening test = Negative
Quantitative = 8.0 to 8.86 U/g hemoglobin.

A definite diagnosis by enzyme assay of RBCs.

In an acute attack, the screening test is normal.
But in the asymptomatic phase, the screening test will be abnormal, indicating deficiency.

When you give a standard dose of primaquine tablet, this will be evidenced by the hemolysis as follows:

Decreasing Hct. It usually starts after 2 to 4 days and peaks in 8 to 12 days.
Heinz bodies appear in the first week of the dose.
There is increased serum bilirubin in the first week of the dose and hemolysis.
Reticolutyes start to increase by the 5th day of the dosage, reaching a maximum of 10 to 20 days.
Hemolysis subsides spontaneously even if the primaquine is continued.

The ascorbate cyanide test:

Add the patient's RBCs to the ascorbate cyanide.
G6PD-deficient RBCs cells are more sensitive to oxidant stress than normal cells.

The fluorescent spot test:

Patient RBCs are incubated with NADP and G6P, measuring NADPH production with fluorescence.
Treatment of G6PD-deficiency:
Stop the offending agent.
Keep a high urine output.
Blood transfusion if there is severe anemia.
Babies having a deficiency of G-6-PD deficiency will have neonatal jaundice.

These babies need phototherapy and maybe a blood transfusion.
Prognosis of G6PD-deficiency:
Hemolytic crises in type A are usually self-limited, even if the drug is continued.
Gallstones may be seen in these patients.
In crises, Hb may be low otherwise are stable.
Favism may have a fatal outcome.
Warning for patients with G6PD deficiency:
Do not give sulfonamides or antipyretics in known cases of G6PD deficiency.
Questions and answers:
Question 1: What is the complication of G6PD deficiency?

Question 2: Can you see Heinz bodies in G6PD deficiency?