Urine for Urobilinogen in the Urine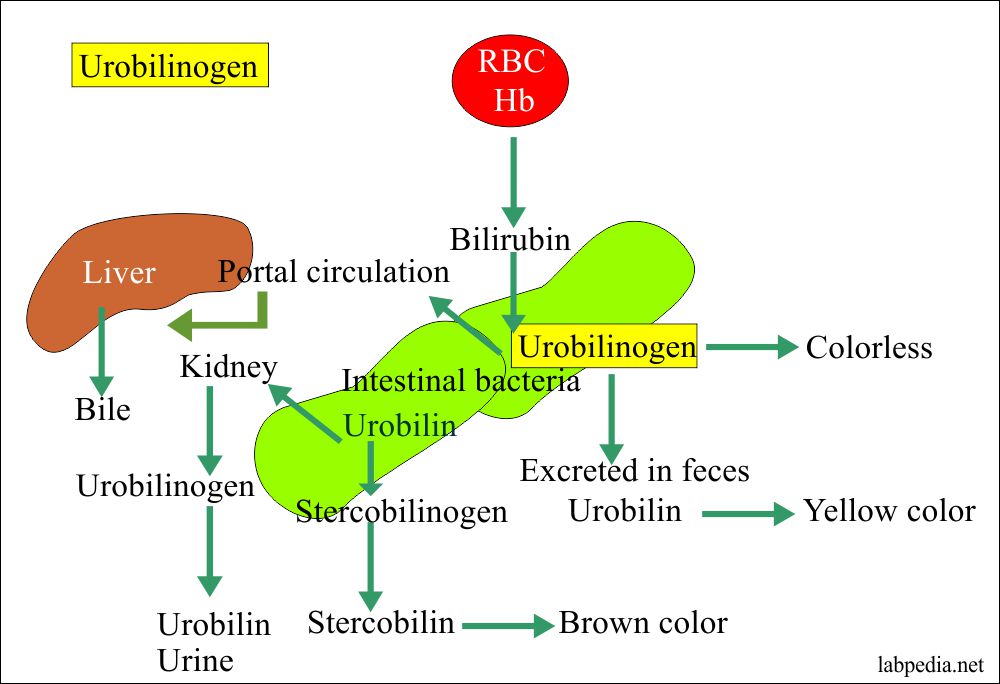 Sample
The test is done in the urine.
A random sample can be taken.

2 hours fresh urine sample can be used, kept cool, and protect from the light.

The sample is stable at 2 to 8 °C for 24 hours when urine is kept in the dark.
Don't expose urine to light or store it at room temperature.
2 to 3 hours postprandial after the noon meal is the best sample.
Purpose of the test (Indications)
To assess liver function.
This is the earliest sign of liver disease.
This is positive in hemolytic anemia.
Precautions:
False-positive test seen in:

Drugs containing azo dyes:

Phenazopyridine.
Nitrofurantoin.
Riboflavin.
p-aminobenzoic acid.
Highly colored pigments and their metabolites.
Methyldopa.

False-negative test seen in:

Oxidation of urobilinogen to urobilin.
Formalin preservative.
Pathophysiology
Hemoglobin breaks into bilirubin enter the intestine, and thereby the action of bacteria is transformed into urobilinogen.

Urobilinogen in the intestine is excreted as urobilin, which gives a yellow color to urine.

Urobilinogen in the intestine is reduced to brown color stercobilin, which gives color to stool.
Urobilinogen is absorbed into the portal circulation, reaches the liver, is metabolized, and is excreted into the bile.
Urobilinogen traces escape removal by the liver carried to the kidney excreted in the urine.
Urobilinogen is colorless.

The intestinal bacteria oxidize urobilinogen to Urobilin, which is a brown pigment.

Its absence indicates obstructive jaundice.
Normal
Random sample = < 1 mg/dL.
24 hours sample = 0.5 to 4 mg/dL.
Another source
Urine = 0.5 to 4.0 Ehrlich units/day.
Feces = 75 to 400 Ehrlich units/day.
Another source
Urine urobilinogen  =  0.1 to 1.0  Ehrlich units /2 hours.
One Ehrlich unit = approximately 1 mg of urobilinogen.
Procedure
Add fresh urine sample to Ehrlich's reagent.
Ehrlich's reagent:

Principle:

Urobilinogen + p-dimethylamino benzaldehyde (Erhlich's reagent) = Form red color.
 Ascorbic acid is added as a reducing agent to keep urobilinogen in a reduced state.
The addition of saturated sodium acetate stops the reaction.

Dissolve 0.7 grams p-Dimthylaminobenzaldehyde in  150 mL of concentrated HCl.
Add 100 mL of distilled water.
This is stable in a colored bottle, especially in dark brown.

The red color is produced.

For feces, the same method can be  used except:

Stool Aquos extract is treated with the alkaline ferrous hydroxide to reduce urobilin to urobilinogen.
Now add Ehrlich's reagent.
Increased Urobilinogen is seen in:
Cirrhosis due to:

Alcoholic cirrhosis.
Viral diseases.
Chemicals.

Biliary obstruction.
Biliary tract infection, cholangitis.
Hepatotoxic drugs e.g.aminosalicylic acid, Phenothiazine, and penicillin,
Due to increased RBCs destruction:

Hemolytic anemia.
Pernicious anemia.
Malaria.
Drugs.

Acute hepatitis.
Pulmonary infarction.
Hematoma.
Excessive ecchymosis.
Decreased Urobilinogen is seen in:
Gallstones.
Biliary obstruction.
Biliary tract infection (severe).
Pancreatic cancer (head of the pancreas)
Drugs, e.g., Aspirin, Chloramphenicol, Insulin, phenytoin, Streptomycin, tetracycline, Methyldopa, and sulphonamide.
Table showing the presence of urine bilirubin and urobilinogen in various conditions:
| | | | | |
| --- | --- | --- | --- | --- |
| Test | Normal person | Hemolytic anemia | Liver disease | biliary obstruction |
| urine bilirubin | negative | negative | positive/Negative | positive (+++) |
| urine urobilinogen | negative | positive (+++) | positive (++) | absent (Low) |
Normal urine picture:
Physical features
Chemical features
Microscopic findings

Color = Pale yellow or amber
Appearance = Clear to slightly hazy
pH = 4.5 to 8.0
Specific gravity = 1.015 to 1.025

Blood = Negative
Glucose = Negative
Ketones= Negative
Protein = Negative
Bilirubin = Negative
Urobilinogen = Negative (±)
Leucocyte esterase = Negative
Nitrite for bacteria = Negative

RBCs = Rare or Negative
WBC = Rare or Negative
Epithelial cells = Few
Cast = Negative (Occasional hyaline)
Crystal = Negative (Depends upon the pH of the urine)
Bacteria = Negative
---