Urine Chemical Examination and Interpretations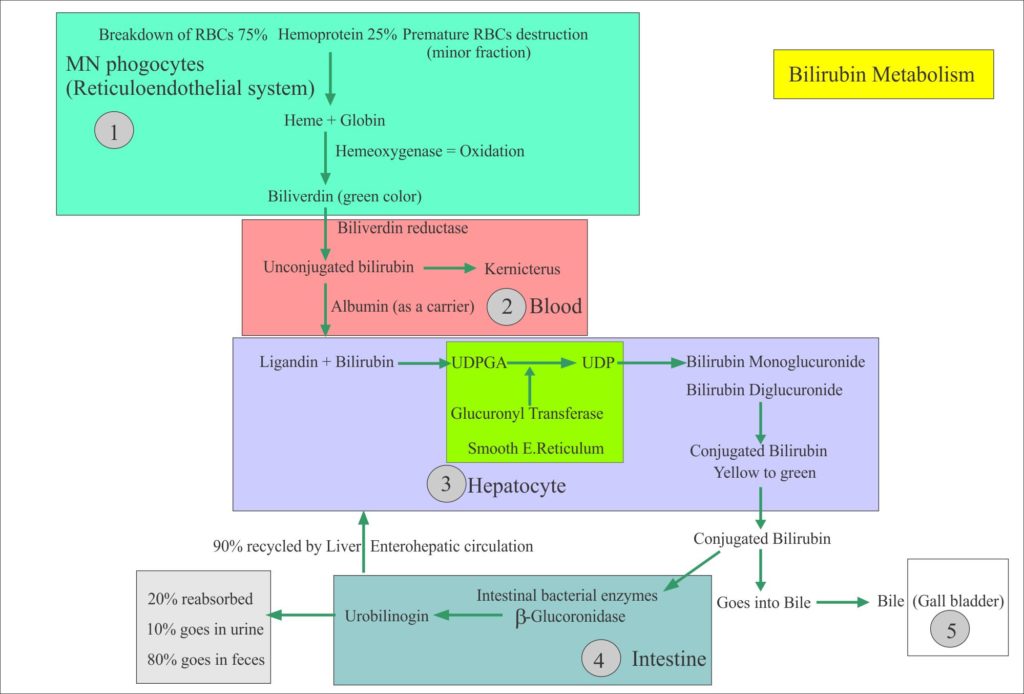 Chemical analysis:
Protein
The tubules reabsorb most of the protein filtered in the glomerular filtrate.
Proteinuria is the first indicator of renal diseases.
The random sample is negative.
Clinical types of proteinuria are:
Prerenal proteinuria: This is caused by  nonrenal diseases and is transient; it is seen in:

Hemoglobinuria.
Myoglobinuria.
Acute phase proteinuria.
This is usually not detected by the routine urine reagent strips.

Renal proteinuria. This is due to renal diseases involving glomeruli or tubules.

In glomerular damage, albumin appears in the urine, followed by the WBCs and RBCs.
It is seen in:

SLE.
Streptococcal glomerulonephritis.
Strenuous exercise  (reversible condition).
Pre-eclampsia, and hypertension. (reversible condition).
Toxic heavy metals.
Severe viral infection.

Postrenal proteinuria. Proteins can be added as the urine passes through the ureter, urinary bladder, and urethra.

Bacterial and fungal infection of the lower urinary tract,
Menstrual contamination also contains proteins.
Prostatic fluid and spermatozoa.

Orthostatic or postural proteinuria. This is a persistent benign condition frequently seen in young patients.

It appears when the person is upright and disappears when the patient lies down.
Procedure to confirm the diagnosis:

These patients are advised to empty their bladder before going to bed.
Take the first urine sample when patients get up.
Take another sample when patients upright for several hours.

The first sample will be negative, and the second sample will be positive in orthostatic proteinuria.

Microalbuminuria. This is seen in diabetic nephro[athy.


This microalbuminuria indicates diabetic complications.
The further complication of diabetes can be prevented by controlling diabetes.
This is also associated with an increased risk of cardiovascular diseases.
Microalbuminuria is reported as albumin excreted as µg/min or in mg/24 hours.

The level is significant from 20 to 200 µg/min Or 30 to 300 mg/24 hours.
In these cases, the albumin/creatinine ratio is >3.4 mg/mmol.
The first-morning specimen is recommended.

Bence Jones proteinuria is seen in multiple myeloma patients.

These are monoclonal light chain immunoglobulins.
This is a low molecular weight protein and is excreted in the urine.
Procedure to detect BJ protein:

Heat the urine, and these proteins coagulate at 40 to 60 °C.
Dissolve when the temperature reaches 100 °C.

Reading the result: Urine turbid at 40 to 60 °C and clear at 100 °C is considered positive.

Type and degree of proteinuria:


Degree of proteinuria
Amount of protein excreted in the urine
Etiology

Marked proteinuria
>4 g/24 hours excreted

Nephrotic syndrome
Acute and chronic GN,
SLE
Severe venous congestion of the kidney

Moderate proteinuria
0.5 to 4 g/24 hours excreted

Nephrotic syndrome
Acute and chronic GN
Severe venous congestion of the kidney
amyloid disease, SLE
pyelonephritis
multiple myeloma
pre-eclampsia
toxic nephropathy
Inflammation of lower urinary tract
Bladder stones

Minimal proteinuria
<0.5 g/24 hours

1. Chronic pyelonephritis

2. Polycystic kidneys

3. Renal tubular diseases

Postural proteinuria
<1.0 g/24 hours
Occurs only when the patient is standing or walking
Functional proteinuria
Benign and transient

Usually occurs in fever
exposure to cold,
Emotional stress,
Excessive exercise

Normal:

In 24 hours of urine, 150 mg or 20 mg/dL. ( another source = it is 0 to 0.1 gm).
Another source:  Protein in the urine is <10 mg/dL or 100 mg/24 hours.

This protein consists of mainly low molecular weight serum proteins, so the major protein is the albumin seen in the urine.
Other proteins include serum and tubular microglobulins, Tamm Horsefall protein produced by the tubules, and proteins from the prostate and vaginal secretions.
Mostly urine strips are used as a screening of proteinuria. These strips are specific for albumin.

False-positive results are seen in:

In alkaline urine.
In highly buffered urine.
Reagent test strip test for protein in the urine:
Various urine test for proteins and their characteristics:
Characteristics
Heat and acid
Reagent strip
Salfosalicylic acid

Protein detected
Minimum level

Albumin = 5 to 10 mg/dL
Bence-Jones clears with boiling.
Globulins

Albumin = 5 to 10 mg/dL

Albumin = 0.25 mg/dL
Bence-Jones
Glycoproteins
Globulins

Proteins not detected

Bence-Jones
Globulins

False-negative result
Highly alkaline urine

Very dilute urine
High salt concentration

Highly alkaline urine
False-positive result

PO4 and urates may confuse
Drugs metabolites like:

Sulfonamides
Tolbutamide
Penicillin high doses

Skin disinfectants

PO4 and urates may confuse
Drugs metabolites like:

Sulfonamides
Tolbutamide
Penicillin
Chlorpromazine
Cephalothin
Clinical types of proteinuria and etiology:
Clinical type of proteinuria
Etiology of proteinuria
Prerenal

I/V hemolysis
Muscle injury
Multiple myeloma
Severe infections

Renal

Immune complex disease
Amyloidosis
Dehydration
Hypertension
Pre-eclampsia
Toxic drugs
Diabetic nephropathy
Strenuous exercise
Orthostatic proteinuria

Postrenal

Lower urinary tract infection
Vaginal secretion
Prostatic fluid /spermatozoa
Menstrual contamination
Injury/trauma

Tubular disorders

Severe viral infections
Toxic injury.
Heavy metal intake
Fanconi's syndrome
Glucose
Because of the diagnosis of diabetes mellitus, glucose in the urine is very commonly advised.
The glucose test is part of a routine check-up.
Glucose metabolism: Glucose filtered in the glomerular filtrate is almost all is absorbed by the proximal convoluted tubules; therefore, there will be a negligible amount of glucose in the urine.
In hyperglycemia, the tubular transport of glucose stops, and glucose starts appearing in the urine.
For testing diabetes mellitus, take after the 2 hours of the meal.

The first-morning sample does not give a real picture because of the last evening meal. Void the first sample and then collect the next sample.
The glucose renal threshold is 160 to 180 mg/dL.

Normal:

In a random sample is negative (qualitatively is negative).
In 24 hours, urine glucose is 0 to 0.3 grams.
Another source, glucose in random urine, is <30 mg/dL.

Glucose in urine during pregnancy is called gestational diabetes.

This is usually seen around the 6 months of pregnancy.
Hormones secreted by the placenta are believed that they block the action of insulin and leads to hyperglycemia.

Renal glycosuria is seen when the blood glucose level is normal, and glucose appears in the urine.

Renal tubules' absorption of glucose by the tubules is compromised.
It is usually seen in end-stage kidney diseases, osteomalacia, and Fanconi's syndrome.

Glucose false tests are seen in the urine's high specific gravity and contain a large amount of ascorbic acid.
Hyperglycemia of nondiabetic origin is seen in:

Pancreatitis.
Pancreatic cancer.
Acromegaly.
Cushing's syndrome.
Hyperthyroidism.
Pheochromocytoma.
All the above conditions produce hormones like glucagon, epinephrine, cortisol, thyroxine, and growth hormone.
These hormone acts against the insulin and leads to glycogenolysis.

Glucose in the urine can be checked by:

Reagents strips, glucose oxidase reaction.
Copper reduction method.

Glucose-oxidase reagent strips:

The result is reported as 1+, 2+, 3+, 4+ and these colors also provide quantitative measurements ranging from 100 mg/dL to 2000 mg/dL or 0.1% to 2%.

Copper reduction method:

This test was used in the early days.
This test is based on the reduction of copper sulfate (CuSO4) to cuprous oxide in the presence of alkali and heat.
Reading: The color changes from blue (negative = CuSO4) to green, yellow, orange/red (CuO).
Urine glucose benedict solution:

Comparison of Benedict reaction and Oxidase method:

Characteristics
Benedict reaction (CuSO4)
Glucose oxidase
Minimum level detected
Glucose 50 to 250 mg/dL
Glucose 50 mg/dL
Other sugars detected

Galactose
Lactose
Fructose
Pentose
Maltose

False-negative

Ascorbic acid (Vitamin C)
A large number of salicylates
Homogentisic acid

False-positive

Vitamin C (Ascorbic acid)
Salicylates
Many antibiotics
Levodopa
X-ray contrast media
Homogentisic acid
Ketones Bodies

Indications for the ketone bodies:

Diabetic acidosis.
Starvation.
Vomiting.
Malabsorption syndrome.
Pancreatic disorders.
Insulin dosage monitoring.
Strenuous exercise.
Inborn error of amino acid metabolism.

Ketones are the intermediate products of fat metabolism, and these are:

acetone.
Acetoacetate.
β-hydroxybutyric acid.

Normally no ketone bodies are found in the urine because all the metabolized fats are completely broken down to CO2 and H2O.

When the carbohydrates source of energy is not available, then body fat stores are mobilized to supply energy, then ketones are found in the urine.

Ketonuria shows a deficiency of insulin.

It needs to adjust the dose of insulin in diabetic patients.

The increased amount of ketones in the blood leads to electrolyte imbalance and dehydration.
If this is not corrected, it leads to acidosis, and ultimately the patient goes into a coma.
These ketone bodies' ratio is different, acetoacetate 20%, acetone 2%, and β-hydroxybutyrate 78%.
Normal:

These are negative in the random sample.
Qualitatively are also negative.
Urobilinogen
Indications:

Early detection of liver diseases.
Hemolytic diseases.
Hepatitis and Cirrhosis.
In carcinomas.

Urobilinogen is a bile pigment like bilirubin, and it is formed by the degradation of the hemoglobin.
It is formed in the intestine from the bilirubin by the action of the intestinal bacteria.
Most of the urobilinogen is reabsorbed into the blood circulation (enterohepatic circulation), and some of this is excreted through the kidney into the urine.
 In the feces, it is oxidized to urobilin and gives a characteristic brown color to stool.

So usually, urine test for urobilinogen is positive. There is normally <1 mg/dL or Ehrlich unit is found in the urine. So it is needed to test for both bilirubin and urobilinogen to diagnose liver diseases.

Absent urobilinogen in the urine and feces is diagnostic of biliary duct obstruction.


| | | | | |
| --- | --- | --- | --- | --- |
| Urine test | In normal person | In liver diseases | In biliary obstruction | In hemolytic anemia |
| Bilirubin | Negative | Positive or negative | Positive (+++) | Negative |
| Urobilinogen | Normal level | Increased (++) | Absent or low | Increased (+++) |

Test for urobilinogen is by the Ehrlich aldehyde reaction:

Perform this test on the fresh urine sample because it is unstable and breakdown to urobilin on keeping the urine.
This test detects urobilinogen at least at the level of 0.1 mg/dL.
The normal level with this method is 0.1 to 1.0 mg/dL.

The level of 2 mg/dL is the cut-off point for the result to be abnormal.
These are 0 to 4 mg / 24 hours.

Random urine = 0.1 to 1 Ehrlich U/dL or <1 mg/dL.

2 hours urine = 0.1 to 1.0 Ehrlich U/2 hours or <1 mg/2 hours.
24 hours urine = 0.5 to 4.0 Ehrlich U/24 hours or 0.5 to 4.0 mg/24 hours.

Increased level of urobilinogen is seen in:

Hemolytic anemia.
Pernicious (megaloblstic) anemia.
Malarial attack.
Excessive bruising.
Pulmonary infarction.
Cirrhosis.
Acute hepatitis.
Cholangitis.

A decreased level of urobilinogen is seen in:

Complete or partial obstruction of the biliary tract.
Cholelithiasis.
Biliary duct inflammation.
Cancer of the head of the pancreas.
Antibiotic therapy will suppress intestinal bacterial flora.
Bilirubin
Bilirubin in the urine is called bilirubinuria.
This will appear in the urine before the appearance of jaundice.
Bilirubin is a pigmented yellow compound, which is a degradation product of hemoglobin.
The following diagram gives the concept of the formation of bilirubin. When there is increased production, then it may appear in the urine.
Conjugated bilirubin appears in the urine when the normal degradation cycle is disrupted by obstruction of the bile duct-like gall stones or cancer.

Another possibility is when the liver cells are damaged and allowing the leakage of bilirubin directly into the circulation.
Hepatitis and cirrhosis are common causes of liver cell damage and resulting in bilirubinuria.
Increased hemolysis does not produce bilirubinuria.

Bilirubin in the urine is detected only if the urine sample is fresh because bilirubin decomposes rapidly in bright light.
If the urine is left in the lab, then bilirubin is converted into biliverdin, a green compound by the light not detected by the bilirubin strips.
Normal:

Urine bilirubin is negative (0 to 0.2 mg/dL (0 to 0.34 µmol/L).
Bilirubin can be detected in urine by the Foam test.

Procedure for the foam test:

Place a small volume of the urine in the test tube, cap it, and shake it vigorously.
Result:

Foam at the top is white means bilirubin is negative.
If the foam is orange color means bilirubin is present.

Other methods to detect the bilirubin in the urine are:

Diazo reaction in the form of tablets or Dipstick.
Fouchet's test.
Ferric chloride test.
Comparison of Fouchet's, Ferric chloride and Diazo reaction for Bilirubin:

Characteristics

Fouchet's test
Ferric chloride test

Diazo reaction (tablet or dipstick)
Sensitivity
many compounds give different colors to FeCl3

Tablet = 0.2 to 0.4 mg/dL

Dipstick = 0.0 to 0.1 mg/dL

False-negative result
If delayed, then bilirubin is oxidized

High level of nitrite
Vitamin C (Ascorbic acid)
If the test delayed >4 hours, then bilirubin is oxidized

False-positive result

Urobilin
Urobilinogen
Aspirin metabolites

Chlorpromazine

Increased bilirubin in the urine seen in:

Hepatitis and liver diseases.
Obstructive biliary tract disease.
Liver or biliary tract tumors.
Septicemia.
Hyperthyroidism.
Hemoglobinuria
Hemoglobinuria causes are:

It may result from the hemolysis of RBCs in the urinary tract. This happens in the dilute and alkaline urine.
This can also take place in intravascular hemolysis, where hemoglobin filters out through the glomeruli. No RBCs will be seen in the urine.

Pathogenesis:

Under normal conditions, the complex of hemoglobin+haptoglobin complex can not filters out of the glomeruli.
This happens when the free hemoglobin exceeds the haptoglobin e.g.

Hemolytic anemia.
Transfusion reactions.
Infection.
Severe burns.
Strenuous exercise.
Malarial infection.

Normal = This is negative.
Myoglobinuria

Myoglobin is a heme-containing protein found in the muscle tissue.
This is seen in the case of rhabdomyolysis.
The heme portion of the myoglobin is toxic to the renal tubules; increased concentration will lead to renal failure.
In the blood hemolytic transfusion reaction, this may cause damage to kidneys and leads to renal failure.
Causes are:

Crush syndrome.
Muscle wasting diseases.
Trauma.
Alcoholism.
Convulsion.
Extensive exertion.
Heroin abuse.
| | | |
| --- | --- | --- |
| Clinical parameters | Hemoglobinuria | Myoglobinuria |
| History of the patient | | The typical history of the patient |
| Appearance of plasma | Red color | Normal |
| CPK | Normal | Increased |
| LDH | Normal | Increased |
| Precipitation test with (NH4)2SO4 | Red ppt, and supernatant negative blood test | The supernatant red color and positive blood test |
Ammonium sulfate (NH4)2SO4) concentration test is done to differentiate hemoglobinuria and myoglobinuria:
Phosphorus
Most of the body's phosphorus is combined with the calcium in the bones.
About 15% is present in the blood, making the main intracellular anions.
The human body contains 620 g of phosphorus, mainly in the form of phosphate.
The urine HPO4-2: H2PO4– ratio varies over a wide range, from 1: 100 at pH 4.5 to 90:10 at pH of 8.0.
Urine for phosphorus for 24 collection needs acid-washed detergent free containers.
Indication for urinary 24 hours phosphorus:

In hyperparathyroidism.
In hypoparathyroidism.
In case of renal losses.

Phosphorus has many functions in the body like:

It has a role in glucose and lipid metabolism.
It helps in the storage and transfers the energy in the body.
It generates bony tissue.
It maintains the acid-base balance in the body.

Normal:

Serum level = 2.4 to 4.1 mg/dL (0.78 to 1.34 mmol/L).
Urine = 1 gram / 24 hours.
This also depends on the diet.
Inorganic phosphate = 20 to 40 meq/L.
Creatinine /  Creatine

Creatine is synthesized in the liver, pancreas, and kidneys from the amino acids arginine, glycine, and methionine.
It is transported from blood to muscles, the brain, and other organs converted to phosphocreatine and act as an energy reservoir like ATP.
Creatinine is the waste product of creatine and phosphocreatine.
Most of the creatinine is produced in the muscles, so it is proportional to the muscle mass.
Creatinine entered the blood and excreted through the kidney.
Indications:

To evaluate kidney diseases.

During the collection of the 24 hours urine, just refrigerate it, and no preservative is needed.
Normal:

1.0 to 1.6 gm / 24 hours.
Or 15 to 25 mg / kg body weight / 24 hours.
Nitrites/Nitrates
Some of the bacteria from the urinary tract convert Nitrates into nitrite.

Bacteria containing the enzyme reductase will convert nitrate to nitrite.

NO3 →NO2 in the presence of a reductase enzyme.
This test is negative in yeast and gram-positive bacteria.

The reductase enzyme is found in gram-negative bacteria like Enterobacteriaceae.

This is available as urine reagent strips and detects urinary tract infection.
Most of the infections start in the urinary bladder, and from there, it travels to the ureters, tubules, renal pelvis, and reaches the kidneys.
This is useful to detect the initial urinary bladder infection called cystitis.
Cystitis will lead to pyelonephritis as a complication of cystitis, and the result is:

Renal tissue damage.
Impairment of the renal functions.
Hypertension.
Sometimes lead to septicemia.

So the detection of bacteriuria in the early stages and the treatment in time will save from all these complications.
Indications:

Cystitis.
Pyelonephritis.
Monitoring of the patients who are at high risk for urinary tract infection.
Monitoring of antibiotic therapy.
Screening of the urine culture specimens.

These are negative.

A negative result does not rule out bacteriuria.

A gram-positive pathogen does not produce a nitrate-reducing substance like:

Staphylococcus.
Enterococcus.
Streptococcus.
Sodium
Sodium is the primary regulator for retaining or excreting water and maintaining acid-base balance.
Sodium also maintains the normal electrolytes intracellular and extracellular balance. This will take place along with potassium under the effect of aldosterone.
Indication for urinary sodium:

Electrolytes imbalance.
Acute renal failure.
Hyponatremia.
Oliguria.
Na+ excreted for diagnosis of renal and adrenal imbalance.

For the collection of 24 hours urine, no preservative is needed; only refrigerate during the collection.
Increased sodium in urine is seen in:

Addison's disease (adrenal failure, primary and secondary).
Renal tubular acidosis.
Diabetic acidosis.
Tubulointerstitial disease.
Salt losing nephritis.
Barrter's syndrome

Decrease urinary sodium is seen in:

Excessive sweating and diarrhea.
Prerenal azotemia.
Cushing's syndrome.
Primary aldosteronism.
Congestive heart failure.
Nephrotic syndrome with acute oliguria.

Normal:

Adult = 40 to 220 meq/24 hours urine (40 to 220 mmol/day)
Child = 41 to 115 meq/24 hours urine (41 to 115 mmol/day)
Value is salt intake dependent.
Potassium
Potassium acts as a body buffer system and serves an important role in the maintenance of electrolyte balance.
This study is helpful for the study of renal and adrenal disorders.
Potassium in the urine is in the form of KCL, K2SO4, and K2PO4 salts.
K+ values, <20 meq/L, are associated with nonrenal causes.

K+ >20 meq/L are associated with renal causes.

Increased urinary K+ is seen in:

Diabetic and renal tubular acidosis.
Primary renal diseases.
Cushing's syndrome.
Starvation.
Primary and secondary aldosteronism.
Fanconi's syndrome.
The onset of metabolic alkalosis.

The decreased urinary K+ value is seen in:

Addison's disease.
In patients with K+ deficiency.
Pyelonephritis and glomerulonephritis.

Indications:

To evaluate the electrolyte imbalance.
Renal disorders.
Adrenal glands disorder.

For collecting urine for 24 hours, no preservative is needed; only refrigerate the sample during collection.
Normal:

Adult = 25 to 125 meq/24 hours urine (25 to 125 mmol/day).
Child = 10 to 60 meq/24 hours urine (10 to 60 mmol/day)
Values are diet-dependent.
Calcium
The parathyroid gland hormones maintain calcium hemostasis.
An adequate amount of calcium is excreted in the stool and a small amount in the urine.
Calcium absorption is dependent upon dietary calcium intake.
Increased calcium in urine is a result of:

Increased intestinal absorption.
A lake of renal tubular reabsorption.
Resorption or loss of calcium from the bones.
Or there is a combination of the above mechanism.

Calcium present in urine in the form of  CaCl2, CaSO4, and CaPO4 salts.
Urinary calcium does not have much value in the differential diagnosis of diseases.
Indications:

To evaluate the calcium intake.
To evaluate the rate of absorption from the intestine.
To find resorption from the bone.
To evaluate the renal loss.

Increased urine calcium is seen in:

Hyperparathyroidism in 30 to 80% of the cases.
Paget's disease.
Renal tubular acidosis.
Vitamin D intoxication.
Fanconi's syndrome.
Idiopathic hypercalciuria.
Osteoporosis.
Osteitis deforms.
Sarcoidosis.
Bone metastasis in osteolytic type.
Multiple myeloma.
Thyrotoxicosis.

Decrease urinary calcium is seen in:

Hypoparathyroidism.
Vitamin D deficiency.
Metastatic carcinoma of the prostate.
Preeclampsia.
Malabsorption syndrome:

Celiac disease.
Steatorrhea.
Sprue disease.

Renal osteodystrophy.
Renal failure, acute nephrosis, and nephritis.
Vitamin-D resistant Rickets.

Normal:

Normal diet = 100 to 300 mg/24 hours (2.50 to 7.50 mmol/day)
Low calcium diet = 50 to 150 mg/24 hours (1.25 to 3.75 mmol/day)
Another source:

5 to 12 meq/L
< 150 mg/ 24 hours on low calcium diet.
Or o.3 g/24 hours of the urine.
Chloride
Chloride is most often associated with sodium balance and fluid changes.
Mostly urinary excretion of the chloride is parallel to the dietary intake.
This also reduces dietary salt intake, especially in patients with cardiovascular diseases,  hypertension, kidney diseases, and liver diseases.
Indications:

It is advised in electrolyte imbalance.
In the case of dehydration.
In metabolic alkalosis.

For the collection of the urine, no preservative is needed, only refrigerate the samples.
Normal:

Children's values are much lower than adult values.
The values vary with the salt intake and perspiration.
The values vary from different lab values.


| | |
| --- | --- |
| Age | Value in 24 hours of urine |
| Child <6 years | 15 to 40 meq/day (15 to 40 mmol/day) |
| Child 10 to 14 years | 64 to 176 meq/day (64 to 176 mmol/day |
| Adult | 140 to 250 meq/day (140 to 250 mmol/day) |
Magnesium
Magnesium excretion through the urine controls the blood magnesium level.
Urinary excretion of magnesium is dependent upon dietary intake.
If somebody takes 200 to 500 mg/day, then urinary excretion of magnesium is 75 to 150 mg/24 hours (3 to 6 mmol/day).
Indications:

It is advised in magnesium metabolism.
Electrolytes balance.
Advised in nephrolithiasis.

For collecting the 24 hours urine sample, 20 mL of 6N HCL is needed in a metal-free container. Also, refrigerate the sample.
Increased urine magnesium is seen in:

Chronic glomerulonephritis.
Increased level of blood alcohol.
Bartter's syndrome.

Decreased urine magnesium is seen in:

Magnesium deficiency.
Malabsorption.
Chronic renal diseases.
Hypoparathyroidism.
Hypercalciuria. It is seen in long-term parenteral therapy.
Decreased renal function like Addison's disease.

Normal:

 Urine = 75 to 150 mg/24 hours
urine = 3.0 to 6.0 meq/24 hours (3.0 to 6.0 mmol/day)
2 to 12 meq/L
Amino acids
Free amino acids are found in the urine and acid filtrate of the protein-containing fluids.
This test is advised when there are suspected genetic abnormalities, patients with mental retardation, reduced growth, or unexplained symptoms.
Indications:

This is advised for the screening of the inborn error of metabolism.
Advised for genetic abnormalities.

For collecting the 24 hours urine, no preservative is needed; only refrigerate while collecting the samples.
Normal:

Negative.
Ammonium
30 to 50 meq/L
The details are seen in part 3, urine complete analysis.