Stool Examination:- Part 1 – Normal Stool Examination (Findings)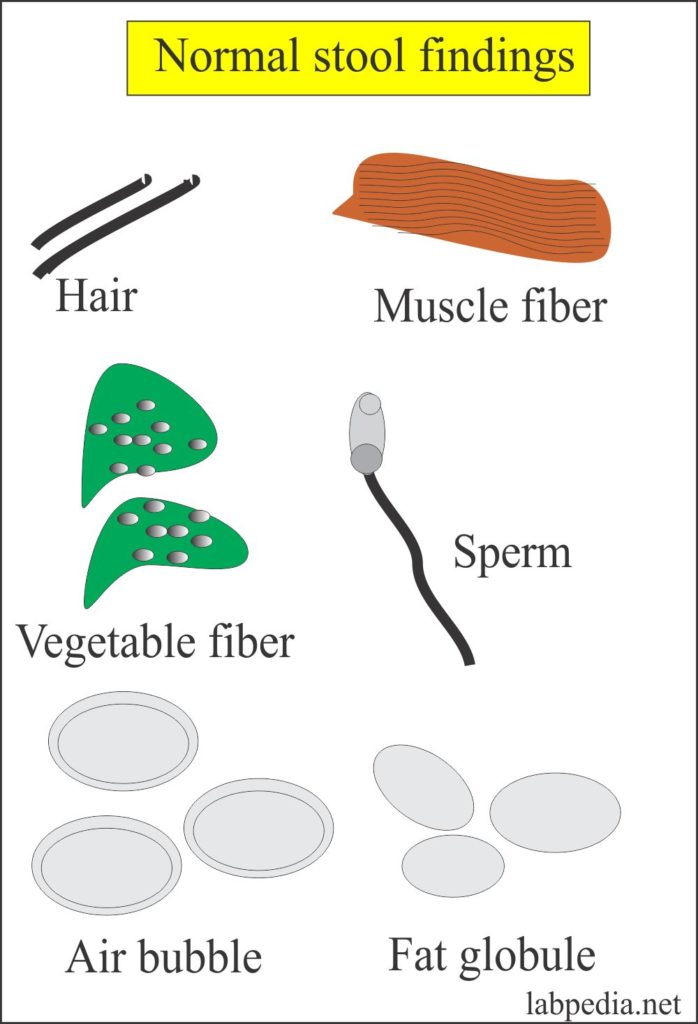 Sample 
The fresh stool can be examined immediately for the moving organisms.
Stool in 10% formalin can be used for Helminths and protozoa.
Stool in formalin-ethyl acetate is used to concentrate the stool.
The smallest amount of stool needed for the examination is 2 to 5 grams.
For ova and parasites, there are three methods:

Direct stool examination.
Concentration method.
The permanent stain of the stool.
Precautions
Advise patients for the following things for at least 48 hours before the collection of the stool:

Avoid mineral oils.
Do not take bismuth.
Don't take antibiotics like tetracyclines.
Anti-diarrheal drugs which are non-absorbent.
Avoid anti-malarial drugs.
The patient should not have a barium swallow examination before the stool examination.
For occult blood, stop iron-containing drugs, meat, and fish 48 hours before the collection.

Warm stools are better for the ova and parasites.
Don't refrigerate the stool for ova and parasites.
Stool for ova and parasites can be collected in formalin and polyvinyl alcohol. These are used as a fixative.
If there is blood or mucus, that should be included in the stool because most of the pathogens are found in this substance.
Exam the stool before giving antibiotics or other drugs.
The semi-formed stool should be examined within 60 minutes of collection.

The liquid stool should be examined within the first 30 minutes.
The solid stool should be examined within the first hour of collection.

Trophozoites degenerate in liquid stool rapidly, so exam the stool within 30 minutes.
In the case of constipated cases, use non-residual purgative on the night before collecting the stool.
Stool preservatives are:
Preservatives for the wet preparation are:

10% formol-saline for the wet preparation. This is the best preservatives as it kills the bacteria and preserves the protozoa and helminths.
Sodium acetate formalin.
Methionate iodine formalin. This is a good preservative for the field collection of the stool.

For staining, use Polyvinyl alcohol.
Avoid preservatives for the culture of stool.

Usually, three parts of the preservatives and one part of the stool.
The normal findings in the stool:
Quantity

The bulk of the stool is 100 to 200 grams.
It may be up to 250 grams on a vegetable diet.

Amount of water

Normally there is up to 75 % of the water in the stool.
It is interesting that our body also has roughly 75% of water.

Gross appearance

Normal is soft and formed.
Scanty mucous seen.
Abundant mucous seen.
Mucous with blood seen.
Grossly fibrous.
Homogenous appearance.

Color

The normal color is yellowish-brown due to the presence of bilirubin and bile.
In infants, the color is green, and the stool is loose or pasty.
Various colors depending on diet.

Clay color stool is seen in biliary obstruction.
Tarry stool is seen if there are more than 100 ml of blood coming from the upper GI tract.
The red color is seen due to blood in the large intestine or undigested beets or tomatoes.
The black color stool is seen due to blood, iron, or bismuth medication.

Consistency may be:

Soft.
Formed.
Semiformed.
Hard.
Loose.
Diarrheal.
Watery like a fluid.

pH

This is from 7.0 to 7.5.
This may be acidic with high lactose intake.
Macroscopic findings:
Macroscopic findings
Macroscopic appearance
Consistency of the stool

Hard
Formed
Semiformed
Soft
Loose
Diarrhea like
Watery or liquid

Colors of the stool

Dark brown
Brown
Pale brown
Red-brown
Yellow
Clay-colored
Green
Black

Gross appearance

Scanty mucus
Abundant mucus
Mucus with scanty blood
Bloody appearance
Homogenous/colloidal
Scanty fibrous
Fibers scant to moderate
Microscopic Examination:

Normally RBCs are absent.
Epithelial cells are present, and these are increased with GI tract irritation.
Few WBCs are seen, and these may be increased due to GI tract inflammation.
Crystals of calcium oxalate, fatty acids, and triple phosphate are commonly present.
Charcot-Leyden crystals are seen in parasitic infestation, especially in amoebiasis.
Undigested vegetable fibers and meat fibers are seen sometimes.
Neutral fat globules stained with Sudan may be seen normally 0 to 2 +.
Hematoidin crystals are sometimes seen after GI tract hemorrhage.

Urobilinogen

This is normally found 40 to 280 mg / 24 hours (100 to 400 Ehrlich units/100 gm).

Coproporphyrin

400 to 1000 mg/24 hours.

Fat

Normally absent, and this is less than 7 grams / 24 hours during three days period.
This is less than 30% of dry weight (This is on a diet of 50 grams of fat per day).
Normal

2 to 6 grams/24 hours (7 to 21 mmol/day).

Calcium

This is about 0.6 gram / 24 hours.

Stercobilinogen normally is 40 to 280 mg/day with an average of 150 mg/day.
Nitrogen depends upon the nature of the diet.

The normal amount is 1 to 1.5 g/day (<2.5 gram/day).
Summary of the normal stool:
Physical character
Normal values
Gross
May see vegetables, seeds, and fibers
Color

Normal = Brown
Clay-colored = Biliary obstruction
Red color = blood in the large intestine or undigested  beets and tomatoes
Black color = Iron or bismuth medication or blood

Odor
Variable depends upon the bacterial fermentation
Consistency
Variable soft to semiformed
Amount
100 to 200 g/day
Mucous
Normally absent
Blood grossly
Negative
Parasites
Negative
Biochemical features
pH
Neutral and maybe 7.0 to 7.5
Water contents
75%
Occult blood
Negative
Reducing substances
Negative <0.25 g/dL
Porphyrins

Corporphyrins = 400 to 1200 µg/day
Uroporphyrins = 10 to 14  µg/day

Neutral fat globules
Normal = 0 to 2+ seen with Sudan black stain
Urobilinogen
50 to 300 mg/day
Sodium
5.8 to 9.8 meq/day
Potassium
15.7 to 20.7 meq/day
Calcium
Roughly 0.6 gm/24 hours
Chloride
2.5 to 3.9 meq/day
Nitrogen
<2.5 g/day
Trypsin
20 to 95 U/g
Lipids (fats)
0 to 6 g/day (<7 gm/24 hours during 3 day period)
Osmolality
200 to 250 mOsm
Microscopic findings
WBCs

Negative to few
Increased in GIT inflammation

RBCs
Negative
Epithelial cells

Few seen
Increased in GIT irritation

Parasites
Negative
Yeast
Negative
Bacteria
Negative
Viruses
Negative
Ova and cyst
Negative
 Undigested foods
Negative to a small amount
 Meat fibers, starch
 Negative to a small amount
Crystals

Crystals of Caoxalate, fatty acids, triple phosphate are commonly seen.
Crystal of hematoidin is seen after the hemorrhage.
Charcot's crystals are seen after parasitic infestation, especially in amoebiasis.
In routine stool examination consists of:
Direct wet film.
Concentration method.
Permanently stained slide.

The following drawing shows how to make a thin smear for a permanent stain.
Note: Stool study is continued.
---