Fluid Analysis:- part 7 – Pericardial fluid Analysis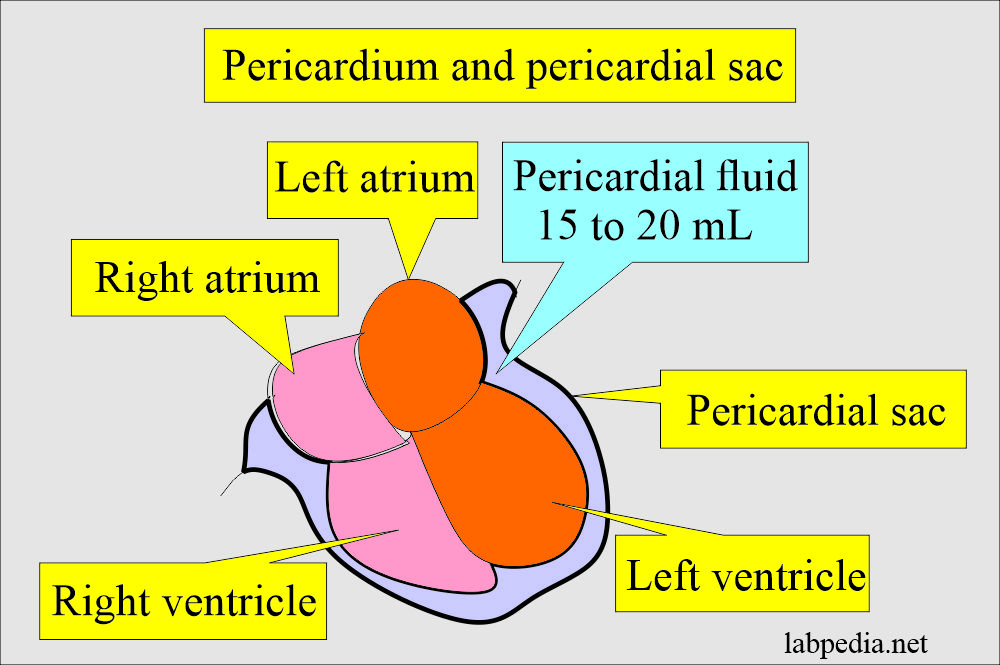 Pericardial fluid
Sample of Pericardial fluid
Pericardial fluid is aspirated and is tested.
Definition of pericardial fluid
The pericardial cavity is formed by two thin membranes that surround the heart.
These membranes are separated by a fluid-containing space called the pericardial cavity.
Pericardial fluid is secreted by the mesothelial cells, and it will lubricate the membranes that line the pericardial cavity.
Pathophysiology of Pericardial fluid
Normally there is 10 to 50 mL pericardial fluid (another reference: 15 to 20 mL) between the pericardial serous membrane.
This pericardial fluid formation is due to a change in the membrane's permeability, which may be because of infection (pericarditis), malignancy, injury, and metabolic disorders like uremia.
The function of the pericardial fluid:

It will allow the heart to move easily during contraction and relaxation.
Pericardial fluid lubricate the membranes.
It enables the membranes to slide over one another with minimal friction as the heartbeats.

Pericardiocentesis is the removal of fluid from the pericardial sac.

It is advised as a therapeutic emergency procedure in the case of cardiac tamponade to diagnose the cause of fluid accumulation.
Purpose of the cardiocentesis:

It will remove the fluid from the pericardial cavity to relieve the tamponade.
Through this procedure, can administer drugs.
Fluid was removed for diagnostic purposes.
Causes and classification of pericardial fluid:
Inflammation causes pericardial fluid accumulation, and there are other causes as well.
The pericardial effusion may be classified as:

Serous type of fluid seen in congestive heart failure and hypoalbuminemia.
The chylous type is seen in mediastinal lymphatic obstruction
Serosangineous type is seen due to trauma and malignant tumors.
Signs and symptoms of pericardial effusion:
These patients are usually symptomatic.
Sometimes the large volume of the fluid is accommodated without any symptoms when it accumulates slowly.
When there is a massive accumulation of the fluid, that may lead to cardiac tamponade.
Normal pericardial fluid:
Appearance = Clear or straw-colored
Bacteria = Negative
WBCs = No WBCs are seen.
Glucose = Equal to serum level.
Causes of Pericardial effusion:
Active rheumatic fever in 40% of the patients.
Bacterial infection in 20% of the cases is due to tuberculosis, streptococcus pneumonia, staphylococci, and gram-negative bacteria.
Other infections like Coxsackievirus rickettsia, parasites, and fungi.
Uremia may be the cause in 11% of the cases.
Benign nonspecific pericarditis.
Collagen diseases like SLE (2% of the cases).
Trauma.
Myxedema.
Malignant diseases (3.5% of the patient).
Rarely caused by severe anemia, scleroderma, polyarteritis nodosa, Wegner granulomatosis, rheumatoid arthritis, radiation, and mycotic infections.
The pericardial fluid
Clinical significance
Appearance
Clear and pale
Normal
Grossly bloody
Cardiac puncture and anticoagulant medications
Blood tinged
Infection and malignancy
Milky
Chylous and pseudonymous
Microscopic examination
Neutrophils
Increased in bacterial infection (>1000/cmm)
Lymphocytes
Chronic infection
Gram stain
Bacterial endocarditis
AFB stain
Tuberculous infection
Malignant cells
Metastatic carcinoma (lung, breast)
Chemicals test
CEA
Metastatic carcinoma
Adenosine deaminase
Tuberculous infection
---