Human Leucocyte Antigen B27, Histocompatibility Antigen (HLA B-27)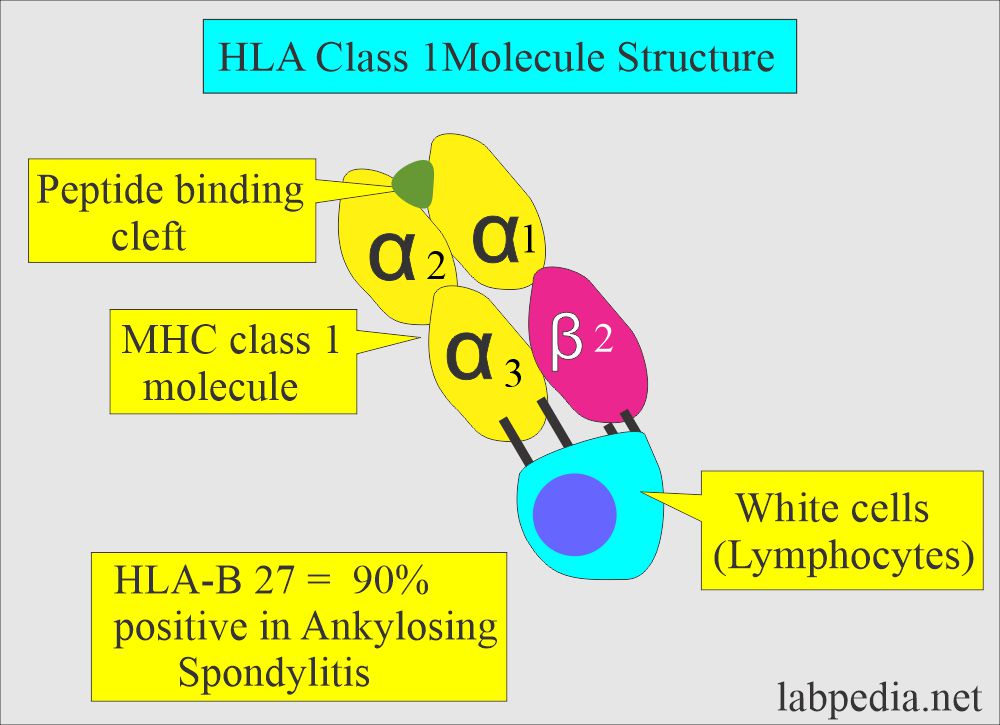 Human Leucocyte Antigen B27
Sample for HLA-B27
The patient serum is needed.
The random sample can be taken,  no special preparation is needed.
Purpose of the test (Indications)
To diagnose Ankylosing spondylitis.
HLA B27 is also advised when the patient has:

Joint pain and swelling.
The stiffness of the joints.

HLA Antigen typing may be done in Bone marrow or kidney transplantation.
Definition of HLA-B27
White blood cells possess a complex antigen substance and it is also found in other nucleated cells. It is called the human leukocyte antigen-A  (HLA) system.
It is found on chromosome number 6. Each locus consists of four subloci. Each of these 4 loci contains one gene.
The four major loci are labeled as A, B, C, and D. There is the possibility of the fifth one called DR (D-related).
HLA-B27 is quite common. It is associated with ankylosing spondylitis in 90% to 95%.

50% of African-Americans have this antigen.
Pathophysiology of Human Leucocyte Antigen B27
The major histocompatibility antigen in humans belongs to the presence of these antigens on the surface of white cells, and the so-called

HLA

(human leukocyte antigen).

These are present in the nucleated cells, platelets and mostly detected on lymphocytes.
HLA-Ag is present in minimal concentration to the absent expression on the RBCs.

These antigens are labeled at HLA- A, B, C, and D.

The presence or absence of these genes is present on chromosome 6.

HLA-B27 is found in 90 % of patients with ankylosing spondylitis.
HLA-B27 is present in the normal population as well in 5% to 7 %.
HLA-B27 is also found in other diseases like Reiter's syndrome, Anterior uveitis, and Grave disease.
| | |
| --- | --- |
| HLA antigen B27 positive  | Risk of developing the disease |
| Ankylosing spondylitis | 90 times (80% to 90%) |
| Anterior uveitis | 15 times (19% to 88%) |
| Reiter's syndrome | 40 times (80%) |
| Septic arthritis | 20 times |
| Normal people | 5% to 7% |
Structure of the HAL-Antigen Class-1 molecule (HLA-Ag):
Class-1 molecules (antigens) are composed of a single polypeptide chain that has 3 domains very similar to the domain of the immunoglobulins heavy chain, and there is one transmembrane domain.
Class-1 molecules are embedded as transmembrane proteins in the cell membrane, and each is noncovalently associated with a single molecule of β2-microglobulin.
Distributed on:

All nucleated cells.
Platelets.
Minimal to the absent amount on RBCs.
Normal
Positive HLA-B27 seen in:
Ankylosing spondylitis.

In close relatives of the patients, it is found in increased frequency.

Reiter syndrome.
Grave's disease.
Anterior uveitis.
Chronic active hepatitis.
Multiple sclerosis.
Myasthenia gravis.
Psoriasis.
Rheumatoid arthritis.
Celiac disease.
Juvenile diabetes.
Hemochromatosis.
---