Homocystinuria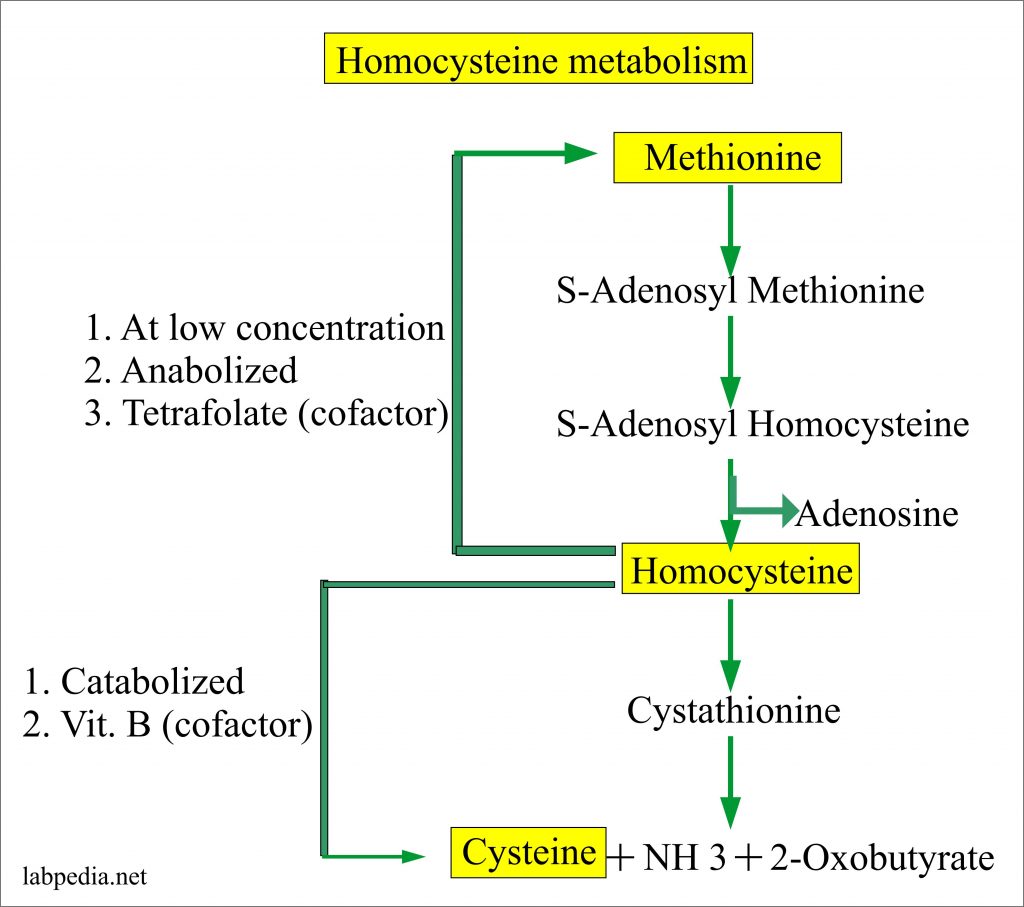 Sample
This test is done on the urine sample.
The estimation of methionine can be done on serum as well.
Purpose of the test (Indications)

To diagnose the complications due to homocystinuria.
Pathophysiology
In

USA

1:150,000 cases may show homocystinuria.
This is an autosomal recessive disease.

Homocystinuria is inherited in families as an autosomal recessive trait. This means that the child must inherit the non-working gene from both parents to be seriously affected.

This is a disorder of methionine metabolism which leads to:

Accumulation of homocysteine and its metabolites in the blood and urine.
Normally these are not found in the blood and the urine.

This may be seen in patients with cobalamin and folate deficiency.
This is a group of disorders characterized by excessive excretion of homocysteine in the urine.
Basically, there is a deficiency of cystathionine beta-synthase enzyme deficiency.

 This is a metabolic disorder resulting from a deficiency in cystathionine beta-synthase enzyme which is responsible for the metabolism of methionine and homocysteine.
In this case, methionine is measured,

Homocysteine normally does not accumulate in the plasma because it is unstable and when present in excess, undergo oxidation to homocystine.
The concentration of homocystine in the urine is not detectable but decreased homocysteine conversion to cystathionine by cystathionine beta-synthase enzyme or back to methionine leads to homocystinuria.
There is an excess of homocysteine and methionine in the blood.

There is the presence of homocysteine and methionine in the urine.
Clinical presentation
Untreated patients are associated with :

Dislocated lenses.
Cataract.
Muscle weakness.
Arterial and venous thrombosis.
Delay in the development of the infants.
Hypercoagulability.

The special dietary supplement may help to prevent this complication.
Other symptoms seen are :

Chest deformities (pectus carinatum, pectus excavatum)
Flushing across the cheeks.
High arches of the feet.
Intellectual disability.
Knock knees.
Long limbs.
Mental disorders.
Nearsightedness.
Spidery fingers (arachnodactyly).
Tall, thin build.
Diagnosis
The amino acid screen of blood and urine
Genetic testing.
Liver biopsy and enzyme assay.
Skeletal x-ray.
Skin biopsy with a fibroblast culture.
Standard ophthalmic exam.
A urine test on cyanide/nitroprusside shows cherry red color.
Normal
Random urine samples are negative.
More details can be seen in Homocysteinemia.
Treatment
No specific treatment.
The patients are given high doses of Vit.B6.
50% may respond and will need vit.B6 for the rest of life.
In unresponsive patients give low sulfur diet especially low methionine.
A low dose of folic acid and a supplement of cystine may help.
Betaine is used to reduce the concentration of homocysteine which will promote the conversion of homocysteine back to methionine.
A low protein diet is recommended.

Life expectancy is reduced if not treated.
---