Homocysteine (Homocysteinemia)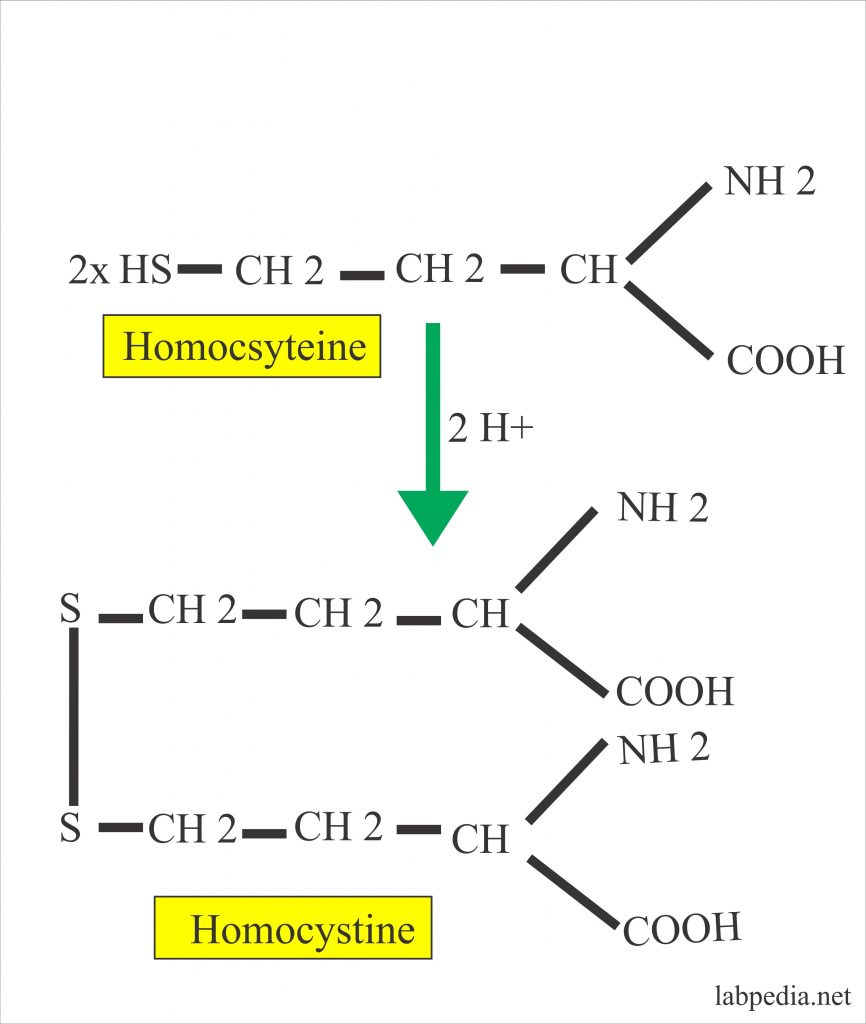 Sample
This test can be done on the serum of the patient.
Separate serum immediately and freeze within one hour.
This can be detected in the urine.
Precautions
10 to 12 hours of fasting before the test is required.
Patients with renal diseases will have an increased level of homocysteine. This is due to poor excretion of the protein.
The patient with a low intake of Vit.B has increased the level of homocysteine.
Men have a higher level than women.
Smoking will lead to a higher level of homocysteine.
Drugs increase Homocysteine levels like methotrexate, nitrous oxide, phenytoin, and carbamazepine.
Oral contraceptives influence the level.
Why homocysteine is measured (Indications):
To diagnose homocystinuria.

This is done to measure the plasma level of homocysteine (homocysteinemia).
It is done to find genetic or acquired homocysteine excess.

The patients with risk to develop folate deficiency and cobalamin.
In patients with unexplained anemia.
Recurrent spontaneous abortion.
Delayed development or failure to survive in infants.
In cases of peripheral neuropathy and myelopathy.
For the evaluation of cardiovascular disease.
In which patients homocysteine to be estimated:

This can be used for the surveillance of malnutrition.
In vegetarians who are not taking a supplement of B12.
In old patients above the age of 75 years.
The patient on the treatment of antiepileptic drugs and methotrexate.

Homocysteine in a patient with coronary disease:

In patients <40 years of age with a history of cardiovascular disease to exclude homocysteinemia.
The patients who are at high risk for cardiovascular disease should be tested every 3 to 5 years

How often homocysteine should be tested:

This may be measured every 3 to 5 years.
In newborns at the age of 3 to 5 days.
Pathophysiology
Homocysteine is a sulfur-containing amino acid.

It is formed during the metabolism of methionine.
It requires folic acid as a cofactor.
It may be catabolized to cysteine in the presence of Vitamin B as a cofactor.
Homocysteinemia is the elevation of homocysteine in the blood.
Homocysteinemia may be due to:

Genetic predisposition.
Nutritional and environmental factors.
Specific medications.

Amino acids are naturally made products, which are the building blocks of all the proteins in the body.
Homocysteine is an intermediate amino acid formed during the metabolism of methionine.
Vitamins are the cofactor involved in the metabolism of Methionine to homocysteine.

 Folic acid acts as a cofactor.
The common non-genetic elevated level of homocysteine, the cause is a deficiency of B6, B12, or folate.

So homocysteine blood level is helpful in the diagnosis of deficiency of these vitamins.
In megaloblastic anemia patients, homocysteine levels may be increased before other abnormal tests are found.
Homocysteine may be used as an early indicator of these patients and treatment can be started early.
Homocysteine normally does not accumulate in the blood because it is unstable in aqueous solution, and when it is present in excess, undergoes oxidation to homocystine.
Homocysteine also appears to cause:

Increased atherosclerosis by causing damage to the endothelial lining.

Increased LDL

deposition.
Increase vascular smooth muscle growth.

Increased risk for vascular diseases.
Increased risk of venous thrombosis.
Increased risk for pregnancy complications and neural tube defects.
The patient with increased homocysteine has 5 times more risk of stroke, dementia, and Alzheimer's disease.

Increased homocysteine level is also a risk factor for osteoporotic fractures in older men and women.
Raise the level of homocysteine is increased the risk of coronary artery disease and thrombosis.

Homocysteinemia >15 µmol/L leads to:

Increased atherosclerosis.

Although lipoproteins are normal.
In absence of other risk factors.

Some researcher believes that these patients may be treated by giving vitamins B6, B12, and folate.
Affected children suffer from homocystinuria and had very premature increased atherosclerosis in early age.
Clinical Presentation
Increased Homocysteine is associated with:

Various vascular and cardiovascular diseases.
The birth defects.
Complications in the pregnancy.
Psychiatric disorders.
Mental impairment in old people.
Normal
Homocysteine
Source 2
Fasting level = 4 to 14 µmol/L  (0.54 to 2.3 mg/L).
Source 4
Another source
 13 to 18  µmol/L for serum
10 to 15 = µmol/L for plasma
Children = 3.7 to 10.3 µmol/L
Urine 
Interpretations
Normal less than 15 µmol/L

Moderate increase = 5-30 µmol/L.
Intermediate increase = 30-100 µmol/L.
Severe disease = >100 µmol/L.
Increased Homocysteine is seen in:
Folic acid deficiency.
Vit.B12 deficiency.
Cardiovascular diseases.
Cerebrovascular diseases.
Peripheral vascular diseases.
Malnutrition.
Homocystinuria.
---