Hemoglobin:- Part 2 – Hemoglobin Electrophoresis, (Hb electrophoresis)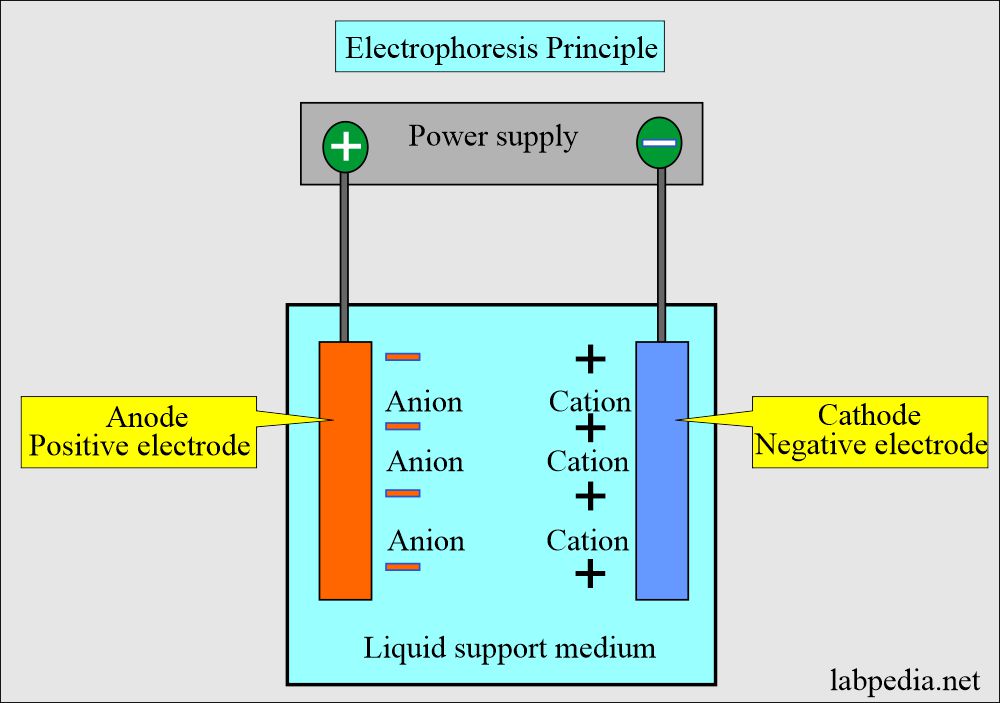 Hemoglobin Electrophoresis
Sample
Hemolysate is prepared from blood in

EDTA

, citrate, or heparin.
Use fresh or refrigerate the sample.
Methods to prepare the hemolysates:
Method 1: Take blood clotted or RBCs with an equal volume of water.

Keep overnight in the freezer (or freeze overnight).
The supernatant will be ready.

Method 2: 1 gram ethylenediaminetetracetic acid (EDTA).

0.1 gram of saponin.
Dissolve in 500 ml of D. water.
Take normal saline washed Red blood cells.
Mix an equal volume of reagent and the washed RBCs for 5 minutes.
Hemolysate will be ready.

Method 3: Preparation of hemolysate:

Centrifuge the EDTA blood and remove the upper liquid portion (supernatant plasma and buffy coat).
Wash these cells with saline three times, and discard the saline from the last centrifuge.
Add an equal volume of distle water and 1/2 volume of carbon tetrachloride.
Now shake it vigorously.
Centrifuge for 5 minutes at 1500 G.
Three layers will form.
Upper hemolysate.
Middle RBC leftover (stroma).
Carbon tetrachloride (CCl4).
Carefully pipette off the upper layer of the hemolysate (supernatant). This will look ruby color and will be clear.
Adjust the hemoglobin concentration with distle water  70 to 100 g/L.
This is ready to run the hemoglobin electrophoresis.
If you want to store for another time, add one drop of potassium cyanide (KCN = M/100); otherwise, you can run electrophoresis immediately.
Principle of Hemoglobin Electrophoresis
The first hemolysate from the

EDTA

blood is made, and then it is run for electrophoresis, where Hb is separated into different bands.
We can find the presence of an abnormal Hb pattern.
Cellulose acetate or starch gel electrophoresis is run on the hemolysate at a pH of 8.6.

Then Hb is quantified by elution and spectrophotography.
Or by a densitometer.

HbF is alkali resistant, so it needs to quantify by another method.
Purpose of the test (Indications)
This will detect abnormal hemoglobinopathies and quantify them.
This Hb electrophoresis  will diagnose :

Thalassemia.
Sickle cell anemia.
Other abnormal hemoglobins.
Precaution for Hemoglobin Electrophoresis
Blood transfusion in the last 12 weeks may alter the electrophoretic pattern.
The principle of Electrophoresis
It is a migration of charged solutes or particles in a liquid medium under the electric field's influence.
Positive ions (cations) moves towards the cathode.
Negative ions (anions) moves towards the anode.
Pathophysiology of  Hemoglobin electrophoresis 
There are various types of hemoglobins, like A1, A2, S, C, and F.
The hemoglobin moves at different rates in the electromagnetic field and forms various bands.
The patient sample is compared to the normal Hb pattern.
Each band is quantitated as a percentage of total hemoglobin.

Hb A1 is the major hemoglobin in the normal

RBC

.
While Hb A2 is the minor component (2% to 3 %).

Hb F is the main hemoglobin in the fetal

RBC

. There is a minimal amount in the normal adult.

Hb F, more than 3% after 3 years, is considered abnormal.
Hb F can carry O2 when a small amount is present in the blood, like in the fetus.

Hb S and C occur in American blacks.
RBCs with Hb C have decreased lifespan and are easily lysed.
Normal values of  hemoglobin  
Hb A1 = > 95 % (95 to 98 %).
Hb A2 = 1.5 to 3.7 %
Hb F = < 2 % (0.8 to 2 %).
Hb S = 0 %.
Hb C = 0 %.
Newborn Hb F = 50 to 80 %.

<6 months = <8 %.
>6 months = 1 to 2 %.
Hb electrophoresis pattern in different conditions:

Hemoglobin electrophoresis produces a good separation of Hb S  from Hb A and C.
In sickle cell anemia, cord blood electrophoresis show Hb F  and Hb FS pattern, where Hb F consists of 60% to 80% of the total.
After the age of 3 to 6 months, electrophoresis shows an SS pattern (80% to 90% Hb S), remaining is Hb F.
Sickle cell trait has more than 50% of Hb A than Hb S. Therefore more Hb A than Hb S.
S-Beta-Thalassemia has 50% or more Hb S with about 25% Hb A and more Hb A than Hb F.
Hb A and Hb F can not be separated in some cases reliably.
Hb C and Hb A2 migrate separately on citrate, where these will migrate together on cellulose acetate.
Citrate agar gives a little better separation of Hb F from Hb A in newborn cord blood.
Hb F can be identified and quantitated by the alkali denaturation method or by suitable electrophoresis.
The pattern of Hb electrophoresis in Thalassemia:
| | | | |
| --- | --- | --- | --- |
| Hemoglobin | Normal | Thalassemia Major | Thalassemia Minor |
| Hb F | < 1% | 10 to 98% | Variable |
| Hb A | 97% | Absent | 80 to 90% |
| Hb A2 | 1 to 3% | Variable | 5 to 10% |
In Major Thalassemia = Hb F = 98%,      HbF = 2%
The pattern of electrophoresis:
| Hemoglobin | Disease |
| --- | --- |
| A > S | Sickle cell trait, sickle alpha-thalassemia |
| S, F, and no A | Sickle cell anemia, Sickle-beta thalassemia |
| S > A and F | Sickle – beta-thalassemia |
| A > C | Hb C trait |
| C, F, and no A | Hb C disease, HbC- beta-thalassemia |
| C > A | Hb C – beta-thalassemia |
Hemoglobinopathy pattern under different conditions:
| Disease | Hb A1 | Hb A2 | Hb F | Hb S | Hb C | Hb H |
| --- | --- | --- | --- | --- | --- | --- |
| Sickle cell anemia | 0 | 2% to 3 % | 2 % | 95 to 98 % | 0 | 0 |
| Sickle cell trait | 50 to 60 % | 2 to 3 % | 2 % | 35 to 45 % | 0 | 0 |
| β-thalassemia major | 0 | 0 to 15 % | 85 to 100 % | 0 | 0 | 0 |
| β-thalassemia minor | 50 to 85 % | 4 to 8 % | 1 to 5 % | 0 | 0 | 0 |
| Hb C disease | 0 | 2 to 3 % | 2 % | 0 | 90 to 100 % | 0 |
| Third. Generation alpha thalassemia. | 65 to 90% | 0 | 0 | 0 | 0 | 5 to 30 % |
---